Glenn Russell
Coach Stefan Hruska working with a gymnast at the Green Mountain Training Center in Williston
A half dozen teenage gymnasts took turns practicing dismounts off the balance beams on a recent weeknight at the Green Mountain Training Center. The girls' competitive team trains at least 15 hours per week in the 12,500-square-foot gym, which is nestled amid warehouses and loading docks in a Williston industrial park.
As her teammates looked on, 18-year-old Tali Giubardo, a senior at Champlain Valley Union High School in Hinesburg, performed a series of leaps, scissor kicks and turns before soaring off the end of the beam in a backflip, sticking the landing.
Next up was Delaney Brown, 17, who casually walked backward along the 4-inch-wide beam without even glancing at her feet. Sporting a blond ponytail and blue leotard, Brown suddenly jutted her arms overhead and brought her hands together as though she were clutching an invisible beach ball. She then rotated forward in an aerial, or hands-free cartwheel, before executing a "round off full" — a backflip with a twist — onto the mat below. Aside from a small step on the landing, it was flawless.
Watching nearby in quiet concentration was the only male on the gymnastics floor: Stefan Hruska, a short, white-haired man in baggy sweatpants, white sneakers and a gray GMTC sweatshirt. To a casual observer, the 75-year-old coach, standing with his arms crossed, one hand clutching his bearded chin, didn't appear to be doing much.
But when he occasionally corrected a gymnast's form or offered advice, everyone listened intently. Hruska speaks choppy English in a thick Slovak accent, and he can be difficult to understand, especially when the gym is noisy. But the young athletes listen closely for another reason, too: Hruska knows what it takes to become a serious competitive gymnast.
Before emigrating to the United States in 1994, the Czechoslovakian-born Hruska coached many of his country's elite gymnasts, some of whom competed in world championships, including the Olympics. Hruska himself competed for more than a decade before becoming a coach and an international men's gymnastics judge for European and World Cup championships. The late Vladimir Cernusak, a member of the International Olympic Committee and founding president of the Slovak Olympic Committee, gave Hruska the honorary title of "model coach" for his service to their country's gymnastics community.
Since Hruska's move to Vermont, athletes have sought him out. They have won state gymnastics titles and spots on college varsity teams. Others have gone on to apply their aerial skills to freestyle skiing and Hollywood stunt work. However, most of Hruska's students and their parents know little or nothing about his international credentials or his depth of knowledge. Hruska is a quiet and modest man who coaches girls of all ages and abilities, most of whom will never compete at the elite level.
Even the most accomplished gymnasts who practice at GMTC have only a vague notion of Hruska's professional career. During a break from their recent practice, they described him as a strict but lovable coach who cares deeply about his athletes, their health and the sport of gymnastics.
"He's like my grandpa!" Brown said with a laugh. The 17-year-old high school senior from Peru, N.Y., has known Hruska since she was 3, when her older sister started training with him at his former gym in Winooski, Hruska Gymnastics Academy. A four-time Vermont state champion, Brown now commutes three hours round trip, four days a week, to train at GMTC. In January she signed with the women's varsity team at the State University of New York Cortland, but she plans to continue training with Hruska during summer breaks.
Glenn Russell
Hruska giving balance beam tips to gymnast Laurynn Bombardier
"He's literally the nicest coach I've ever met," said CVU senior Laurynn Bombardier, who's also trained with Hruska for years. "He makes me want to do better to please him and make him proud of my gymnastics."
"He's also really caring toward your body," Giubardo added. "If you're hurt he's like, 'Don't do it. Wait until you're healthy.' It's about quality over quantity."
Giubardo described Hruska as the most knowledgeable and helpful coach she's ever had, even if he occasionally has trouble explaining what he wants her to do.
"He'll say it in his language, and we'll guess what he means," Bombardier chimed in. "Most of the time we can figure it out." And when they can't, she added, he'll grab a chunk of gymnastics chalk and draw it on a mat.
Bombardier and Giubardo are members of the CVU gymnastics team that won the high school state championship in February.
Robin Bourdeau, owner of GMTC, has known Hruska for 20 years, ever since her daughters took gymnastics with him at his academy in Winooski. According to Bourdeau, Hruska trained virtually all her other coaches to spot gymnasts on the apparatus.
"His spotting skills are amazing," she said. Watching a gymnast on the uneven parallel bars, Hruska will move in silent synchronicity with her routine.
"Stefan has never once dropped me, which I can't say about other coaches," Bombardier said. "Somehow, he gets in and catches you. I don't know how he does it."
But despite having taught literally thousands of Vermont athletes over the years, including varsity gymnasts at the University of Vermont, Hruska isn't widely known in Vermont outside the gymnastics community, Bourdeau said.
"This is not just another job he does. This is truly his profession," she added. "He understands the sports science behind it. He's a brilliant, brilliant man."
From Eastern Bloc to Western Vermont
Hruska coaching in Czechoslovakia
Hruska, who lives in Colchester with his wife, Viera, was born near Nitra, Czechoslovakia, in what's now the Slovak Republic. Because Hruska sometimes has difficulty understanding and expressing himself in English, his son, Martin, a former UVM gymnast, translated from their native Slovak.
Hruska was about 11 when he started gymnastics and discovered his natural aptitude for the sport. His village had no gymnastics club, so he had to travel to another town to train. Hruska went on to attend Charles University in Prague, then Constantine the Philosopher University in Nitra, in southwestern Slovakia, where he earned a doctorate in physical education.
Hruska was a competitive gymnast in Czechoslovakia for more than 10 years, until gymnastics-related injuries to his left knee effectively ended his athletic career when he was in his twenties. For the next 18 years, he worked as head coach of the men's gymnastic program at TSM Dukla, a training facility in Banská Bystrica, a city in central Slovakia. Hruska never trained female athletes before coming to the United States.
Coaching elite gymnasts in what was then a Soviet Bloc country had its pros and cons. As Hruska explained, children with the most promising athletic abilities were sent from an early age to train at separate schools, where their tuition, coaching, travel, room and board were paid for by the government. While the environment allowed athletes freedom to concentrate on their training, Hruska said, it could be stressful for athletes and coaches alike, who were under tremendous pressure to bring home medals.
Hruska went on to judge national and international competitions. And while he never accompanied athletes to the Olympics as a coach, he was part of teams that trained the Czech gymnasts who competed in Montréal in 1976, in Moscow in 1980 and those who qualified for the 1984 games in Los Angeles. Those gymnasts didn't get to compete because Czechoslovakia was one of several Soviet Bloc countries that boycotted the 1984 Summer Games in retaliation for the Western boycott of the 1980 Summer Olympics in Moscow to protest the Soviets' 1979 invasion of Afghanistan.
In August 1994, Hruska, then a professor at Matej Bel University, in Banská Bystrica, had an opportunity to work in the U.S., so he accepted a coaching position at Champlain Valley Gymnastics in South Burlington. Because the educational opportunities in this country were better for his two children, the Hruska family decided to settle in the U.S. permanently.
In 1998 Hruska starting working in the UVM athletic department, which allowed his children to attend the university tuition-free. Hruska went on to coach the UVM men's varsity team; there, he explained, several of his gymnasts helped him improve his English. (He still carries in his briefcase the small green notebook where he jotted down expressions they taught him.) He also worked part time as a physical education lecturer in the department of education.
In 2001 the Winooski gym where Hruska had coached part time closed. Bourdeau, who now owns GMTC, was part of a committee of concerned parents who explored various options for replacing the gym. At the time, Bourdeau knew very little about gymnastics herself — she'd sold office furniture for 18 years — but she decided to open a gym nonetheless and offered Hruska the head coaching job.
Hruska was still working at UVM then, so he accepted the position part time, then briefly opened his own gym. But he returned to GMTC in 2010 and has been with the Williston training center ever since.
Glenn Russell
Hruska and gymnasts Delaney Brown (left) and Tali Giubardo
A number of top U.S. athletes have worked with Hruska over the years, including Megan Nick of Shelburne. The now 23-year-old took up gymnastics when she was 3 and started training with Hruska when she was in fourth grade. As she recalled in a recent phone interview, Hruska was different from her other coaches, in part because he used very different drills and conditioning regimens he'd developed in Eastern Europe.
"He was a real change-up," she said. "Stefan was strict, but he was able to make it a fun environment."
When Nick was 17, she was invited by the U.S. Ski Team to attend a tryout camp in Lake Placid, N.Y., to learn freestyle, or aerial, skiing. After a week of demonstrating her tumbling, strength, water ramp and trampoline skills, she was one of six athletes chosen to train with the team for international competition.
Nick, who's been on the U.S. aerials team since 2016, had two top-10 world finishes in 2019. Just last month, she landed on her first World Cup podium with a second-place finish in Deer Valley, Utah. Now a student at the University of Utah in Salt Lake City, Nick is training for the 2022 Winter Olympic Games in Beijing. She gives Hruska a lot of credit for teaching her the spatial awareness she needed to become a world-class freestyler. As she put it, "It's easier to teach [gymnasts] how to ski than to teach skiers the air awareness needed for aerials."
Indeed, USA Gymnastics, the sport's national governing body, has long promoted the sport with the slogan "Begin Here. Go Anywhere." As Nick explained, the core physical skills developed in gymnastics — balance, coordination, strength, agility, air awareness — are applicable to a range of other sports.
And professions. Another former student of Hruska's who still uses his gymnastics skills is Justice Hedenberg. The 27-year-old, who divides his time between Hinesburg and Long Beach, N.Y., works as a Hollywood stunt performer. His stunts have been featured on TV series including "Homeland," "Daredevil," "Gotham" and "Tell Me a Story," as well as in such films as Ghostbusters (2016) and the sci-fi action comedy Free Guy, due out in July.
"When you're a preteen wanting to get involved in gymnastics, Stefan offered a pretty awesome spot for young boys and men to train," Hedenberg said in a phone interview. "He was the best ... He had a good program and knew his stuff."
Years later, Hedenberg still remembers improving his skills with Hruska at GMTC. Specifically, he was trying to nail down a "front double full," which is a front flip followed by two and a half twists. He'd done them on a trampoline before, but never from the floor.
"I hadn't worked with Stefan in years. But he came over and said, 'You need more 'splosion,'" Hedenberg recalled, mimicking Hruska's accent. "Next thing, I'm stomping it! I was pretty happy about that."
Hedenberg went on to coach parkour and is also a part-owner of the Elevate Movement Collective, a gym in Stowe. He said that gymnastics played a pivotal role in landing him in his current profession.
"The skills I obtained have absolutely helped me pursue a career, and I am extremely grateful for that," he added. "Stefan is one of the reasons."
But Olympic dreams and professional careers likely weren't on the minds of the 7-year-olds who were taking a recreational gymnastics class with Hruska on a recent weeknight.
"OK, girls, arms like this! Big step!" Hruska shouted, demonstrating what he wanted them to do. Several of the young athletes were unsteady on the beam, one fell off, and only a few of the others did exactly what he'd asked. "No, no, no! Fingers, arms, very sloppy! This time, leg lift, down, leg lift, opposite side. Big circle, OK?"
"I caught about a third of what he just said," remarked one of the gymnasts' mothers watching nearby.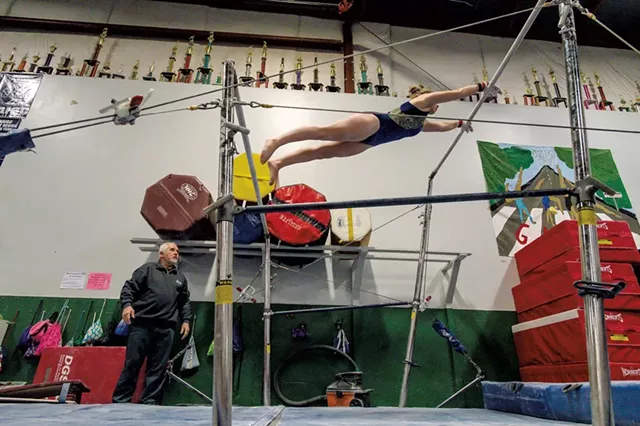 Glenn Russell
Hruska coaching Bridget Haggerty on the uneven bars
When the older gymnasts took a short break, a few shared stories about Hruska and his endearing quirks. Bridget Haggerty, a student at Burlington High School, pointed out that Hruska often begins sentences with the word "doc." All the other girls laughed in agreement, though none could explain why their coach does it.
"It goes in front of everything!" Bombardier added. "One time we did try to ask Stefan what it means, and he was like, 'Doc, what do you mean?' He says it without realizing it." Hruska's son Martin later explained that tak is a Slovak filler word, akin to "like" in English.
The girls also joked good-naturedly about Hruska's unusual idiomatic expressions. For example, if one of them performs an exercise poorly, he might say, "You look like spider with the flu." And if the gymnasts don't live up to his high expectations, he'll say, "I have disappointment lower than basement."
For some of the younger girls who come to GMTC for recreational gymnastics, Hruska's stoic demeanor and thick accent can be intimidating, Bourdeau noted. Unlike the college-aged female coaches, she said, he doesn't immediately come across as warm and fuzzy.
And on rare occasions, his broken English can be misinterpreted. Sometimes if the gymnasts are slacking off, Hruska will say, "I'm very bad man."
"We're like, Stefan, you're the nicest person we ever met!" Bombardier said. "And he's like, 'Nooo, I'm very bad man!'"
"I had a parent call me one time and say, 'Who is this 'very bad man' you have working for you?'" Bourdeau recalled. As she explained to the parent, Hruska simply meant that he was having a bad day.
But as much as the girls like to joke about Hruska, they're also very protective of him.
"We also know that we need to give him respect," Bombardier said. "The little girls don't really see that as much, and it hurts us to watch them not respect him."
And for a man his age, Bourdeau noted, he remains surprising agile. Five years ago, she recalled seeing Hruska quietly step on to one of the trampolines and perform a back layout, which is a back flip with one's body straight rather than tucked. Within minutes everyone in the gym was watching this 70-year-old doing aerial maneuvers like someone 50 years his junior.
But Hruska isn't the boastful type. He noted, for example, that when he was competing, performing a double back flip off a high bar was a big deal. Now, he said, he spots young teenagers who can do them. And he primarily sees himself as just one part of the GMTC coaching team.
"I want to help. We have coaches not ...so much experience, OK? Ask me, 'Stefan, you help me?'" Hruska said. "Why not? If I can do it, I will be very glad."
No translation necessary.