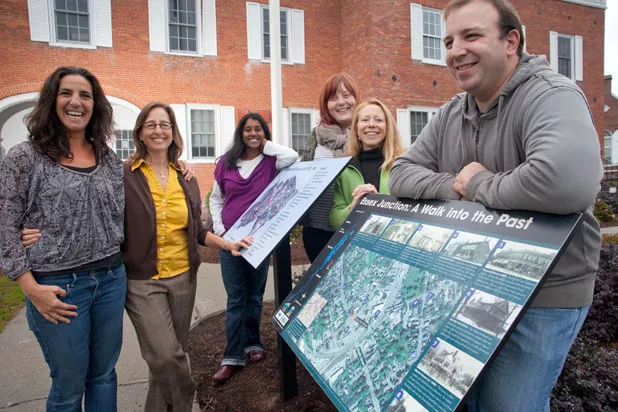 Matthew Thorsen
Liz Subin, Sue McCormack, Vasanthi Meyette, Kat Redniss, Donna Canniff and Andrew Barker
Can conversation and storytelling bring a town together? It sounds like the stuff of feel-good Hollywood dramas. But that was the plan when nearly 300 residents of Essex town and Essex Junction village piled into a conference room at the Champlain Valley Exposition in Essex Junction late last month. They were gathered for the official launch of the Heart & Soul of Essex, a two-year, $100,000 planning initiative that's the work of a corps of grassroots volunteers and the Vermont-based Orton Family Foundation.
Wearing tags on which they'd been instructed to write their name and favorite place in Essex — "Indian Brook Reservoir," "Martone's," "my new house!" — residents mingled and made small talk. Posters on the wall, many designed by local students, proclaimed Essex to be all manner of things, including "home," "the land of the free," "ice cream!" and family." No one defined Essex by its divisions — but they were the elephants in the room.
If you aren't from Essex, the subtle boundaries in this Chittenden County suburb may go unnoticed as you drive through town. Ask a local, though, and he'll point out that this community is actually made up of two municipalities — the town of Essex and, nestled within it, the village of Essex Junction.
The overlapping territories are a holdover from the 19th century, when villagers began congregating in the industrializing hub of Essex Junction — and taxed themselves to pay for additional amenities. Today, the divide is still evident in the complicated patchwork of town and village services: two planning departments; two boards of elected officials; two town offices.
And two strong opinions about whether the town and village should, at long last, merge or separate. Over the past five decades, residents have debated this prospect ad nauseam, to the point where town manager Pat Scheidel jokes that the "M word" — merger — is taboo in Essex.
The Heart & Soul of Essex project is explicitly not about the "M word." And yet, with advertising for the launch prominently including the slogan "Together, we are greater than the sum of our parts," it's clear that town and village boundaries weigh heavily on the project. While past conversations have focused on changing the town and village's complicated governance structure, Heart & Soul's proponents say that this time around it's about something bigger: identifying shared values and common ground. Last month's kickoff marked the beginning of a project that will include story circles, neighborhood conversations and history walks, all designed to get residents talking about what they appreciate about Essex.
"You can't have a new conversation until you stop having the old one," says Liz Subin, one of two project coordinators for the Heart & Soul undertaking.
Essex is filled with residents desperate to get past that old conversation. "The people who have been through it a thousand times are tired of it," village trustee Lori Houghton agrees. If the enthusiasm at last month's launch was any indication, the Orton Family Foundation's innovative approach to community planning might just be the ticket for a town stuck playing an old record.
That approach is heavy on storytelling and community gatherings; the early months of the process tend more to potlucks than to planning-commission meetings. It's a groundbreaking method of community planning — think more stories and fewer stodgy discussions — that Orton has already field-tested in four communities and is now rolling out in five more.
The approach is also contingent, says Orton communications director John Barstow, on inclusivity. The Essex launch party's large turnout was due in part to dogged social-media outreach and more than 500 personal invitations. The attendance trumped by a factor of two the average turnout at the Town Meeting each year.
*****
Essex and Essex Junction are home to about 20,000 residents; roughly equally divided between the two. Taken together, the two municipalities make up the second-largest community in Vermont.
When Scheidel "squires" (his word) a visiting reporter through town, he acts more like a real estate agent than a veteran manager. Twenty-two years into the job, Scheidel is a big Essex booster, quick to boast about the town's golf courses, mountain views and the rural character of its outlying countryside. He tools through the parking lots of a senior housing community and along the curving roads of an upscale subdivision — the kind of place, Scheidel says, where a homeowner might settle in after a good career at IBM. The manufacturing plant, located in Essex Junction since 1958, employs some 5000 workers.
It's a prosperous community; the median household income here brushed close to $70,000 in 2010, nearly $19,000 greater than the Vermont average. But it's not a stable or unchanging one. Ask enough residents about the pressures facing Essex in the years to come, and some common observations arise. Many are concerned about transportation, frustrated with congestion at the Essex Junction Five Corners and even more exasperated by the 2011 announcement that the Circumferential Highway will not be built. Houghton says the traffic problem is so severe that businesses have left Five Corners amid complaints about the roads.
Essex's demographics are also slowly changing. Sixteen Nepalese families have arrived, all since 2011. More renters are moving in. Schools are a point of pride there, and the refrain from many residents is that keeping the schools strong — or making them better — is a priority.
Subin and co-coordinator Sue McCormack point out that Essex is well positioned both to adapt to change and to shape its own future. They point to projects such as the Friday farmers market, or a group called Railroad Avenue Recess that's intent on revitalizing empty storefronts — examples of civic engagement that Subin calls "contagious." This even though, as McCormack points out, the community has sometimes lacked a cohesive vision.
"The energy is scattered around, and people are in pockets making really good things happen," she says. But get those people, and that energy, in one room, and McCormack thinks Essex could be at the tipping point. "This community is really rich in human resources, and if we can take that and direct it toward a singleness of purpose," she says, "we'll be an incredibly successful community moving forward."
*****
The Heart & Soul project, with its heavy emphasis on storytelling, may sound touchy-feely. Indeed, McCormack emphasizes the emotionally satisfying qualities of the undertaking, saying, "I think people are hungry to have meaningful conversations about their communities."
But the initiative is more than a feel-good chance to gab with neighbors. New data from the Knight Foundation's massive Soul of the Community study demonstrate a direct link between residents' emotional attachment to a place and its economic growth and vitality. Starting in 2008, the foundation, in collaboration with Gallup, interviewed nearly 43,000 people in 26 communities over three years. It discovered that three main qualities attach people to a place: social offerings, aesthetics and openness (i.e., how welcoming a community is). The communities to which residents were more attached were also those that saw greater gross-domestic-product growth.
That's music to the ears of the Orton Family Foundation. Barstow contends that a process like Heart & Soul has real relevance for towns that are struggling. Discovering what people love about their place — and then instituting policies to protect that distinctive character — could translate into economic growth.
Founded in 1995 by Lyman Orton of the Vermont Country Store and the late Noel Fritzinger, both of Weston, the foundation grew out of the two men's experience in local-planning efforts during a time when Vermont saw a boom in development and second-home ownership. The goal was to introduce tools and resources to help towns first decide how they'd like to grow, and then put policies in place to shape that future development.
Initially, the foundation invested in the development of mapping and 3-D-visualization software. But in recent years, the focus has shifted from high tech to "high touch," Barstow says. Enter Heart & Soul. Now in its second round of field-testing, the Heart & Soul approach was first used in four communities in Maine, Idaho and Colorado between 2008 and 2010. In this latest round of funding, Orton awarded five $100,000 grants to communities located in the Northeast and Mountain West, chosen from a pool of 28 applicants.
Damariscotta, Maine, applied for the grant in the wake of a 2006 town-wide vote to cap the size of retail stores at 35,000 square feet — effectively squashing Walmart's plans to build a 187,000-square-foot store there. Jane Bechtel Lafleur, the executive director of the regional nonprofit Friends of Midcoast Maine, says the vote divided Damariscotta residents. The hope, she says, was to reach out to them before the next controversial proposal cropped up.
"The idea is that if you agree up front on what your community values are, then down the road some of those issues are easier to solve," she says. In Damariscotta, the grant sparked months of storytelling events, community potlucks and design charettes. The process gradually shifted from very broad inquiries (what stories do residents tell about their community?) to more specific ones (how should those stories inform land-use ordinances?).
The results of a similar process in Biddeford, Maine, another Heart & Soul community, have been dramatic. The former mill town focused specifically on its ailing downtown, plagued by empty storefronts and some 4 million square feet of empty mill space. But residents sensed that they were on the edge of change. Nearby Portland was growing too expensive, and artists were moving into Biddeford. Orton Family Foundation acting executive director Betsy Rosenbluth doesn't take credit for the transformation that followed, but she thinks Heart & Soul provided the momentum Biddeford needed to reach a "critical mass." This year, four years after embarking on the Heart & Soul planning process, Biddeford won the Main Street Maine Community of the Year award.
Much farther west, Golden, Colo., embarked on the planning grant at the same time as the two Maine communities. A suburb of Denver, Golden was facing increasing development that some residents worried was threatening their community's small-town feel and historic character. New buildings didn't fit in with the old, says sustainability manager Theresa Worsham, who worked as a city planner during the two-year grant. "We were just a reactive community instead of proactive," she says. Golden wanted to quantify what a small-town feel is — and then figure out how to protect it.
The city came away from the Orton grant with a new long-range plan containing 11 community values. One of the most concrete results is a new way of vetting development that requires developers to get neighborhood input before they apply for approval from the city.
"I'm not saying everybody's happy, but we're seeing a lot more collaboration between developers and residents than we have before," Worsham says. It might mean a step back or a tap on the brakes for developers, but, by and large, "they understand that getting residents and neighborhoods on their side is a good strategy for them."
Looking back, Worsham recognizes that Golden was guilty of conducting city business via long and boring meetings, often held at inconvenient times. "The usual suspects" might show up for zoning hearings, for instance, but busy young families and low-income workers weren't weighing in. "We were all used to doing some of the 'same old, same old,'" Worsham says. "You had to hold a meeting to hold a meeting."
A big part of Heart & Soul was engaging community members "on their own turf," as Worsham puts it. Two years later, that attitude is still in place. "We try not to hold meetings where we're asking the public to come listen to another lecture," she says. "[Now] it's more of a two-way conversation."
Similarly, Lafleur says she has great confidence in the way the Heart & Soul grant is changing business as usual in Damariscotta. The town is still using some of the initiatives launched with the grant, such as publishing electronic newsletters. Lafleur sees a new focus on communicating with residents early and often about town issues, rather than "expecting people to come to you all the time.
"It's a new way of doing business," she says. "It's a real bottom-up way, and it's the way of the future. It's pure democracy."
Other communities are starting to take notice. A representative from the Federal Emergency Management Agency reached out to Orton in the wake of Tropical Storm Irene, which devastated the tiny town of Shickshinny, Penn. After the Susquehanna River tore through Shickshinny, population 800, FEMA's long-term-recovery program designated the town as one of its recovery communities. Residents, business owners and officials embarked on a three-month intensive effort to draft a recovery plan — and borrowed from the Heart & Soul process along the way.
Barstow estimates that Orton gets roughly one inquiry a week from a community curious about Heart & Soul. But Ariana McBride, the senior associate for the Northeast project at Orton, cautions that there's nothing "cut and paste" about the Heart & Soul approach; town residents need to understand what makes them distinctive, and identifying that often takes time — and money.
Orton's work is winning the foundation some powerful allies. This summer marked the launch of a new national coalition called CommunityMatters, an organization "inspired by" Orton's work, according to its website. Along with the Orton Family Foundation, CommunityMatters counts as partners the Project for Public Spaces, the National Coalition for Dialogue & Deliberation, and the Deliberative Democracy Consortium, among others.
"If we're going to scale up what we believe is so important, we can't do it five towns at a time," Barstow admits. That's where strategic partnerships come in. "We want to evolve in a way that we can offer this … to places that don't have two years and $100,000."
*****
Essex has the luxury of that time and money. But it's too soon to say what, exactly, will come of those resources. Brad Luck, director of Essex Junction Recreation and Parks, admits that Heart & Soul is a quirky grant, entirely unlike those with clear final objectives. "There's no preconceived notion about where this will end up," Luck says. "It's not about X, Y and Z. It's about figuring out what X, Y and Z are."
That can be a hard pitch to residents — some of whom, interviewed at Essex's Friday-afternoon farmers market, had not yet heard about the Heart & Soul project. Last month's kickoff was the beginning of what will probably be dozens of neighborhood meetings, all designed to home in on what Essex residents value most about the place they call home. The project will culminate in a report outlining shared values, along with short- and long-term actions to protect or establish those values in the community.
Rosenbluth admits that it's tricky to strike the right balance between taking a hands-off approach — that is to say, not trying to steer the conversation too much — and convincing residents that the Heart & Soul process is more than "just about talk." In the end, it boils down to establishing a certain measure of trust that conversations today will end up becoming action down the road.
But talk isn't such a bad thing. Ally Vile, the program coordinator and interim director of Essex Parks & Recreation, says the Heart & Soul process is about "showing the community that 'Hey, we can talk and we can get along.' It's OK to bring up touchy subjects."
Which brings us back to the "M word." The town and village are tentatively considering the prospect of so-called "shared services," a conversation prompted in part by last month's resignation of the village manager. In fact, the village board of trustees and the town selectboard convened a joint meeting this summer for the first time in years to discuss the prospect. For village resident Hans Mertens, who cochaired the merger committee that investigated the proposition in advance of the 2006 vote, shared services amount to a weak compromise. He complains about the "redundant" and "duplicative" services in Essex. "We have two of everything, and yet we try to operate as one," he says.
For merger proponents like Mertens, that redundancy translates into waste — and, he believes, inequitable taxes for village residents, who pay bills to both the town and village. Yet questions of taxes, and of deeply ingrained identities, are hard to parse gently. Would a merged community be Essex or Essex Junction?
"Unfortunately, we have a lot of people with a lot of baggage that can't get past that," Mertens says.
Leaving aside the touchy subjects of governance and tax equity, there's still the logistical nightmare of juggling so many departments, boards and public officials.
"There's always the silo effect. The government is doing planning, and the schools are doing planning, and there's nonprofit work happening, and everybody's kind of doing their own thing," Luck says. It's not a dilemma unique to Essex — it's just that here, the problem is "times two," he points out.
Figuring out how to bring both sides of town to the table — while not touching that hot-button topic of governance — will be Heart & Soul's challenge in Essex.
"There's been a lot of talk [about working together]," admits village resident Sue McEwing, pausing during her stroll through the farmers market on a recent Friday. "There's not been a lot of cooperation."
But organizers hope that will change. Already they've built a strong coalition of community advisers, town officials and "friends" of the Heart & Soul initiative. Buoyed by the turnout at last month's launch, proponents hope they can keep up the enthusiasm during the months ahead.
"My feeling is, from unity you get strength," said Negesse Gutema, one of the residents who came out for the launch. He stopped in front of a large table that held a sheet of paper on which residents were writing ideas about what they would like to see in Essex. Gutema paused, picked up the pen and began to write. He'll take bike paths and sidewalks in the short term, he said — and hopes that elusive "unity" will follow down the