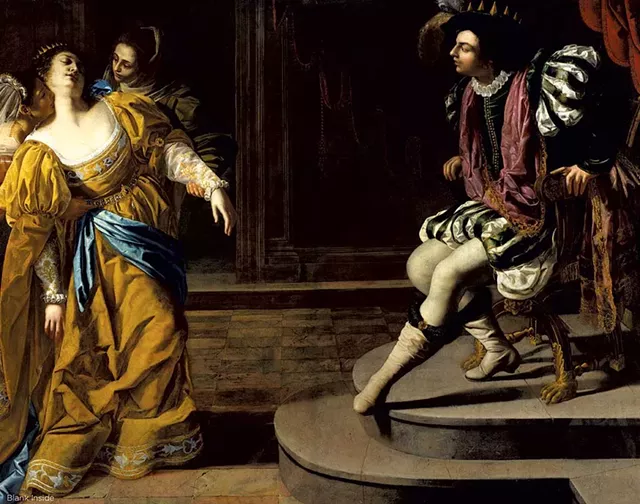 Artwork courtesy of Erika Gaffney/Metropolitan Museum of Art
"Esther Before Ahasuerus, 1628-1635" by Artemisa Gentileschi
Does the name Artemisia Gentileschi ring a bell? How about Clara Peeters? Rachel Ruysch? Pat yourself on the back if you knew any of those artists from centuries ago; most people haven't a clue. And Erika Gaffney would like to change that.
Gaffney, who lives in Essex, is the entrepreneur behind Art Herstory, a line of blank note cards featuring paintings by women who, while sometimes well known in their time, are largely obscure today. Why? Well, that's what happens to women in a paternalistic field.
To be sure, that situation is slowly changing. Gentileschi's prices have recently risen at auction and in museum acquisitions. ViacomCBS Networks International is developing a TV series about the artist. And a current exhibit called "Artemisia" at the National Gallery in London gives the brilliant Italian baroque painter (1593-1656) her due. The show, running December 2 to January 24, is getting rave reviews.
Comparisons to Italian master painter Caravaggio (1571-1610) are not unwarranted; with a similarly naturalistic style, Gentileschi's canvases tend toward biblical, allegorical themes, including unabashed violence. For her note cards, Gaffney has so far avoided such gory scenes — perhaps unappealing in that format — in favor of Gentileschi's "Esther Before Ahasuerus," a dramatic painting in the permanent collection of New York City's Metropolitan Museum of Art.
Art Herstory is a small startup whose proprietor operates primarily from her dining-room table. Gaffney seeks out images that are in the public domain, downloadable for free on museum sites or available for a reasonable price from the rights holder.
By profession, Gaffney is an acquisitions editor for scholarly publishers based in Amsterdam and London. Being in "the world of books" for the past 25 years introduced her to some of her artist subjects. But the idea for Art Herstory came to her a couple of years ago, Gaffney said, when she tried to find a premade card featuring Italian painter Sofonisba Anguissola (1532-1625) for an art-historian friend. She couldn't.
"The idea struck me to make these cards myself," she recalled. She launched her business on International Women's Day in 2019.
So far, Gaffney focuses on artists of the 16th and 17th centuries. Though they are the least known generally, she said, the Renaissance and baroque periods are "what I know the most about." However, she asserted, "That's not where [Art Herstory] will end."
She has moved into the 1800s — "there's an explosion of women [artists] in the 19th century," Gaffney said. "But," she added, "I don't see going into more modern times, because others are already doing that."
Indeed. Why give the world more images of, say, Frida Kahlo?
Bringing to light female artists from several hundred years ago is both a niche and a feminist mission. "I have a product that people don't yet know they need," Gaffney said.
Recently, she's taken an interest in botanical painters such as Giovanna Garzoni (1600-1670), whose tempera-on-vellum "Still Life With Bowl of Citrons" appears on one card. A large insect on one of the lemons might be the 17th-century ancestor of the much-photographed fly that landed on Vice President Mike Pence's white head during his debate with Kamala Harris.
Artwork Courtesy Of Erika Gaffney/Kunstmuseum Basel
"Still Life With Rose Branch, Beetle and Bee" by Rachel Ruysch
Bugs were also common in floral compositions, particularly in 17th- and 18th-century Dutch paintings. Another card showcases "Still Life With Rose Branch, Beetle and Bee" by Ruysch (1664-1750). Though a gorgeous pink blossom dominates, the artist rendered a beetle with fearsome antlers on one side of the arrangement. (While the symbolism of insects in these works is manifold, the field of entomology itself burgeoned following the late-16th-century invention of the microscope.)
Whether or not they inspire customers to delve into the tangled web of art history, Gaffney's cards are lovely vehicles for writing notes to friends or family. Art Herstory currently offers 12 designs, plus two Christmas cards for the holiday season, a Gentileschi-themed magnet/bookmark combo, and a Lavinia Fontana (1552-1614) porcelain ornament.
The cards are sold singly or in packs on the Art Herstory website. Though Gaffney has placed cards in several museum gift shops nationally, her only Vermont retailer so far is Hinesburg's Blue Cottage. In addition to the website, which recently won an award from the Society for the Study of Early Modern Women and Gender, Gaffney produces an e-newsletter and a blog with guest posts from art history scholars and others.
Various art world folks have taken notice of Art Herstory, Gaffney said, but one surprising contingent of followers consists of historical novelists. "They do careful research, and they're invested," she observed.
Gaffney called her venture "today's news about women artists of yesteryear." News to which the art world is finally paying attention.