Gabriel Dickens
Audition hopefuls
I never expected to read the journalist part in "Escape at Dannemora" when I arrived at the Strand Center for the Arts in downtown Plattsburgh last Saturday, reporting for my first-ever Hollywood casting call.
A line of more than 200 acting hopefuls stretched down the sidewalk a full half hour before the audition's scheduled 10 a.m. start. The earliest birds had begun arriving around 5:30 a.m., one prospective actor told me as I joined the queue under the morning sun.
Most were thespian novices who came "for the hell of it." That's how Morrisonville resident Bob Bryar phrased it as he waited for his chance on camera, sunglasses propped above a gray ponytail.
Like me, they were there to try their hand at acting in a TV show based on real events that unfolded two summers ago, just 15 miles west of where we stood. Last month Variety announced that Ben Stiller would direct an eight-part Showtime series about the 2015 prison break in Dannemora — the biggest news story in recent Adirondack history.
People of all ages and sizes filed into the Strand lobby, where two women with lanyard name tags handed out registration forms; mine was numbered 213.
By the end of the day, more than 1,100 people — equal to 5 percent of the Plattsburgh population — chose to spend a sunny summer day inside the dimly lit theater with red felt seats and curtains.
The turnout was not unexpected. Benicio del Toro, Patricia Arquette and Paul Dano are rumored to be part of the project. More to the point, the Dannemora story "consumed" the entire region, according to Nini Hadjis, another hopeful standing behind me in line. The June 2015 escape from the maximum-security Clinton Correctional Facility became an international spectacle in part because it sounded made-for-TV: a cunning escape. Sex! Violence!
Prison employee Joyce Mitchell helped Richard Matt, with whom she had a relationship, and David Sweat escape by smuggling tools into the prison for them. The convicts spent approximately three weeks on the lam, skirting towns and hiding out in cabins in the rural North Country woods before authorities tracked them down near Malone. Matt was shot and killed while law enforcement captured Sweat, who's now serving a life sentence at a different New York prison.
For many of the prospective actors, the casting call brought back memories of the ordeal: three weeks of heightened police presence, tense exchanges at roadblocks and the fear of two convicted killers on the loose.
Bryar, who lives just 10 miles east of the prison, said the escape convinced him to start locking his house. When authorities offered a $100,000 reward for the capture of the two men, Bryar grabbed his gun and searched the woods behind his house. Instead of Matt and Sweat, he found a box of abandoned kittens.
Another man told me that his father, who is nearly deaf, lived less than a mile from where Matt was shot and killed. On the day of the shooting, he said, his dad was watching hockey with the volume up full blast and didn't hear a thing.
It was a "scary" time, said Maureen Stacey, a food service worker at the State University of New York at Plattsburgh, as she scratched a lottery ticket on her lap. Regardless of whether she's cast, "I'm going to have to get Showtime just for it," she said, to watch her friends and neighbors on-screen.
News of the casting call had been circulated widely in local newspapers and on social media. The publicity conveyed that the producers sought men and women of "all different looks and sizes, absolutely no experience necessary!" Especially prized, the flyer read, were photographers, law enforcement and corrections officers, camera operators — and reporters.
I studied the form I had been given: name, contact info, clothing sizes. Would I be willing to cut my hair for a part? Smoke on camera? Be an extra? Bring my car to be filmed?
Though I hadn't acted since sixth grade, when I played Dorothy in a variation of The Wizard of Oz, I figured this was my chance.
The serious actors stood out in the crowd: nicely dressed, quick to rattle off their acting résumés, clutching manila folders that held professional head shots.
Many were union actors — "the beautiful people," Hadjis said, a little darkly. Staff shuttled them to the front of the line and straight into auditions behind the red curtain.
The rest of us waited; some read or scrolled through Facebook on their phones. As the time dragged on, we made idle chitchat or people-watched, scanning the diverse crowd.
Several people I met had also crossed the lake from Vermont; one man came from the Boston area. He had never acted, he said as he looked up from a book, but the audition experience justified "burning a day."
The chatter died down as casting director Rachel Tenner appeared onstage. The plan was to cast for a dozen speaking roles and "hundreds" of background characters, she said. She promised to see us all but urged patience — the day would consist of a lot of "hurry up and wait."
And, indeed, it was more wait than hurry.
First, we had our pictures taken. Staff armed with iPhones positioned us against a wall. Photos were taken from the front, then the side, before we were shuttled to a different seating section and organized by registration number into groups.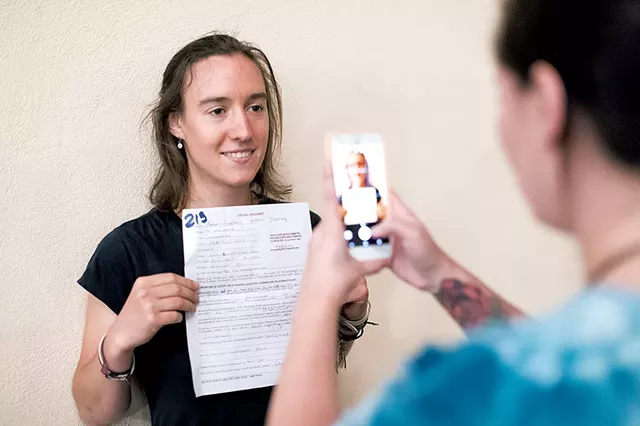 Gabriel Dickens
Katie Jickling at the audition
Every hour or so, a casting director or organizer would appear onstage to reassure the crowd and encourage trips for coffee or food. "If Rachel and I had our way, we'd cast everyone," said Debbie DeLisi, of DeLisi Creative, as she addressed the room around noon. "You all have such amazing attitudes and spirit."
Around 2 p.m., I was among a group of 10 called up. We were ushered behind the red curtain into a semicircle of straight-backed chairs.
Tenner, still peppy and personable after more than 200 interviews, introduced herself again. She would ask some questions "to get a sense of who you are," she said as she sat behind a table piled with papers.
"If I stare at you for an extra minute or two, it's just because I'm figuring out what to do with you," Tenner said as some in the group nervously chuckled. "It's not a weird thing."
There were introductions: Hadjis, who got a graduate degree in acting but now runs Weight Watchers meetings; Chad, a mechanic; John, who works part time at a bakery and plays Ping-Pong for fun; Andrew from Dannemora; and Bill, a former probation officer.
Then Tenner turned her attention to me. "Oh, you're a newspaper reporter?" she asked with interest. "Have you ever done, like, where you've gone and shouted the questions at people?"
"Like a press conference? Oh, yeah," I assured her.
The interview with Tenner lasted less than a minute — and earned me a callback. Five of us got the opportunity to audition for speaking parts. Tenner's choices, though, appeared to be based more on past work experience than on acting prowess.
This new group included Victor Morales, an actor and former New York state trooper who had driven seven hours from Buffalo for the audition. He retired just before the prison break, he told Tenner ruefully.
There was also Andrew, who worked as a Clinton County court officer. His girlfriend had forced him to audition, he said. Devin, an acting student, made the cut, as did Bill, the former probation officer from Albany.
Most would return the following day to read their lines. Morales and I asked to audition right then and there to avoid driving back the next day. DeLisi acquiesced, and I was ushered into a small, windowless room to read from a script.
DeLisi used her phone to record me as I pretended to be a reporter, interrogating a character named Mrs. Isabella outside of the prison.
"Mrs. Isabella, did you have sex with both men?" I read, trying not to stare too hard at the camera. "Mrs. Isabella, does your husband know about this?" "Mrs. Isabella, do you have any idea where these two men are?"
My performance, I guessed, was unremarkable. I was probably too shrill, I thought to myself. Or too earnest. DeLisi didn't let on but said I'd hear back in a couple of weeks if I got a part. Filming is expected to begin August 23 and last until March.
Then, in a rush, it was over. As 3 p.m. neared, I escaped out a side door, leaving a still-packed auditorium. At the registration table out front, the 986th registrant was filling out his form. He was willing to wait his turn, he told the tired-looking theater staff, clarifying: "I have nowhere to be."
I blinked as I stepped out into the sunlight and breathed a sigh of relief that the waiting, the constant chatter and the artificial chill of the theater had subsided.
If this was my big break, it was rather anticlimactic. For the moment, I thought as I walked to my car, being undiscovered wasn't so bad.