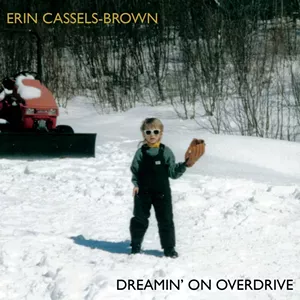 Erin Cassels-Brown, Dreamin' on Overdrive
(self-released, CD, digital)
Just over two years ago, Erin Cassels-Brown released his debut EP, Northern Lights, Vol. 1. The Winooski-based singer-songwriter's tunes dwelled mostly in a rustic indie-folk place, occasionally revving up to more rockin' alt-country vibes. Although it wasn't known at the time, the final track, a kick-up-your-heels ripper called "Bad Bad News," hinted at the direction he'd take on his next outing.
Indeed, Cassels-Brown's new album, Dreamin' on Overdrive, is a much more riotous affair than the release that preceded it. Like any good sequel, it reminds listeners not only what they liked about the previous installment but also adds to the story. Its lineup of guest musicians is thicker. Cassels-Brown taps multitalented Vermonters such as Brett Lanier, Pat Melvin, J Bengoy's Justin Barton and Alexis Hughes, and Jer Coons, who mixed and mastered the LP. Dan Davine also appears on drums throughout. He co-engineered the record with Signal Kitchen's Dave de Cristo. The result is a polished and refined statement.
As its title indicates, much of Dreamin' on Overdrive derives from fantasies, hopes and a wispy, unstable resource: human memories. Cassels-Brown loads his tunes with unspoken desires, what-ifs and maybe-somedays. But there's also a sense of contentment. He's satisfied with what he's lived through but doesn't let those experiences limit what could be. Even when recounting the tough times, he sings with an assuredness that leaves little room for doubt or regret.
The title track stands out as one of the most telling of Cassels-Brown's outlook. The twang-lite rock tune, which highlights the artist's versatile guitar techniques, is an optimistic reality check. He wrestles with inner demons ("Sweat through my sheets / And I lost fistfights with myself / Kept all my memories on a barbed wire shelf") but doesn't let them take over.
"Heavy Heart" is a weary love song featuring lovely vocal harmonies from album collaborators Hughes and Coons. Between Cassels-Brown and Lanier's interwoven guitar work, Melvin's solid bass, and Davine's tight kits, the group perfectly coalesces on this country jamboree slow dance.
"No Good Man" is a rootin'-tootin' slice of life. Not only is Cassels-Brown a talented singer and songwriter, he's a master of painting a vivid word picture. He artfully details a hard-luck, hard-livin' protagonist in this bucking bronco of a tune. Anyone who's spent time in a true dive bar can easily conjure an image ("She's ordering tall and double / Gonna run the county dry tonight"). Cassels-Brown delineates the story with care and humanity.
Cassels-Brown reminds listeners that he has the skills to pay the bills, both mechanically and creatively. He recently headlined the Higher Ground Showcase Lounge, a telltale sign, locally speaking, of an artist on the rise.
Dreamin' on Overdrive is available to stream on Spotify.