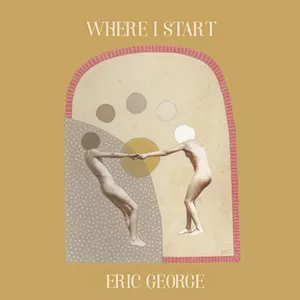 Eric George, Where I Start
(Self-released, CD, digital)
In 2014, Vulture compiled a list of hit songs penned in incredibly short time frames. According to the story, titled "Is Sia the World's Fastest Songwriter?," Kanye West came up with "All Falls Down" in 15 minutes. These smash singles might strengthen the case for lightning-speed composing, but what happens when a songwriter lets their work age before releasing it into the world?
Burlington folk singer-songwriter Eric George demonstrates the value of looking at old material through fresh eyes on Where I Start, a collection of, as he writes on Bandcamp, "music from faded pages [and] the bottom of stacks of notebooks."
Had he not resurrected these 11 tunes, some written 10 to 12 years ago, listeners would have missed out on lyrical gems such as this one from "House of Stone": "When I was born, the stones taught me to speak / Now my words are strong, and they're buried deep."
This is one of several instances revealing George's apparent fascination with the human-nature connection. The joyful banjo tune "What Holds the Bone," for example, illuminates the relationship between the body and the natural world: "Into the silence, inward ride / I feel the moon pullin' on the tide."
Some of George's previous recordings, such as his self-titled 2014 album, sound flat when compared to the more dynamic moods and instrumentation on Where I Start. The electric alt-country rocker "Found Out" would please the crowd at Burlington's Radio Bean during Honky Tonk Tuesday, a weekly country music night featuring George and his band Ponyhustle. The piano-driven "Shades of Evening" sounds sweet and earnest, like a Carpenters ballad. The loose and jangly "My Backyard" could have been on George's recent punk effort Song of Love. If the aching slide guitar on "Heart of the Matter" doesn't break your heart, you may not have one.
George, a multi-instrumentalist and audio engineer, recorded the album himself in his Sharon, Mass., studio. Daisy Castro beautifies several tracks with violin and cello, and frequent collaborators Meg Rice and Addie Herbert sing harmony. Queen City chanteuse Kat Wright lends her voice to the duet "Do You Hear It," which George — who turns 29 the day the album comes out — wrote in high school.
Where I Start is George's seventh musical release in five years. He's prolific but deliberate — each project has a distinct driving force. George sang for the voiceless on his politically charged 2018 album Two Hands, Songs of Resistance. On his newest, he advocates for the songs themselves.
Where I Start will be available at ericgeorge.bandcamp.com on Friday, August 23. Catch Eric George that night at an album release show at the Hive on Pine in Burlington with Cricket Blue, Diamond and Camille Casemier.