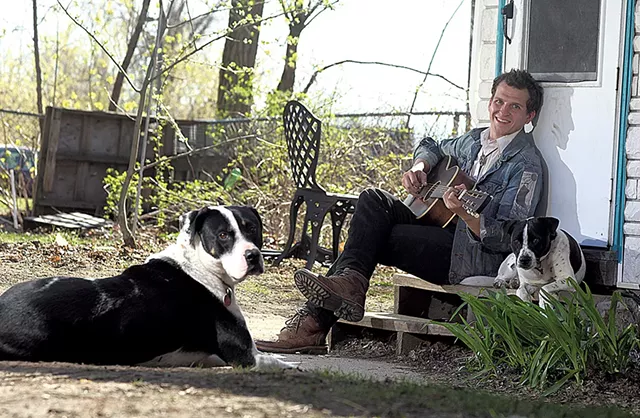 Matthew Thorsen
Eric George
Eric George is trying to be better about living in the moment, taking risks and listening to his instincts. Those are admirable traits in a musician — or anyone, really. And they generally serve the young Burlington songwriter and bandleader well, musically speaking. But in other facets of his life, George's newfound daring has seen mixed, albeit entertaining, results.
Recently, George was busking on Church Street Marketplace, as he does virtually whenever the weather allows. A very large man with a very small dog happened by to catch a tune. When he finished playing, George told the man earnestly, "You know, I don't usually like cats. But I think yours is adorable."
If the man got the joke, he didn't appreciate it. "He didn't find that funny at all," says George, cracking a wry, disbelieving grin.
George is an affable 26-year-old with short brown hair, kind-looking eyes and an easy smile. Sitting at a patio table in front of Burlington's Radio Bean, he wears a white button-down set off by a sharp bolo tie and a faded denim jacket adorned with patches on the sleeves.
He looks every bit the part of a traveling folk troubadour, down to the fiddle case leaning beside him. The instrument is another clue to George's desire to push himself out of his comfort zone. He's vowed to busk this summer exclusively using his fiddle, which he's been playing for just three years, because strumming guitar on the street was starting to bore him.
George's conscious efforts to loosen up are manifesting throughout his musical endeavors. And his new approach is making him an ascendant figure in the Burlington scene. You can see it in the laid-back way he leads his rambunctious house band at the Bean for Honky Tonk Tuesday — a popular weekly gig he inherited from local country crooner Brett Hughes a little more than a year ago. You can see it in his invitingly casual solo gigs — such as his upcoming show at McKee's Pub & Grill in Winooski this Friday, May 5, as part of the mammoth Waking Windows music festival.
George's rise is evident, too, in his increasingly prodigious, and diverse, recorded output.
Take, for example, his latest record, Smoke the Fire Gives. Like most twangy songwriters, George steeps his take on Americana in bourbon and Delta clay. His earlier recordings, especially his 2015 self-titled debut, presented a vagabond tunesmith cut from similar patchwork cloth as Woody Guthrie, Hank Williams and Bob Dylan.
Those hand-me-down influences hardly make George unique in the world of folk and country music. But he has detoured onto a dusty side road of his own by siphoning modernity and charm into his songs.
"[Eric] is so well schooled in Americana, and he honors those traditions," says Burlington songwriter Zack DuPont of indie-folk duo the DuPont Brothers. "But he also has a really contemporary approach to melody and progressions. So there's this comfort and familiarity to his music, but he's not afraid to mess around and push boundaries."
George's new album bears out that assessment. The song "Stranger to You," which opens the record, is reminiscent of Pete Seeger's classic folk tune "Precious Friend," particularly in its bouncy, fingerpicked guitar progression. But, unlike Seeger's ode to friendship, this one is a breakup song, and a cynical one at that.
"I'm just a stranger to you / That sure seems strange to me / I'm just here passing through / Seems like you've got something to prove," sings George with sweet, boyish sincerity. Then comes the unharmonious rebuke to his suddenly less-than-precious friend: "But it might be hard to sing along / When all you wanna do is sing your song."
If she has a change of heart, George's ex could sing along rather easily. Smoke the Fire Gives was released with an accompanying songbook, complete with lyrics, guitar tablature and illustrations for each song by San Francisco-based artist and Vermont expat Frances Cannon.
"The music is really only half of this project," says George, noting that he got the idea of adding art from a Donovan LP he discovered at his day job at Burlington Records. "I'm not even a Donovan fan," he says. "But I thought it was so cool how each song had its own little piece of art."
George printed the book's pages on his own printing press and, with the help of friends lured by the promise of free pizza, hand-stitched the bindings with string.
"He's hands-on with everything he does," says DuPont, who recently played a monthlong weekly residency at Burlington's Light Club Lamp Shop with George.
George wrote and recorded Smoke last summer, following a romantic split. The songbook is prefaced with a passage from Rumi that lends the album its name, describing the indefinable and intangible nature of love: "These words are the smoke the fire gives off as it absolves its defects, as eyes in silence, tears, face. Love cannot be said."
George says he composed much of the album while watching the world go by at a patio table in front of Dobrá Tea, guitar and notebook in hand. Accordingly, the record has a keen observational quality, which acts as a counterbalance to the forceful emotional gusts of his subject matter. While he never obscures his feelings, George is rarely confessional, instead deploying a variety of metaphors, parables and perceptions to explore love and loss.
"It's hiding in plain sight," says Hughes of George's public writing setting. "And he managed to dovetail his social interactions with his observations and the ability to get into and out of his head. And that kid writes great songs. They're classic, great songs."
It's no surprise that Hughes is a fan. He handpicked George to succeed him after 10 years as the ringleader of Honky Tonk Tuesday.
"I wanted somebody who would dig back and stick with the real honky-tonk feel of things, somebody who was hungry enough to keep it going," says Hughes. "I had a feeling he'd really take to it. I love his singing, I love his playing, I love his songs, and I love his stage presence. He was the right guy."
Holding down the weekly classic country-music session requires more than just talent and drive. Its leader needs a wealth of material to draw from and an appreciation of the genre's history. George rolled into the gig with exactly that. A native of Sharon, Mass., he learned about Americana music from a high school teacher, Joe Fletcher, who fronts the highly regarded New England country band Joe Fletcher & the Wrong Reasons. His former instructor has become something of a mentor to George and even provided the artwork for his 2016 EP, Anchor Up, Sail Home.
George has also built up his country bona fides in a second, far more unlikely manner. Since graduating from the University of Vermont with an anthropology degree in 2012, he's spent years gigging regularly at retirement homes and assisted living centers.
"Those folks don't want to hear your new song about some girlfriend," says George. "They want to hear the songs they loved when they were young."
That's why he has a full repertoire of golden oldies by the likes of Williams, Ernest Tubb and George Jones. For Honky Tonk Tuesday, George and his bandmates also lean on more recent classic country artists, such as Willie Nelson and Merle Haggard. They play the occasional original — if it's danceable enough.
"One thing we've learned is that people want to get funky," says George. "But I could stand up there and play super-traditional stuff all night. That would be a dream come true. I just want to yodel."
Though Smoke came out just a couple of weeks ago, George has already finished recording his next album, which he hopes to release this summer or fall on vinyl. A partnership with Madaila bassist and Future Fields cofounder Jer Coons, the record is his "best album yet," he says, and "the album that I feel I was finally fully in control of."
George says his experience leading the Honky Tonk Tuesday Band and recording his own albums and those of friends has increased his confidence and sensitivity regarding what he wants out of a record. It's fair to wonder if his efforts to be more attuned to his instincts — whether they guide him to write songs or to playfully tease strangers — have played a role in his recent artistic evolution.
"The older I get, the more I appreciate not just what's on a song but what's not on a song," George says. "If you listen, the song will tell you what it wants."