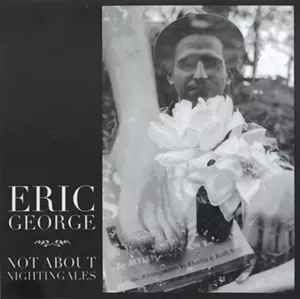 Eric George, Not About Nightingales
(Self-released, CD digital download)
Eric George and his dog, Walden, recorded Not About Nightingales in the former's bedroom in Burlington. Physically, the album presents itself as a hand-stitched book of lyrics and poems, the cover imprinted with a bird and a bee. It's a dear object to possess, and I am not sure which shelf it belongs on. It would be just at home wedged between Leaves of Grass by Walt Whitman and Jitterbug Perfume by Tom Robbins as it would between Woody Guthrie and Bob Dylan. There is no track list to reference. When songs end, I turn the page.
George sings in strides across instrumentation influenced by the traditions of folk, bluegrass and country music. Lyrically, he walks through applications of common sense, a transcendentalist in a technocracy. The simplicity of George's logic is soothing in a world where words fly in pestilent swarms. He explains this notion plainly on "Friends With Silence," singing, "When I can't find the right words / If I got nothing to say / It's alright, I'm friends with silence/ In an old-fashioned way."
George's wordsmithing demonstrates a desire to empower the adage, "The pen is mightier than the sword." "Poem #3" is at least as sharp as a box cutter — and isn't recorded. The poem stays fixed, on paper, between songs like a note stuck in a library book. The words dismantle spiritual bypassing with a warning: "Your Dharma of detachment is a notion / That floats like plastic in the middle of the ocean / Your mindfulness practice is a helpful distraction / From the sounds of fracking in your neighbor's backyard."
The sound of Not About Nightingales is common ground. The repetition of chords reminds the listener that the western scale has only 12 notes, and anyone can learn them. The framework of folk music is merely a starting point for conversation, a meeting place for musicians.
Quite a few fine musicians contribute their talents in harmony with George's lead on guitar and banjo. Bassist Luke Hauserman and drummer Sean Keenan form a lively rhythm section. Pete Sutherland appears on fiddle, Shay Gestal on violin and Monique Citro on cello. Erich Meisberger lends a hand on pedal steel, with Henry Finch on piano. Jocie Adams and Addie Herbert add vocal harmonies on "Thought You Had a Home" and "Not About Nightingales." Together, they form a rich acoustic sound, mixed and mastered with clarity and balance by Jer Coons at Future Fields. The attention to detail in every aspect of the album's creativity is loving and refined.
Eric George releases Not About Nightingales with a show on Wednesday, August 23, at 7 p.m. at the Hive — that's 412 Pine Street in Burlington. The party will include a puppet show by Camille Casemier. The album is available to stream and purchase at egeorgemusic.com.