Matthew Thorsen
Judy MacIsaac Robertson and Michael Jager
When Will Raap was building Gardener's Supply into a successful business three decades ago, he met regularly with a few other young Vermont entrepreneurs. They traded tips and talked about how to balance money and mission.
Alan Newman, who worked for Raap and went on to found Magic Hat Brewing, was among them. So was Hinda Miller, who helped invent the first sports bra.
"We spent 10, 15, even 20 years hanging out together once every month or two trying to figure out how to make business in Vermont," Raap said. "It was really like, 'Let's do business a different way, but how do you do that?'"
Now those same entrepreneurs are hanging out again, but this time they're talking about marijuana.
A dream team of six seasoned CEOs — almost all of them old enough to join AARP — is trying to figure out how their alternative business philosophy could be applied to commercial cannabis. Vermont lawmakers appear poised to legalize recreational use as soon as next year, in which case there will be plenty of money to be made. The RAND Corporation estimated earlier this year that Vermonters bought between $125 million and $225 million in marijuana on the black market in 2014.
"This is a culture-changing phenomenon that's coming through America. This is a pivotal moment in time," said Michael Jager, who last year transformed Vermont's hippest marketing and design company, JDK, into another one: Solidarity of Unbridled Labour. "Vermont is perfectly suited to do it well."
Jager and his five fellow "steering committee members" have formed the Vermont Cannabis Collaborative, through which they hope to position the state to create a legal marijuana industry "the Vermont way."
They readily admit that it sounds a bit nebulous.
"We are figuring it out as we go," Raap said — just like 30 years ago.
Meantime, there's a vision statement, a brochure and a website. "We see Vermont as the East Coast Cannabis Center of Excellence supporting a thriving business cluster by 2020," the statement says.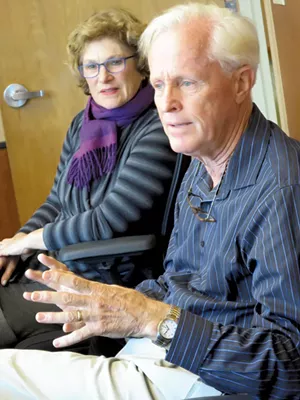 Matthew Thorsen
Hinda Miller and Will Raap
Marketing ace Judy MacIsaac Robertson, founder of maple syrup company Highland Sugarworks, and Dan Cox, founder of java-testing Coffee Enterprises, are also part of the group.
When his co-collaborators talk about the "Vermont way," Cox balks: "I said, 'What the hell is that?'" He calls himself the killjoy of the collaborative.
Raap has an answer: "It has to do with things which would be Vermont-like. Organically produced, small-scale, high-quality clusters of businesses that collaborate together but don't dominate any one business."
Marijuana is the perfect challenge for these business brains, who have collectively built, helped build or rebuilt more than a dozen companies in Vermont. The rules of the pot industry have yet to be written.
Some members of the group hope to start their own cannabis businesses. Raap has registered two companies related to grow-at-home medical marijuana. Others, including Newman, say they have no plans to do so. None of the members has any interest in selling marijuana, but they hope to work with others who do.
All of them claim that their focus is not to make a buck, but to help Vermont get marijuana right.
"If money could be made, great," Raap said. "Much better would be hundreds of new businesses. This is an economy that could either be dominated by a few really big guys or could be distributed like the local food business or the craft-brew business."
"We're trying to keep out big corporations," said Robertson.
The collaborative doesn't want Vermont to legalize marijuana the way it happened in Colorado. The first state to legalize recreational use of marijuana has seen an explosion in the number of pot shops, confusion over the strength of edible products and an industry that operates on a cash-only basis because of federal banking laws. Raap likens the situation there to the "Wild West."
Members of the Vermont group don't know if the Center of Excellence they envision would be a single building or a concept. They picture a plethora of independent businesses developing to produce, test, experiment with, teach about and sell high-quality marijuana products. With a few tweaks in state law, perhaps one of the state's colleges could host a cannabis research center, Raap suggested.
Each member of the collaborative brings a business expertise that could come in handy, but none has an ounce of experience in the marijuana field.
Raap and Robertson have both excelled in packaging and marketing agriculture-related products.
Cox's Burlington-based Coffee Enterprises tests for all kinds of chemicals in coffee, which could just as easily be applied to products that contain THC — the psychoactive ingredient in marijuana.
Miller, who served 10 years in the state Senate, has experience in shaping legislation. The details of what's signed into law could have a dramatic impact on what businesses develop.
The regulations Newman faces in the beer business could provide valuable insight for creating sensible regulations in the marijuana industry.
Jager, who was instrumental in branding and building Burton Snowboards, understands how to market the Vermont name.
"We all have pieces of the puzzle," Raap said, but each is likely to ply his or her trade differently.
Newman said he has no interest in running a marijuana business. He's too busy building four craft breweries in a partnership with the Boston Beer Co., the company best known for Samuel Adams beer. But he has strong ideas about transforming the marijuana economy from black-market to legitimate, and he's offering his expertise to help make that happen.
"Cannabis is an agriculture-based product that could really fuel Vermont's economy," Newman said.
Miller looks at her role as helping to craft legislation that fosters a small-scale, Vermont-centric recreational marijuana industry. She's already been to the Statehouse to offer her input to her former Senate colleagues.
Sen. Jeanette White (D-Windham) said the collaborative is welcome at the table, but she noted that legislators plan to consult with lots of others as they work toward legalization. White's Senate Committee on Government Operations has been meeting weekly throughout the session to work on legislation, with an eye toward passage next year.
Other collaborative members are looking to open their own cannabis businesses if Vermont legalizes marijuana — or perhaps even before then.
Cox was in California last week visiting a marijuana testing facility. "I'm not making a commitment. I'm just doing my homework," he said. He's finding that marijuana presents some interesting business challenges. Federal law prohibits it from crossing state lines, so each state that legalizes medical or recreational marijuana is required to have its own testing facilities.
Cox has already asked his bank whether it would cash a check written by a pot-related business. His banker said yes, as long as he's only testing medical marijuana, he said.
When he consulted with his insurance agent, Cox said, "It took a month for him to get back to me to say Lloyd's of London will offer coverage. I'm going, That's going to be through the nose."
Raap, who is now chairman of the employee-owned Gardener's Supply, said he's long sold equipment to those who grow marijuana. He just hasn't been able to market it that way. He's about to launch two companies that would sell equipment and advice to people who grow their own marijuana, but he's still trying to figure out how to navigate the legal terrain.
Robertson's college-age son has lined up an internship with one of Raap's new businesses. "This is bringing him back to Vermont for the summer," she said. That's exactly what she hopes a vibrant cannabis industry would do: lure young adults to live in ever-aging Vermont.
The collaborative is hardly the first group to look at the landscape and see opportunity in the marijuana industry. Across the country, organizations are putting on seminars for would-be profit makers.
Taylor West, deputy director of the National Cannabis Industry Association, said some of those who enroll are naive about the challenges.
"Some of [the courses] are designed to draw people who are looking to get rich quick," she said. People often don't realize how long it takes states to set up medical or recreational marijuana programs after legalization, she said. That usually means it will take longer than expected for a new business to make money.
The Vermont Cannabis Collaborative is also not the first to wade into the marijuana business in Vermont. Eleven entities have already registered in Vermont that have the word "cannabis" or "marijuana" in their name. The state's four medical marijuana dispensaries have all had to navigate how to grow, test and sell a product that is legal only to their clients.
"They're the ones that put their necks out there," said Virginia Renfrew, who represents the four dispensaries through the Vermont Cannabis Trades Association.
Renfrew said she hopes anyone getting involved in the Vermont marijuana industry won't try to push the medical dispensaries aside. But she agrees with the collaborative's idea of a customized approach. "We need to do it in a really thoughtful way," she said. "How is this best for Vermont, so we don't have 25 retail shops in downtown Montpelier?"
Raap concurs. "It's happening all over the country. It's happening in craziness, but it also can happen in logic," he said. "The Vermont Cannabis Collaborative is about, How do you bring a logic to this that is a Vermont logic?"