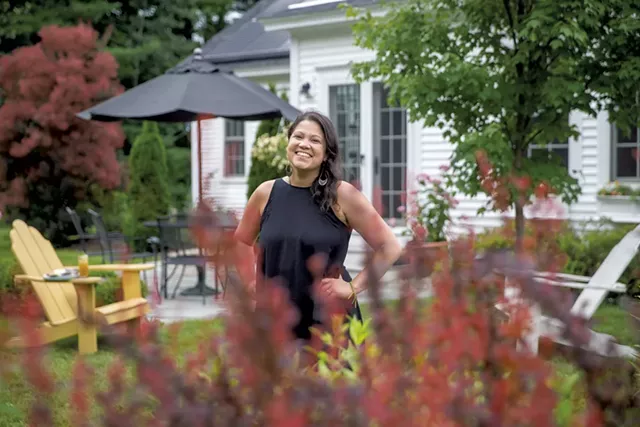 James Buck
Rachel Averitt
In her peaceful, flower-filled Williston backyard, Rachel Averitt welcomed a reporter with a stylish, personal pandemic hospitality kit. It included sanitizer, gloves, a freshly laundered cloth napkin and a glass bottle of water.
About three years ago, Averitt, 37, left the restaurant industry to start her own event coordination and digital marketing consultancy called Rely on Rach.
Her Instagram feed will make your mouth water with images of glistening coconut-cream-glazed cinnamon rolls, bronzed chicken wings and perfectly pleated dumplings.
Averitt works with a variety of clients, but the food industry remains her first love, despite a few challenging restaurant jobs over the years. Some employers were respectful and supportive, others not so much. She declined to name names. Averitt said she wants to spread more positive vibes than negative: "I don't necessarily believe in fighting fire with fire."
But she doesn't shy away from talking about the tough stuff.
"I sometimes feel like transparency is good for other people," she said during the backyard conversation, which touched on growing up biracial in a single-parent household. "It makes people feel like they're not alone."
Averitt hopes to empower others by sharing her efforts to "'preneur my ass through this life journey with a camera in one hand and a fork in the other," she writes on her blog.
In June, much to Averitt's surprise, her new website's inaugural blog post landed her in a Washington Post article about COVID-19-era entertaining.
Averitt spoke with Seven Days about her love-hate relationship with the restaurant industry, her brother's vinegar chicken and how to host a pandemic dinner party.
James Buck
Gumbo, pork arepas, fry bread, paracones and Filipino banana ketchup served by Rachel Averitt
SEVEN DAYS: Tell us about your background in restaurants and food.
RACHEL AVERITT: I pretty much was in the restaurant industry my entire life. I started my first job in an ice cream shop where I grew up in northern Michigan. Then I waited tables, and then got into bartending and restaurant management.
My father was white. He raised me. My mom's Filipino. Growing up in a really white community was a tough thing. I was always kind of feeling a little out of place. Food makes me fit. I feel confident with my food; it's almost like therapy to cook. It's really about sharing with people and bringing people together. Food makes people happy.
I really started cooking in college. My dad was always interested in food. He bought me a Julia Child cookbook and I still have it. I cooked through that and learned a bunch. I was waiting tables in fine-dining restaurants and being exposed to really good food. I wanted to work in kitchens, but no one ever took me seriously.
SD: What brought you to Vermont?
RA: The food scene, the local agriculture. I was so inspired by the Intervale and thought City Market [Onion River Co-op] was just the coolest thing. I couldn't believe the local food.
SD: On your website, you refer to the "never-ending cycle of the restaurant industry's misogynistic bro-culture" that propelled you to start your own business. But you continue to work with restaurants?
RA: Oh, I love the restaurant industry. I struggle with it. I have a love-hate relationship with it. I needed to connect with it in a different way. The restaurant industry is a gritty place, [but] I love it because there's a social atmosphere to it. There is a huge sense of community. There's a sense of family with restaurant employees.
I had kind of a rough childhood, so the restaurant was where I found family. My mom was an alcoholic, and my father died when I was 25.
But it just wasn't the industry for me anymore. I felt like there wasn't room for me to grow anymore. There's a certain amount of crap that you just get used to, and you don't even realize that it's happening. But what happens is, over time, things build up, you know? And it affects things like your self-esteem, your confidence in using your voice. You start feeling like maybe you shouldn't speak your mind, or you shouldn't have opinions. In the restaurant industry, at least in my experience, there was a lot of that.
I want to work for myself, be in control. I want to work hard and get the benefits. I want to fill my life with positive things and good things and help people. And so I just had to walk away.
SD: When you went out on your own, you started with wedding and event planning?
RA: Well, first I did a short stint in real estate. Oh, what a nightmare. [Laughing.] I absolutely could not be a real estate agent. Hospitality is my core.
I knew I wanted to eventually do something with food, but I didn't know what, how, where, when or why. I had planned a couple of weddings, and so I was like, I'll start a wedding planning business.
I know a lot about the restaurant industry. I know a lot about food. I know a lot about marketing. And I'm having a lot of dinner parties and growing my blog.
What I really want to do is what I'm doing for Peg & Ter's in Shelburne. [Co-owner] Johnny [Helzer] was like, "I need someone to take pictures." And I'm like, "You need more than just pictures. This is about telling a story and evoking an emotion and creating a relationship."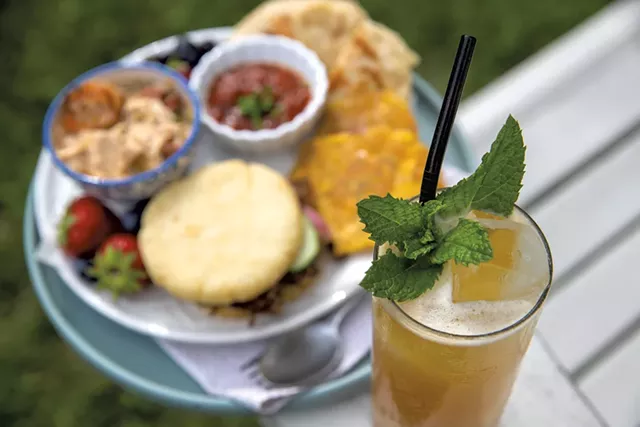 James Buck
Mocktail served by Rachel Averitt
SD: Do you have a favorite evocative food memory?
RA: My dad worked late nights, and my older brother would always try to make us a nice dinner. He put some energy into it; he wouldn't just make a frozen pizza. He'd make this vinegar chicken, which now I know was [Filipino] adobo style. My mom didn't live with us, but he remembered it. It was special.
My mom actually, before she started drinking heavily, she really was a very good cook. I still cook a lot of her food, so I do have some goodness there, you know, to hold on to.
SD: How are you hosting dinner parties these days? Got any tips to share?
RA: Primarily, [we're hosting] outside. We're keeping it to a small, manageable size. I make all the food. It's finally the license to get everyone out of your kitchen! And I plate everything individually. I love to plate.
If you're having a gathering with people, you need to take some responsibility for creating a safe environment and set some guidelines. Communicate what your COVID [rules] are; not everyone's on the same page. I had a girlfriend who went to a friend's house thinking it was going to be all socially distant, and it wasn't at all. And she was taken aback and had to leave.
[For cleanup], one person [at a time] goes in, rinses their plate, shoves it in the dishwasher. Then I don't have to do all the dishes. We typically use linen napkins, 'cause I'm kind of an environmental freak. We just have a basket, and everyone throws them in and we just dump it in the laundry. And hand sanitizer is everywhere.
SD: You take beautiful food photos. How'd you learn to do that?
RA: I originally was at photography school. My dad got sick, and I quit college to take care of him. Then it just clicked one day. I was looking back through my phone, and I realized I'd been taking photos of food — bad photos of food! — for so long.
[My boyfriend] bought me a camera. Then I met [Richmond-based food blogger] Katie [Webster], and she was so awesome. She was just like, "What do you have questions on? What do you need help with?"
I never would have been able to leave the restaurant industry, or do any of this, if it wasn't for this community, and specifically the women in this community. It's just insane how much support there is if you just allow it.