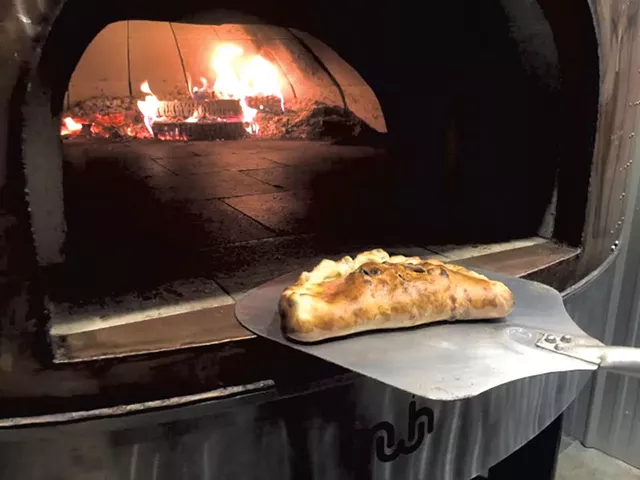 Courtesy of Barnyard
Barnyard
First, openings: In Jeffersonville, the Martell family will open Martell's at the Red Fox in the week between Christmas and New Year's Eve. The new pub and sports bar at 87 Edwards Road replaces the El Dorado Tavern, which closed in October after about a year in business.
At Martell's, Matt Martell (most recently of Idletyme Brewing, which replaced Crop Bistro & Brewery in Stowe this summer) will handle the cooking. His menu will bring pub favorites: nachos, potato skins (with optional chili or pulled pork), wings, artichoke dip, mussels and sandwiches. Once the restaurant opens, Martell says he expects to start serving weekend brunch within a month or so.
The bar will pour a handful of draft beers — most of them local — and stock a formidable list of bottled suds, plus wines and cocktails. An open stage area will host local bands and other live entertainment on weekends. "We're hoping people come for the music and the bar scene," Martell tells Seven Days, noting the pub's several big-screen TVs.
Come summer, the Martells plan to take advantage of their picturesque location just off Route 108 to offer al fresco horseshoes and volleyball and perhaps shows on an outdoor stage.
The new pub's opening date remains TBD, pending approval of a few final permits; check the restaurant's Facebook page for updates.
Earlier this month in South Burlington, the Handy family (Ann Michael and Peter, Paul and Sam Handy, of the Rutland Vermont Tap House and Rowan's in Milton) opened the Barnyard in the old Vermont Sports Grill space.
On the menu? Snacks such as fried Vermont cheese curds, local beef burgers and other sandwiches. Wood-fired pizzas (12- or 16-inch) and calzones come with toppings or fillings ranging from five-cheese blend to sweet corn to sliced pears to "chicken ranch" or Philly cheesesteak accoutrements. According to the menu, many of the vegetables, cheeses and proteins hail from local farms and producers, and most of the components — from the pizza sauce to the roast turkey in the sandwiches — are made from scratch in-house.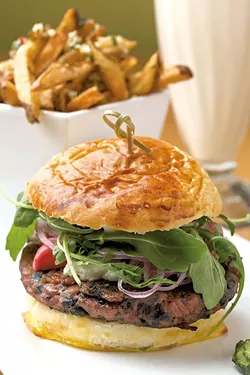 Oliver Parini
Beet burger at Grazers
Now, closures: Elsewhere in Handy-Land, Don Johnson, Patrick Stewart and Sam Handy Jr. abruptly closed the Stowe location of Grazers on December 10. The restaurant — the second iteration of the Handys' locavore burger joint — opened in early July. "It is with a heavy heart that we have made the difficult decision to close Grazers Stowe. To be honest, we just bit off more than we could chew," the restaurant's management announced via Facebook. They added that the team had "decided to put all of our efforts and attention into our flagship restaurant in Williston."
Michel's German Food, which opened in South Burlington in late August with a takeout menu of soups, schnitzels, sausage and spaetzle, shuttered without a trace a few weeks ago. Owner Addi von Eynern failed to respond to repeated requests for comment.
And finally, a few false reports of closings to lay to rest. In July, this paper noted that Middlesex snack shop Nutty Steph's would cut its nightlife series, which included weekly Bacon Thursday throwdowns. After the piece ran, Nutty Steph's employee Heather Pospisil says she started hearing reports that the chocolatier had closed "People keep coming up to me like, 'Oh, are you still open in Middlesex? I thought you were closed.' At first I thought people were confused, and then it kept happening," she says.
For the record, Nutty Steph's retail storefront beside Red Hen Baking remains open Wednesday through Sunday, 10 a.m. to 6 p.m., selling handmade chocolate, granola and other sweet treats. Those include a wildly popular new Bernie Bar made with Ecuadorian dark chocolate and a "liberal amount" of sea salt.
Last week, Seven Days got a call from Kitchen Table Bistro co-owner Neal Johnston. He said his business has been down since September, when former staffer Alice Levitt penned a story asking, "Why Are Top Vermont Restaurants Closing?" The article mentioned that the Richmond restaurant is up for sale; Johnston says he keeps hearing from readers who jumped to the conclusion that it has closed. So let it be known, without equivocation, that both Kitchen Table Bistro and its sister café, Parkside Kitchen, are still open!
Likewise, South Burlington's Wooden Spoon Bistro remains alive and well, reports co-owner Liza O'Brien. "We've been getting a lot of calls from people wondering if we're still open, or if we're for sale, or what," she says. "It's been ridiculous."
Most of those calls stem from the departure of WSB chef-co-owner Adam Raftery. He headed to Manchester Center to serve as executive chef at the Copper Grouse at Taconic, a swanky new hotel from San Francisco-based Kimpton Hotels & Restaurants, which opened in November.
But that did not spell the end for the Wooden Spoon or its sister restaurant, Burlington's St. Paul Street Gastrogrub. When Raftery left, sous chef Jake Denny took over the kitchen, O'Brien says. In fact, she notes, WSB has added fun new features, including a weekend pub menu — burgers, wings and other downscale snacks — and live music on Fridays and Saturdays.