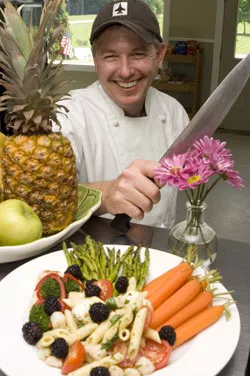 Red-state cuisine meets blue-state eaters near Williston's Taft Corners at Vermont's first — and locally owned — Texas Roadhouse, which opened in December. That's the national chain where all the rolls are baked fresh, country music blasts from the speakers, and servers take a break from slinging steak every 45 minutes to bust out a line dance.
The Roadhouse may rely heavily on the kitsch factor, but this is one franchise that claims to be serious about its food. According to staffer Dallas Anderson — yes, that's her real name — the salad dressings are made from scratch, steaks are "hand cut" in-house, and the famous "fall-off-the-bone" ribs are cooked for four full days.
In addition to all the meat you can eat, the menu is bursting with American faves such as cornmeal-breaded fried catfish, 'tater skins and all the usual steakhouse sides.
Drinks are a big deal at the Roadhouse, too. The margaritas, made with multiple tequilas, are "legendary," and the "Ice Cold Beer" is served in "chilled, 'beer-clean' glasses" — making teetotalers hope there were enough clean glasses left over for plain old water.
******
It took longer than anticipated, but as of New Year's Day, Asiana Noodle Shop on Church Street — in the spot Paradise Burrito used to occupy — is dishing up build-your-own noodle bowls, chicken wings and salads for both lunch and dinner.
Asked what's selling well so far, co-owner Sandy Kong says diners are digging the avocado tofu salad, fried calamari and a dish called "Saigon Lemongrass."
******
After January 17, Essex residents used to stopping at Sacred Grounds at the Essex Shoppes & Cinema will have to find a new place to worship the caffeine gods.
The café, known for its breakfast sandwiches on homemade English muffins, gourmet coffee and baked goods, is one of seven small businesses located in a building that's slated to be torn down so a CVS Pharmacy can be built in its place.
But unlike the other six businesses, Sacred Grounds won't be reincarnated in a new location. "We're closing now because it's too expensive to relocate," laments owner Debora Cuedek. "We haven't found any spots that are comparable to what we have here." The current location, on the corner of two busy roads, features a crucial drive-through window.
Cuedek says she will never open another coffee shop. "We're walking away with huge debt after five years, and that's about it. There are so many negatives to owning a small business in Vermont. There are no laws to protect [them] at all," she says, noting that she will not receive any compensation for being forced out of her place of business by a mega-corporation. "They have lots of money, and the landlord wants it," she sighs.
If there's anything positive about the situation, it's the outpouring of support Cuedek has seen from her customers. "Some of them did do a petition," she says. "The customers are pretty upset."
******
Café Shelburne is considered a special-occasion restaurant, but for the last two and a half years, Shelburne visitors have been able to sample Chef Patrick Grangien's continental cuisine for less by stopping at Amandine on the Village Green, a little gourmet shop and prepared-foods counter near the Shelburne Shopping Park.
Now folks will have to look elsewhere for perfectly executed pâtés, casseroles, soups and sandwiches. A sign on the door explains that "For many reasons . . . Amandine is closed as of January 1."
The short note does leave a modicum of hope for hungry fans. It reads: "We hope [the doors] open again in the near future."
******
Burlington's Taste — located in a scenic spot on the waterfront — is also closed, but only temporarily. Co-owner, chef and contemporary artist Rick Benson is taking a brief hiatus to focus on his Little Garden Market in Charlotte, as well as to get some much-needed R&R.
"We're closed for January, maybe a week into February," Benson says. "We're looking at Valentine's Day as the re-up."
What's new at the market? The spot is now stocking household staples and has a license to sell beer and wine.
******
On Christmas Eve, Gesine Confectionery in Montpelier — famous for flavorful macaroons and luscious layer cakes made lovingly by Gesine Bullock-Prado (also known as Sandra Bullock's sister) — closed its doors for the last time.
But luckily for Prado's loyal fans, her sweet treats aren't gone for good. The petite baker is taking a break from retail to focus on a new aspect of her career — food writing.
"I sold my first book . . . to Broadway Books at Random House," Prado dishes. The memoir, which comes out this fall, is called Confections of a Closet Master Baker. A follow-up tome is already in the works. "I wrote [the first one] while keeping my baker's hours at the shop, and if I did that again it would kill me," Prado explains. She's also looking forward to putting more time into her blog, Confectionsofamasterbaker.blogspot.com.
Rumors that Gesine and her husband, Ray Prado, are moving out of Vermont are unfounded, the baker attests. Although they are spending the winter in Texas, where she's developing a "pastry menu" for a "little shop called Waltons," the gig is only temporary.
When Prado returns, she plans to find a business partner and do some serious selling online. Although she and Ray have sold the building that housed their retail operation, the business name and the recipes are all hers.
What's happening to the tiny spot on Elm Street? It was purchased by Jenn Toce and John Belding, both of them currently on staff at NECI. They've renamed the café Birchgrove Baking, but plan to keep all the staffers and the same coffee. The new eatery opened last weekend.
******
According to building owner Larry Bohen of Richmond, the spot that formerly housed Smokejacks is still up for lease. "I haven't signed anybody yet, but I have some interested parties," he explains.
After an auction on December 18, it's no longer a turnkey operation — Bohen himself bought the bar and a "couple of gas stoves" — but he believes the set-up is still well suited to a "restaurant concept."
Asked if decreasing the $6600-per-month rent is an option, Bohen says such a move would also devalue the building, which is currently on the market. According to financial experts, a restaurant's rent should run at about 6 percent of its revenue, Bohen says. "I'd like to hold on long enough to find an operator who has a concept that they think would bring in $1.4 million a year," he explains — which would put the tenant comfortably in the 6 percent range.
Although he would love something "like Smokejacks," Bohen also thinks a combination microbrewery and pub would be a good fit.