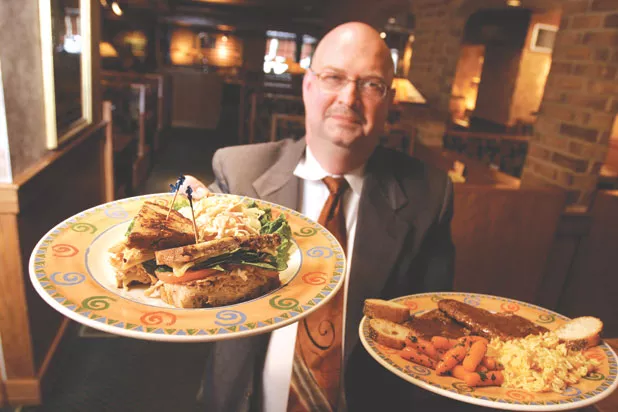 Bob Scott, late of Ground Round
Time for tequila! Meñores, a joint venture of Franke Salese Jr. of Junior's Italian and Patrick Finnigan of Finnigan's Pub, opened last Wednesday in the old Plan B spot on St. Paul Street.
Patrons won't find mole on the menu, but there are flavorful versions of all the Taco Bell classics. Chimichangas, fajitas, tacos and enchiladas come stuffed with a variety of fillings: Meat eaters will dig the well-seasoned pork and shredded beef, while vegetarians can opt for beans, portabello mushrooms or spinach.
Want the hard stuff? Margarita mavens can choose from 50 types of tequila. "If someone wanted to get a $100 shot of tequila, they could do it here," Finnigan boasts.
******
Comfort food is on the menu at Colchester's Dragonfly Café. "Everything is homemade, from our lasagna right down to our ranch dressing," says co-owner Ginny St. John. "We don't use any deli meats; we cook our turkey in the morning; we make our own meatloaf."
The one thing they don't make? Breads, which come from Great Harvest Bread Co. on Pine Street.
The eatery is open for breakfast, lunch and dinner Monday through Saturday, and for Sunday brunch. "We're pretty quiet at breakfast time," St. John admits. Luckily, the other two meals are bustling. At lunch, the asparagus, cheddar and ham panino is the biggest hit. Shepherd's pie, mac 'n' cheese and chicken pot pie warm up evening diners.
Overall, St. John is thrilled with the café's reception: "We've been so pleased with people's reactions. They feel very comfortable here."
******
There's one less place to eat in the wealthy town of Woodstock. In mid-October, The Lauren stopped serving its handmade duck confit wontons and warm chocolate cake with pepper cream and closed its doors for good. The inn and restaurant will be sold at a foreclosure auction this week.
Why didn't the 3-year-old property make it? The inn's webpage offers a candid farewell letter, which blames more than the economy: "Sadly, we were met with tremendous resistance from our neighbors, and subsequently, operating permits were scrutinized at town and state levels. The imminent result of these actions combined with the increasing decline of the global economy landed us with an unrecoverable debt and hardship."
Ouch.
******
Localvores know Bob Scott as the man who brought Vermont products to the Ground Round and helped the restaurant earn its place in the Vermont Fresh Network.
His Vermont burger is still there, but Scott is gone; he moved to Boston for personal reasons. The franchise plans to keep on truckin' in the local beef, maple syrup and seasonal veggies. "We're definitely going to continue to drive that forward," says Front-of-the-House Manager Stan Tribble.
For now, though, the shaky market is preventing the resto from adding any new Green Mountain products. "We'll probably wait a little while," Tribble says. "We're kind of holding steady with what we have."
******
The tiny Mad Hatter on Burlington's Bank Street, which has been selling sandwiches for more than a quarter-century, has changed ownership. Tom Roden, who purchased the deli from Gavin Felix, says he isn't planning many innovations.