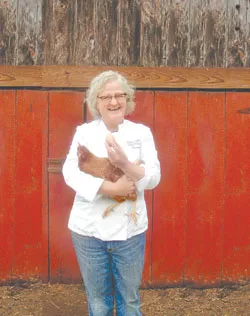 Matthew Thorsen
Connie Jacobs Warden and Henrietta
The rumor made it all the way south to Seven Days: Last week, we heard St. Albans institution Chow! Bella was closing.
Not so fast. A call to chef-owner Connie Jacobs Warden cleared up the confusion. She is selling her restaurant, not closing it. "You can't sell a closed restaurant," she reasons. While it's possible the new owner will go for another name and concept, it's likely, given the restaurant's local popularity, that whoever buys Chow! Bella will keep things the way they are. Jacobs Warden says she may even stay on in the kitchen — at least for a while.
Jacobs Warden says she always planned to sell Chow! Bella once her daughter finished high school. She's stayed longer than she planned — that daughter graduates from college this December.
Still hard at work, the chef will debut a new winter menu next week. Look for hearty meat dishes, including lamb shanks, and a mixed grill featuring quail, crispy duck leg and smoked-chicken sausage with a trio of sauces.
******
Starting next week, Grand Buffet will really earn its name. According to co-owner Lina Li, her Essex Junction restaurant will keep 80 items on the buffet at all times. The Pearl Street eatery, sandwiched between Big Lots! and RadioShack, will serve American, Chinese and other Asian food, with offerings ranging from sushi to pizza to barbecued squid. Guests will pay $7.29 to pig out at lunch; dinner costs $11.29. So bring a grand appetite.