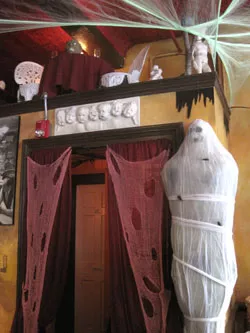 Leunig's, decorated for Halloween
With an everyday menu that includes pepper-crusted Lac Brome duck breast with leg confit and poached black figs, the Belted Cow Bistro in the historic Lincoln Inn building in Essex doesn't exactly present itself as a neighborhood hangout.
But that could soon change. Chef John Delpha — who will help defend his team's title at the Jack Daniels World Championship Invitational Barbecue this weekend — has had success serving competition-quality ribs, chicken and other smoked meats on Tuesday nights. Now the Massachusetts native hopes to build on that populist appeal with a pizza and pasta night every Thursday. "It's something we're trying to do to give people a cheaper alternative for better food," says Delpha.
The Thursday night menu showcases homemade meatballs simmered in San Marzano tomato sauce. Pasta meals come with garlic bread from Red Hen Baking Company. Basic "gravy" can be dressed up with whatever ingredients are available, including fresh vegetables and prosciutto.
Each week brings a rotation of four or five flatbreads, but a basic tomato-and-basil version with Maplebrook Farm mozzarella is always available. Guests smart enough to call ahead can reserve lobster pizza, a four-cheese pie with tomato, bacon, pesto, chives … and a whole lobster, poached in Alfredo sauce.
The bistro's regular menu is also available Thursday nights. But why look a "gift" Alfredo-poached lobster in the mouth?
*****
Fans of Leunig's Bistro may have noticed a change to the interior of the continental Church Street institution. Cobwebs line the ceiling and weave across door frames. A huge spider perches above the bar, and a bat lurks between the kitchen and the bathroom.
Fortunately, the infestation is the result of floor manager Donald Imgram's decorating efforts. The haunted restaurant will set the scene this Sunday for "Seven Deadly Sins with Seven Deadly Zins," a seven-course dinner prepared by chef Donnell Collins and paired with pours from Michael~David Winery.
Guests at the $85 tasting will sample a vial of lobster-mango bisque before digging into brain-shaped "Right Lobe" meatloaf, then "Hannibal Lecter's Beef Carpaccio" paired with 2007 Sloth zinfandel.
Diners are encouraged to match their attire to the décor — according to general manager Bob Conlon, the patron with the best costume will win a ticket to an industry wine show this spring.
*****
In 2007, the South Burlington franchise of the Ground Round restaurant chain was raking in positive press for its switch to Vermont products. But the grass-fed burgers and Shelburne Farms cheddar left the menu in 2008, when manager Bob Scott, who had pioneered the localvore changes, left for Boston. Last Monday, Vermont's only Ground Round closed for good. Robert C. Smith, president of Nine Platt Hospitality Group, the company that owned the South Burlington location and one still open in Plattsburgh, refused to comment. Time to find another excuse to start dinner with a basket of popcorn.