Nathanael Asaro
Camping by the Canadian border
On Hannah Vickery's first camping trip, she didn't make it through the night. She was 11, sleeping in her parents' Virginia backyard, and she got spooked.
"We heard a coyote," Vickery said. "By the next morning, it had turned into a story where we saw, like, a grizzly bear."
Vickery, now 25 and living in St. Albans, has come a long way since that first attempt. Last August, she completed Vermont's Long Trail. The coronavirus pandemic has forced her to explore new, less-traveled trails, especially because the Long Trail shelters and facilities were closed in the early summer. Vickery is an essential worker at a crisis shelter, so being able to socially distance on the trails is important to her.
She spoke to Staytripper about her can't-live-without-it camping gear and how she handles misadventures.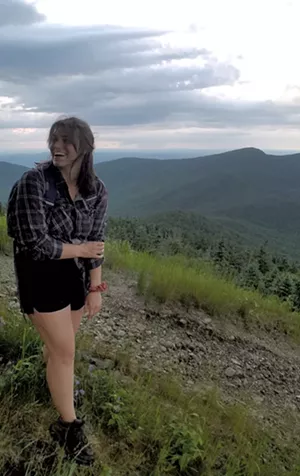 courtesy of Hannah Vickery
Hannah Vickery
You hiked the Long Trail last year. Was there a learning curve to that kind of backpacking trip?
Yeah. My first night out — I'm kind of embarrassed, but usually when I backpack, I just pack in some granola bars or something and call it a day. This was my first time using a stove. I actually literally did not know how to use the Bic lighter. And I was struggling, trying to figure out how to light the lighter and stove. Thankfully, a guy at the shelter was like, "Can I offer some advice?" Then, by the time I was at the end of the trail, I was a practiced hand at lighting a lighter.
This is a good segue into camp food and your favorite trail snacks. It sounds like granola bars are a big one.
Yeah, so, granola bars were my favorite until after the Long Trail. I never want to eat another granola bar again.
Typically if I'm out hiking or camping, it's just really easy food that I can make, like ramen. There's this meal — it sounds disgusting — it's called a Ram Bomb. So it's ramen noodles and packaged instant potatoes. It's so good after you put in some hard miles and you get to camp. It's just the ultimate comfort food, like baby food for adults.
Let's talk about gear. Beyond the basics, what are the things you can't live without when you're camping?
When I first started out, I was using a yoga mat between the ground and myself. I had this idea in my head of, like, to be a true backpacker I only need the bare essentials, but I'm so over that. Now I have a nice inflatable sleeping pad. It makes so much of a difference, getting a good night's sleep.
For backpacking, I would definitely recommend a bear bag to hang food in. I have a really healthy respect for wild animals, and so I like keeping the campsite as free of smelly things as possible.
I also have a small first-aid kit that I usually bring with me, just really bare, essential things. It makes me feel safer.
My Darn Tough socks are literally the best hiking socks I have ever owned. Shout-out to Vermont-made socks!
courtesy of Hannah Vickery
View from a hike on Jay Peak
As a woman in the woods who's often alone, do you take any precautions that other people might not?
Before I go out, I let someone know where I'm going to be, which I think everyone should be doing anyway. While I'm on a trail and I meet other hikers, I don't tell them where I'm going to be camping. I usually sleep with my hiking poles right beside me in the tent, so I would have a ready weapon if needed.
Honestly, I feel so much safer in the woods than I do in the Walmart parking lot. Which is kind of weird, right? Supposedly the wild has more dangers, like wild animals or the risk of injury or freak weather. But I definitely feel a lot safer the deeper I get into the woods.
What advice would you give people for when things don't go according to plan?
One of the first times I went camping by myself in a remote place, I made so many rookie mistakes. It was so dumb, but where I was camping was on this ledge above a cliff, and so I set my backpack down, and then I turned around to grab the backpack and I accidentally kicked it. It went rolling over this ledge. And the sun had already set. It had my keys in it, my phone, my extra blanket, all my food, all my important stuff other than my tent and my sleeping bag. I was wavering in between full-blown panic and just hysterical laughing. But it was OK. The next morning I was able to find it. It took, like, an hour of searching.
I kind of enjoy it, honestly, when things go wrong, because in the back of my head, I'm always like, Oh, this is going to be a really good story. Just keep a sense of humor, especially if you're alone, because what you really want to avoid is panicking.
This interview has been edited and condensed for clarity and length.
Hannah recommends: