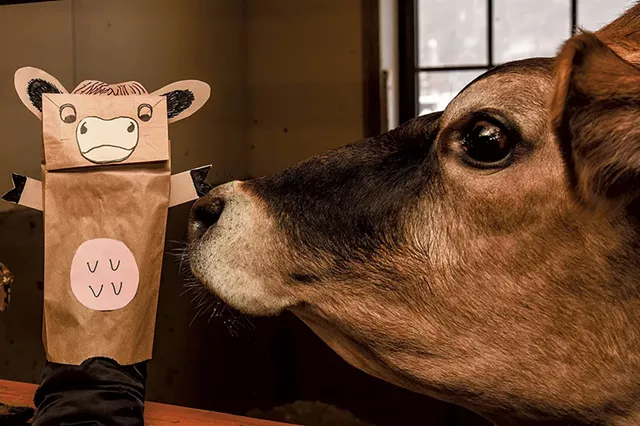 Courtesy
Virtual tours at Woodstock's Billings Farm & Museum
You've burned through your Netflix queue after a few days of social distancing. Now what?
Many Vermont organizations are taking their workshops, activities and exhibitions to the web, giving residents opportunities to move, learn and be entertained from the compulsory comfort of their homes. What follows is just a sampling of the virtual experiences now available in lieu of in-person gatherings. Whether you're looking to make art, break a sweat or see cute animals, you won't be bored.
Arts & Entertainment
Circus Smirkus, a Greensboro-based youth circus, introduces Smirkus@Home, an online initiative featuring paid virtual classes — think Hula-Hooping, juggling and clowning — for all ages. "While we planned to do this anyway, we kicked the process into high gear in response to the current situation," wrote executive director Jen Carlo in a newsletter. Details are at smirkus.org.
Exhibits, classes and studio hours are off-limits to in-person visitors at Burlington's BCA Center through at least April 6. Instead, visual arts fans can engage with the center's new Home Studio project, which features virtual-reality gallery tours, as well as prompts to inspire art making. Folks can then share their work with the BCA Home Studio Facebook group.
Health & Wellness
The Vermont Center for Integrative Herbalism regularly offers student clinics, allowing individuals to receive affordable consultations from third-year clinical herbal interns. Normally held at VCIH in Montpelier and Railyard Apothecary in Burlington, the clinics are now done by phone and video chat. Consultations are available by appointment and cost between $10 and $30. Call 224-7100 for more information.
Remember to breathe! Active bodies stretch the stress away with virtual classes presented by Sangha Studio and Evolution Physical Therapy + Yoga. Both Burlington-based studios are using online platforms to help students stay on the mat.
Science & Environment
The Montshire Museum of Science in Norwich is closed until further notice, but scientific exploration is ongoing. Through its Facebook page, Instagram account and YouTube channel, the museum stimulates minds with online learning opportunities, such as DIY science projects, downloadable activities and video lessons for families. Each week highlights a different topic, such as chain reactions and cardboard creations.
Vermont- and New York-based solar company SunCommon presented the first annual Climate Action Film Festival in February. Those who missed it can join internet-based "town hall" screenings on March 26, 28 and 30, meant to replace in-person showings and discussions originally scheduled around the state.
Agriculture & Gardening
YouTube and Facebook feeds offer access to the animals and historic farmhouse at the Billings Farm & Museum in Woodstock. Running out of ideas for the kids? Locals can pick up craft and activity kits from a drive-through station outside the visitor center. The annual Baby Farm Animal Celebration is postponed, but there's still plenty of cuteness to go around.
As planting season approaches, Hinesburg's Red Wagon Plants offers seminars to get gardeners started. Houseplants 101 on March 26 and Beginner's Guide to Planning the Medicinal Herb Garden on March 28 move from the greenhouse to the web, reaching participants through live video conferences.