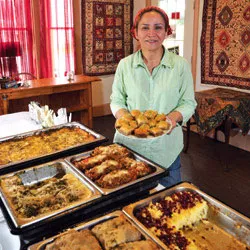 Jamba's Junktiques owner Phinneus Sonin has fond memories of the Last Elm Café on the corner of North Street and North Winooski Avenue, once an activist center that hosted performances from the likes of Phish members and Gordon Stone. When he arrived in 1991, it "was the center of my Burlington experience," he says.
Now Sonin wants to recreate that spot — or at least its community spirit — at his new, nameless "social experiment," which will open on February 1 at 156 North Winooski Avenue.
Like its predecessor on the same block, this "experiment" will offer food — specifically, "good food and good company," Sonin says. But in a key respect, he hopes, it will diverge from its model. "[Last Elm Café] had the worst food and the worst coffee, and you were lucky if there was a muffin," Sonin recalls. "Oftentimes it was coffee in a cracked cup."
A sign out front of the former Global Markets space proclaims, "You are invited for dumplings and tea" from 8 p.m. to 4 a.m. on opening day and every Thursday, Friday and Saturday after that. Sonin says he'll use the "beautiful kitchen" to prepare said dumplings — and that those are just the beginning.
Having already lined up a cook and kitchen manager, Sonin hopes to have four or five people join him as cooperative owners. As co-owners come on board, he says, culinary offerings will expand.
Sonin calls the endeavor "an anti-profit café." Rather than focusing on the bottom line, he explains, he hopes the community will reap benefits from the new place just as he did from Last Elm more than 20 years ago.
Sonin says he's avoided promotion on social media so that, when people start arriving, they'll be able to experience the space without preconceptions. One of the first things they'll see will be a Genese Grill mosaic on the bar. "I want people to come in and experience it — then take a picture," Sonin says.
Pictures are all that's left of the restaurant across the street from Sonin's "experiment," Farah's Place. Owner Farah Oberlender shuttered Vermont's only Persian restaurant last week after two and half years in business.
"It's too much," she told Seven Days' Bite Club blog last week. "I just can't take it anymore." Oberlender says that customers who still have unused gift cards should email her at fober2@yahoo.com.
Though 147 North Winooski Avenue will no longer be a destination for hummus, kebabs and herb-speckled falafel, Oberlender suggests that the business will be back in some form soon. "For sure we're coming back for summer, but not as a restaurant," hints the chef.
So who else can't wait until summer?
The original print version of this article was headlined "Entrées and Exits in the O.N.E."