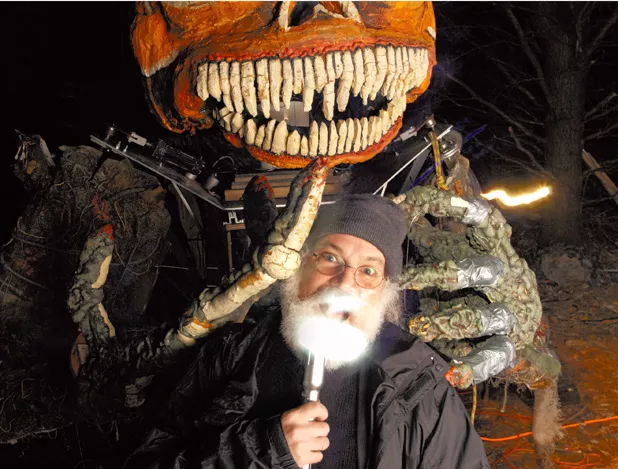 Matthew Thorsen
John Cohn
Two weeks before Halloween, IBM fellow John Cohn is out in the woods, perched on a generator with his laptop, banging out last-minute code. He's attempting to program his animatronic pumpkin-headed monster, Project-x, to fold up its arms after a period of inactivity, so the limbs aren't crushed when the beast is lowered pneumatically from its 18-foot height into a crouching position on the ground.
Accompanying Cohn is John Stanton, who helped create the monster for Williston's Haunted Forest as an IBM intern three years ago. Now, fresh out of graduate school and in his first year working for IBM, the young engineer concedes tinkering with the monster isn't exactly part of his job description. He's not getting paid for this gig.
"I do get to work with one of the greatest technical geniuses in Vermont, though," Stanton says, gesturing to Cohn through the trees.
Cohn is a tech rock star, with 50 patents issued or pending. He was part of the team that designed the chips for the Xbox 360, PlayStation 3 and the Wii. But the 52-year-old, who lives in a converted schoolhouse in Richmond, has had another focus for the last 20 years: getting kids excited about science, engineering and technology. He's traveled to schools across the country with his stage show "Jolts and Volts," in which he electrocutes pickles, explodes Rice Krispies and uses an EKG hooked up to a theremin — both homebuilt — to make music from kids' heartbeats.
"What we're trying to do is get kids excited," says Cohn, "let them in on the secret that there is nothing cooler than being a science geek."
Cohn does look cool — in a geeky kind of way — casually crafting code beside his pumpkin robot, its orange eyes glowing while its electronic innards hum and gurgle. Ever since he began his educational outreach, Cohn has fashioned himself as a mad scientist, and he looks the part: His longish white-grey hair and full beard encircle his face like a static halo.
Why has this technical genius devoted so much time to education? Cohn reaches into his pocket and pulls out a small stone engraved with the name Sam. It's a tribute to Cohn's middle son, who was killed in a traffic accident in 2006 at age 14. Ever since, Cohn has poured most of his energy into engaging kids Sam's age with the magic of science and engineering. "It's the thing that has made the most sense to me," he says. "In some ways, it's been healing."
Cohn gets up from his generator and begins pacing up and down the trail leading deeper into the Haunted Forest. When he was a child, Cohn says, he didn't need any compelling character to convince him to pursue technology. Growing up in Houston, Texas, he was "completely surrounded by the space craze," he wrote in a Huffington Post essay. By the time he saw Neil Armstrong's feet touch the dusty surface of the moon, the 10-year-old Cohn had made up his mind to study engineering.
Then again, he was "really geeky," he admits. Cohn spent much of his early childhood tinkering with Heathkits, the do-it-yourself kits that provided electronics hobbyists with all the components — and instructions — they'd need to build their own TVs, radios or other gadgets.
"It was uncool to begin with, but then over the next 20 years, it became decreasingly cool," says Cohn. Why? Electronics were becoming steadily less accessible to hobbyists because "the technology became a little less transparent," he says. In the '60s, for example, you could pry off the back of a television set and find generic components wired together to make the thing work. The computer chip changed all that. Suddenly, people like Cohn and his colleagues at IBM started loading all those components onto specialized chips. You couldn't see what was in there and how it was working, let alone take it apart and repurpose it.
But Cohn says technology is swinging back to transparency, for one simple reason: "Geeky people invented the Internet," he says.
Cohn stops pacing for a moment and turns his attention to Stanton, who is struggling with the monster's mouth. It is supposed to open and close when someone speaks into a microphone. It's not working. Cohn takes the mic and tries a few booming hellos. Nothing. He tries a different pitch. Nothing. He breaks into song: "Hello, I love you, won't you…" Still nothing. He passes the mic back to Stanton, offers some words of encouragement and wanders back out to the trail to resume his thought.
The Internet, Cohn says, made technology accessible again because it allowed people to share ideas — and, more amazingly, to share code and design files, giving way to the phenomenon that is "open source." As a result, a new componentry was born, says Cohn.
He gestures to the pumpkin robot and explains that it operates on an Arduino microcontroller, the open-source circuit board designed to make electronics more accessible to hobbyists and scientists alike. "The team has created a company based on giving everything away," wrote Wired magazine of the Italian firm responsible for the board. "On its Web site, it posts all its trade secrets for anyone to take … Download them and you can manufacture an Arduino yourself; there are no patents." Kinda like a high-tech Heathkit.
Now that DIY technology is feasible — and relatively affordable — Cohn and other local tech educators want to make it available to Vermont communities. It's one thing to wow kids with an animatronic monster; it's another to give them the tools to make something themselves. "I can tell you about riding a bike, but it's pointless," says Cohn. "You've got to do it."
To that end, for the last year or so, Cohn has been working with Essex High School and the University of Vermont to set up a network of so-called "makerspaces." The labs would be equipped with tools such as 3-D printers and circuit-board cutters, staffed by students and other trained community members, and open to students and the general public.
Essex High School received a $50,000 grant last summer to create its lab, which would be affiliated with another lab at UVM, says Joe Chase, the high school's learning community leader for math, science and design technology. Chase was first introduced to the makerspace concept when he and some colleagues visited an engineering and science magnet school in Virginia. He approached Cohn to be on the advisory board. "The idea is to put state-of-the-art equipment into the hands of students," says Chase. They're more likely to pursue a career in engineering, he adds, if they can make things that actually work, rather than wasting school hours on "projects made out of popsicle sticks."
Another bonus: Makerspaces would offer opportunities for people to work across disciplines — an artist may want to partner with a computer scientist, say, to design a template for a metal sculpture. Chase and Cohn agree this is likely to attract more girls and young women to the male-dominated field.
According to Cohn, less than 20 percent of engineers are women. The field "hasn't been very inviting," he says, citing a recent study in which people were asked what they think about engineering. The top three answers were: "It's difficult." "You have to be really good at math and science." "It's not for everyone."
Still, Cohn believes that the public perception — at least among young people — is shifting. The kids he works with these days equate engineering less with nerdy computer programming and more with design and innovation.
"It's all about engaging people's imaginations," says Cohn, who has done some crazy things in the name of that goal. For 58 days in 2009, he lived in an abandoned Los Angeles warehouse with nine other cast members of the Discovery Channel show "The Colony." The controlled living space was designed to simulate life after a global catastrophe. Cohn was the resident inventor, hacking together makeshift electronics and — what reality show would be complete without it? — eating rat meat.
To Cohn, it was one more opportunity to connect with young viewers and get them psyched about science and engineering. So did it work? "I have 4100 Facebook friends," he says proudly. "It got a lot of people talking. I can't think of a better way to reach so many people all at once."
He reached another community that year at Burning Man, the annual art festival in the Nevada desert. Cohn and his friend Homer Wells, the Monkton sculptor and mechanical mastermind who devised and built Project-x's pneumatic structure, constructed a massive self-powered, drivable ferris wheel for the event. On YouTube, you can watch their creation in action, the wheel blinged out with colorful lights, its rotating ski lift chairs filled with nearly naked festivalgoers grooving to a pumping bass.
"It's senseless beauty," says Cohn.
And then there's his music video, "Engineering Paradise," which has more than 158,000 hits on YouTube. Decked out in a tie-dye lab coat, the mad scientist spoofs rapper Coolio in a pretty successful effort — if the comments below the video are any indication — to make engineering cool. It doesn't hurt that he throws down hilarious, and often biting, rhymes such as, "If you be a gamer you can't give me no lip 'cuz when you be fraggin' yo homies, you be usin' my chip."
Some say the open-source era has marked the end of the inventor; Cohn doesn't buy it. Sure, the individual glory of Thomas Edison-style inventing might be gone, but Cohn is confident that kids today are excited by the prospect of using new technology to produce innovative and meaningful things, especially when it comes to facing down their generation's big issues, such as climate change.
"You don't have to sell kids on the fact that technology might have gotten us into this mess, but technology might also get us out of it," he says. Plus, these kids aren't interested in creating stuff that will make them rich and famous. He believes what motivates kids to create is exactly what motivates him: the simple joy of creating and the desire to do good work.
"Doing something good could mean saving the rainforest, or it could mean having a really good time at a rave," he says, grinning. "Making gadgets isn't that important to me. But making peace or art or music is."