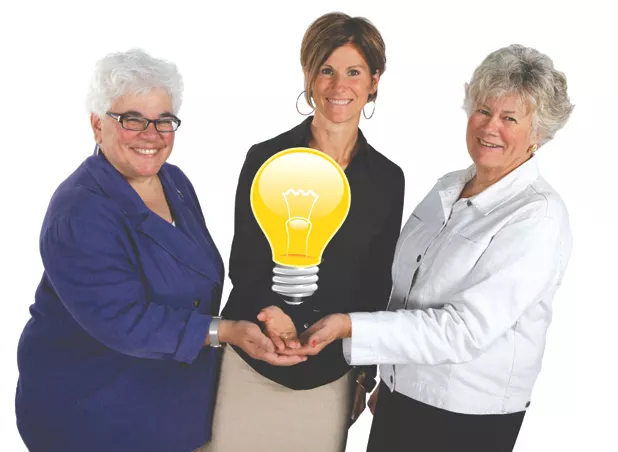 Beth Sachs, Mary Powell and Barbara Grimes
On July 17, Al Gore issued an ominous challenge to the American people: By 2018, the nation must be weaned from fossil fuels and fully reliant on carbon-free electric power. "The future of human civilization is at stake," he said.
More than most places, Vermont has already taken significant steps towards meeting that challenge. Two-thirds of the state's power is generated by greenhouse gas-free sources: Hydro-Québec and Vermont Yankee. Another 15 percent comes from renewable, in-state resources such as wind, small-scale hydropower and biomass. Vermont can also claim the U.S.'s first statewide efficiency utility, Efficiency Vermont, which helps households and businesses reduce their energy costs.
Consequently, electricity is not only greener, but cheaper here. Vermonters pay an average retail cost of 12 cents per kilowatt-hour, while the rest of New England pays 14 cents or more.
But, while the news is good right now, Vermont's continued reliance on carbon-free energy sources is far from assured. In 2012, the state's utility contracts with Hydro-Québec begin to expire along with Vermont Yankee's federal license. How can Vermont continue to meet its energy needs while maintaining or improving Vermont's quality of life? That question is on the minds of legislators and policymakers across the state.
It is also of great concern to the state's largest power utilities, three of which happen to be led by women: Barbara Grimes, a former state legislator who has been general manager of Burlington Electric since March of 1999; Mary Powell, who in August will become president and CEO of Green Mountain Power, a publicly traded utility that has 92,000 customers; and Beth Sachs, co-founder of the Vermont Energy Investment Corporation, which administers Efficiency Vermont and a half-dozen similar projects in the U.S. and China from its Burlington offices.
Between them, Grimes, Powell and Sachs represent decades of experience in energy and corporate management. Is it a coincidence that all three - not to mention NRG's Jan Blittersdorf and Dori Wolfe at GroSolar - are bright spots in a field traditionally dominated by men?
On the Thursday afternoon before Independence Day, the trio sat down with Seven Days in the offices of Vermont Energy Investment Corporation on South Champlain Street. As a thunderstorm slashed the Burlington waterfront, the three women talked about the energy challenges ahead for Vermont and what their organizations are doing to meet them.
Barbara Grimes
A lifelong Burlington resident, Barbara Grimes' path to the top spot at Burlington Electric included five terms in the Vermont House, where she chaired both the Ways and Means and the Commerce committees.
While politically astute, Grimes acknowledges that she had little knowledge of the intricately wonkish world of public electric companies. But, she recalls, that's not what then-Mayor Peter Clavelle needed when he appointed her in 1999.
"They recognized that I was not a utility suit," Grimes explains. "However, I did have a reputation as an effective manager, and that's what they felt BED needed."
Grimes says the utility needed someone with a fiscally responsible vision, a manager who could find the leaks and inefficiencies in the system, tighten it down and make it seaworthy. Unfortunately, that meant job cuts. "While, clearly, I was not cutting my position," Grimes remembers, "I certainly did understand, when I went home at night, that somebody was not going to have a job."
Grimes also instituted a seven-year capital plan, dumped an entire voltage system and a few substations, and beefed up the distribution lines to reduce line losses. "When you have stronger wire," she explains, "you have less electrons escaping. They tend to get outside that wire and just disappear. Last year, we saved $440,00 in line losses that did not occur."
Grimes' leadership was instrumental in convincing city voters in March to approve a $39.6 million bond for, among other things, emissions-reducing upgrades at the McNeil Generating Station and an equity investment in Vermont Electric Power Company (VELCO), the entity that owns many of the power lines in the state.
The bond will also help BED look for additional renewable energy from within Vermont. Burlington Electric currently gets 57 percent of its electricity from renewable sources, but some of that power costs more because it has to be diverted to Burlington. Along with new renewable energy sources, Grimes also hopes to improve efficiency among BED's customers.
"The challenge for the State of Vermont is, we hear it all the time, the two largest contracts that serve the majority of ratepayers in the state eventually are going away," Grimes says. "And in a carbon-reduced future, the competition for carbon-neutral fuels is going to be intense."
Among the options Grimes is examining is one that originates in Berkeley, California. The city is contemplating a program called Financing Initiative Energy Efficiency, Renewable and Solar Technology. FIRST, as it is known, would allow landowners to finance electric and thermal solar energy initiatives. A landowner would borrow from the city, which obtains the money by selling municipal bonds.
The cost gets amortized over a 20-year period - making a $12,000 investment cost about $75 per month. The loan is secured by a lien on the property, so that when the property changes hands, the new owner assumes payment via an addition to the tax bill.
While Burlington has not yet committed to a similar scheme, Grimes thinks it's a smart way to facilitate the types of renewable energy and efficiency improvements that most landowners couldn't pay for out of pocket. "It could give homeowners and small businesses across the state a real leg up," she offers.
Grimes attributes some of her success as a female leader in a dude-dominated industry to her straight-forward approach to both problems and people. But, she says, her style is not always well tolerated by that amorphous male executive population she calls "the boys." "If I'm frank, and interested in not beating around the bush," she explains, "then I'm a 'bitch on wheels.' If I approach it sensitively, then I'm 'weak.' The same view is not dealt with in a man's world."
Grimes serves on the board of the Vermont Women's Forum, a support network for women leaders. Creating more opportunities for women in the upper echelons of the workplace is not only important for women, Grimes says, but for the places they work.
"We still have to be competent and we still have to balance the books at the end of the day," she says. "But it is the diversity of being in a room with more styles and opinions that makes it a much more robust workplace."
Mary Powell
Mary Powell noticed a few things when she arrived at Green Mountain Power in 1998. At the first big industry meeting she attended on the job, there was not only no line for the women's bathroom, "there was nobody in the women's bathroom," she recalls with a laugh.
Powell was more concerned about the company's "slow, sluggish, utility metabolism." The fit and energetic woman set about to make GMP a leaner, swifter operation, and in 2002 she launched a massive restructuring of the company.
Like Grimes, Powell - who was senior vice president and chief operating officer at the time - set out to reduce GMP's labor costs, eventually cutting the workforce from 340 employees to 185.
Powell also ushered in a new corporate culture at GMP. She did away with private offices, and moved the company's headquarters from South Burlington, in a building known as the "glass palace," to a service center in Colchester, where the employees sit at open desks with no cubicle walls. To encourage the collaborative environment, Powell works at a stand-up desk in a high-traffic part of the office. "People feed off people," she says of the arrangement, "and there's a momentum and action."
A native of Manhattan, Powell and her husband moved to Vermont in 1989 to live at a camp on Lake Champlain in Colchester that's been in her family since the 1800s. (They now live in South Hero with their daughter.) Powell's first job in Vermont was as the director of human resources for the state, a job she held from 1989 to 1992, a tumultuous time in state government because it spanned the administrations of Madeleine Kunin, Richard Snelling and Howard Dean. "It was a really fascinating way to get to know Vermont," she says.
Powell, who will replace Chris Dutton as GMP's chief executive officer on August 1, is excited about a new initiative that, for the time being, is called "Our Energy Future: A Template for Vermont."
The plan has three components: decreasing the state's dependence on nuclear power while boosting in-state renewable energy generation; creating "green energy zones" for the development of renewable energy sites; and negotiating a "broader and deeper" relationship with Hydro-Québec for low-cost, back-up-system power. (GMP is owned by Northern New England Energy Corporation, a subsidiary of Gaz Metro, which is a Québec energy company.)
The first component assumes that Vermont Yankee will be re-licensed for another 20 years, which, as Powell points out, isn't an unreasonable assumption. Since 1998, the Nuclear Regulatory Commission has granted license renewals to about a quarter of all nuclear plants in the U.S., and the Department of Public Service expects that trend to continue.
"I'm really concerned about what feels to me like cliff diving in terms of an energy policy," Powell says. "Like, if we just cliff dive and get off of Yankee, we'll find our way to a better future . . . If the plant is demonstrated to be safe, as a state we should re-license it, but only in the context of ramping it down over the 20-year license period."
If that happens, Vermont Yankee would be able to sell more of its power on the open market, which Powell anticipates will allow Vermont utilities to leverage better in-state rates. The savings could then be invested in designing and implementing renewable energy strategies in "green energy zones" - areas that are optimal for wind, solar, hydro and biomass generation. "Green energy" projects would benefit from a streamlined permitting process, Powell says, with an emphasis on projects that originate in Vermont. That would boost the state's economy and lower permitting, while encouraging the development of sustainable energy, like solar power. "One of my dreams," Powell says, "is to drive by Taft Corners and have every big-box store solarized."
And what happens if Vermont Yankee is not re-licensed? Powell assures that the lights won't go out. However, she says, GMP is concerned that the state will have to rely more heavily on the kinds of dirty, more expensive energy that it is trying to get away from.
That's also why the power Hydro-Québec supplies is such an important element of "Our Energy Future." This energy source is particularly important to "baseload" users, such as major industrial customers who need a constant and high level of electricity.
Powell believes Vermont Yankee will likely be relicensed and that the state's contracts with Hydro-Québec will be renewed when they begin to expire in a few years. But she warns against complacency. "It would be too easy . . . to not see the incredibly long way we have to go to really get at a place that would match most of Vermont's values, in terms of being as green as we can be from a state perspective, as well as delivering it in the most cost-effective way possible."
Beth Sachs
Beth Sachs grew up in one of those iconic row houses in Baltimore, a tall, skinny place that was a challenge to heat uniformly in winter. The third floor was always hot; the first was always cold. Her mom kept trying to find a solution to the problem, but always ended up faced with someone trying to sell her a new furnace.
Perhaps it was then, at a subconscious level, that Sachs hatched the idea for a company that would show people how to use energy more efficiently, complete with financial incentives for carrying out those measures. Those were the two central ideas behind Vermont Energy Investment Company, which Sachs, 56, and her husband, Blair Hamilton, founded in 1986.
"The point of efficiency is to do the same with less," Sachs explains, "and I think that we're really going to have to look at doing less with less, and I think we have to do it in a way that's fair to everybody. We have to start thinking about the amount of ways that we use energy and the size of buildings that we live in and the size of cars that we drive."
Sachs started exploring options for energy efficiency at Antioch College, in Yellow Springs, Ohio, where she studied environmental design. "We were looking at lightweight stuff like bubbles, underground houses, those kinds of things," recalls Sachs, who was the executive director of VEIC until the end of June, when Scott Johnstone, the former executive director of the Chittenden County Municipal Planning Organization, took over. "Then we started thinking about how to make buildings more efficient."
Over the past 35 years, America has weathered two oil embargoes and two wars in the Middle East. Over the years, an amalgam of players - government, utilities, private citizens - has become more involved in promoting energy-efficiency measures. But Sachs says that only since the Asian tsunamis, Hurricane Katrina and the Academy Award-winning documentary An Inconvenient Truth has the field of energy efficiency ceased being viewed as "hippie shit."
Those natural disasters, and our cultural interpretation of their significance, constituted a "wake-up call," she says, and caused people to start thinking about their carbon footprint and how to shrink it. "Energy efficiency is the thing we can do today," Sachs says, while we build a bridge to renewable energy.
When it comes to energy efficiency, Vermont is ahead of the curve. In 1999, the legislature authorized the Public Service Board to appoint "one or more entities" to provide energy efficiency services to the state's ratepayers. VEIC won the bid to be Vermont's efficiency utility, and it's funded through an energy-efficiency charge that shows up on your electric bill.
By all accounts, Efficiency Vermont has been a resounding success. The electricity that the utility saves comes at a cost of 2.6 cents per kilowatt-hour, while the same kilowatt-hour costs 5.6 cents to produce. By the end of 2005, Efficiency Vermont had reduced the annual energy use in Vermont by 98,000 megawatt-hours, which prevents more than 1 million tons of carbon dioxide from entering the atmosphere, and has an economic value of $66 million. To get a sense of these numbers, the other way to save 98,000 megawatt-hours in one year is to unplug about 1600 Vermont homes from the grid.
Not surprisingly, Sachs is skeptical of Vermont's reliance on Vermont Yankee, and would prefer to see a greater emphasis on efficiency home improvement rather than a 20-year renewal of the plant's license. According to a 2006 Department of Public Service study, 15 percent of Vermont's electricity needs in 2015 can be met through efficiency measures. With a concerted effort by Efficiency Vermont between now and then, that goal appears to be within reach.
"I think that we can do without Vermont Yankee and go to the market for what we need and really move as fast as we can on efficiency and renewables," Sachs says.
However, she says, "efficiency" must incorporate an "all-fuels" approach, which takes a bird's-eye look at the different morsels in our energy diet, including those used for transportation. In Vermont, for example, 60 percent of homeowners heat with fuel oil; but because Efficiency Vermont's sole purview is reducing electric use, the efficiency utility may prescribe a regimen of compact fluorescent light bulbs, but can't tell a homeowner how to, say, make his furnace run smoother.
Thankfully, that's changing, although not as quickly as some would hope. Earlier this year, the governor signed S.209 into law: Titled "An Act Relating to the Vermont Energy Efficiency and Affordability Act," it starts with some encouraging language: "In order to reduce greenhouse gas emissions and environmental degradation, it is essential that we reduce or eliminate our dependency on fossil fuels by significantly improving energy efficiency..."
The act sets a host of "building efficiency goals" to help get there, including an increase in weatherization services to low-income Vermonters. It also orders the Department of Public Service to create and implement a "heating and process fuel efficiency program" - basically, an Efficiency Vermont for fuel oil - by April 2009.
According to Sachs, transportation is Vermont's Achilles heel in the battle for a clean, green state. VEIC is already on the case: This fall, it will begin a research project with the University of Vermont aimed at changing our herky-jerky driving styles. "We think we can teach ourselves to drive 20 percent more efficiently," she says.
Sachs started VEIC the same year she gave birth to her only child. She believes being a woman has made her a good manager. Co-workers confirm it: They describe her as "compassionate," "concerned about others" and "strong and gentle at the same time."
"Yeah," Sachs concedes. "I think that has something to do with being a woman."