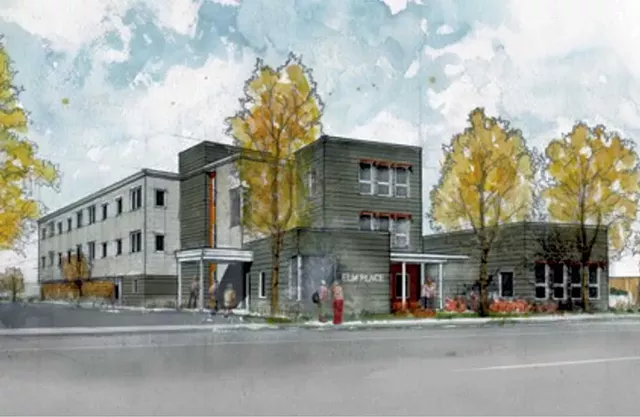 Molly Walsh
Elm Place, Milton
Sally Momaney chatted amiably with Brenda Bean in the light-soaked community room of Elm Place, a new apartment building for seniors in the center of Milton. The two women had just met for the first time during a residents' orientation a few weeks before the building officially opened for move-ins on March 3. The ladies admired the palette of fresh gray, blue and sage-colored paint on the walls and the tall bay of tilt-and-turn windows overlooking the back garden where residents can plant herbs and flowers in the spring.
The local art won their approval, too: a wall painted with an old map of Milton and another decorated with a caramel-colored slab of a massive, 1890s elm felled by Dutch elm disease. And they liked the airy, 12-foot ceilings in the community room and the modern, barrel-shaped light fixtures. The space is more urban loft than institutional senior housing.
As much as Momaney and Bean appreciated the details in the slate-blue building on Bombardier Road, they were just as happy about the prospect of something more intangible: new friendships. Both women said they craved a more social lifestyle when they signed up to live at Elm Place. It will offer on-site tai chi classes and chair yoga, and its location in the designated downtown of Milton affords pedestrian access to the library, town office, churches, grocery store and a doctor's office.
Molly Walsh
Sally Momaney and Brenda Bean
Momaney, age 70, has been living by herself in a Milton apartment with no supports or programming, and no garage for her vehicle, which will now be in a covered parking area. She's ready to get to know her new neighbors. "That's one of the drawing factors for me," said Momaney, a retired Milton schools employee. "I am single, I don't have family up here and I do tend to isolate — and they say it's not good for you."
She'll move in on April 1. "I can't wait," Momaney said.
Bean, 66, is a former Milton resident who now lives with her son in Burlington. The retired office worker has diabetes and, like other residents, will be able to access various supports at Elm Place: a part-time wellness nurse and a full-time health care coordinator who can help residents line up appointments and assess care needs. Bean is eager for an apartment of her own. "I just needed my own thing, my own space," she said.
The ultra-energy-efficient building is owned and managed by nonprofit Cathedral Square in Burlington, whose portfolio includes about 880 units of rental housing around the region. After a local survey showed strong need for senior housing in growing Milton (pop. 10,827), Cathedral Square assembled tax credits, state funding and private donations to build Elm Place, its first property in Milton.
The building has 30 one-bedroom apartments, 28 of which are designated affordable housing; most rent for $840 a month, including utilities and laundry. To qualify for these units, residents must earn less than 60 percent of area median income — about $35,000 annually for one person.
Molly Walsh
The community room
Elm Place is an independent living facility, but with supports designed to help seniors "age in place" and avoid social isolation that sometimes comes with age, when people lose mates or become less mobile. "If we can help people stay connected, it can help their overall well-being," said Cindy Reid, director of development at Cathedral Square.
The property is one of the few, if not the only, multifamily "passive" buildings in Vermont, according to its architect, Michael Wisniewski of the Burlington firm Duncan Wisniewski Architecture. He expects the three-story, $8.4 million building to be certified by the Passive House Institute this spring.
Elm Place is built to use 95 percent less heating energy than a similar-size, standard-construction building. Projections estimate that the 29,000-square-foot Elm Place will cost about as much to heat as a single-family home. All the lights are LED, and a 20-kilowatt solar-panel system on the roof helps generate power. The roof and foundation are heavily insulated, as are the walls, which are about four inches thicker than typical construction.
The tight building envelope means residents can sit by the triple-pane windows on the coldest Vermont winter days and not feel a draft, said Wisniewski.
It also means the structure needs little energy to heat or cool. There are no boilers and no baseboard heat. A cold climate air source heat-pump system keeps the building warm. It runs on electricity but generates far more energy than it consumes. A small natural gas furnace will provide backup on extremely cold days.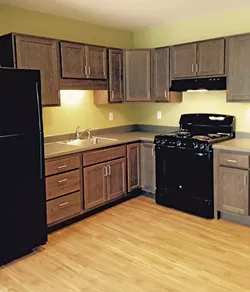 Molly Walsh
The kitchen in a one-bedroom apartment
Wisniewski shared a joke about passive house construction that says, "'Your house is so efficient that you can heat it with your hair dryer.' It's kind of true," he said.
Passive construction generally costs 8 to 10 percent more than typical construction, but economies of scale in the multifamily Elm Place brought the additional expense down lower than that. Then there are possible paybacks: The energy-efficient building design should result in utility savings of about $11,600 a year.
Elm Place also brings momentum to Milton's bid to create a cohesive town center, with the potential to live, work, shop and recreate on foot. It's a short walk from the main drag, Route 7. The neighborhood is a hodgepodge of suburban architecture now, but Elm Place is built with a more urban look, pulled up to the sidewalk and street, with parking set out of the way to the side and rear rather than in front. It could take some time for the area to fill in with downtown-style development, Wisniewski said, but Elm Place is a good start.
"It's nice to be able to help set the tone," he said.