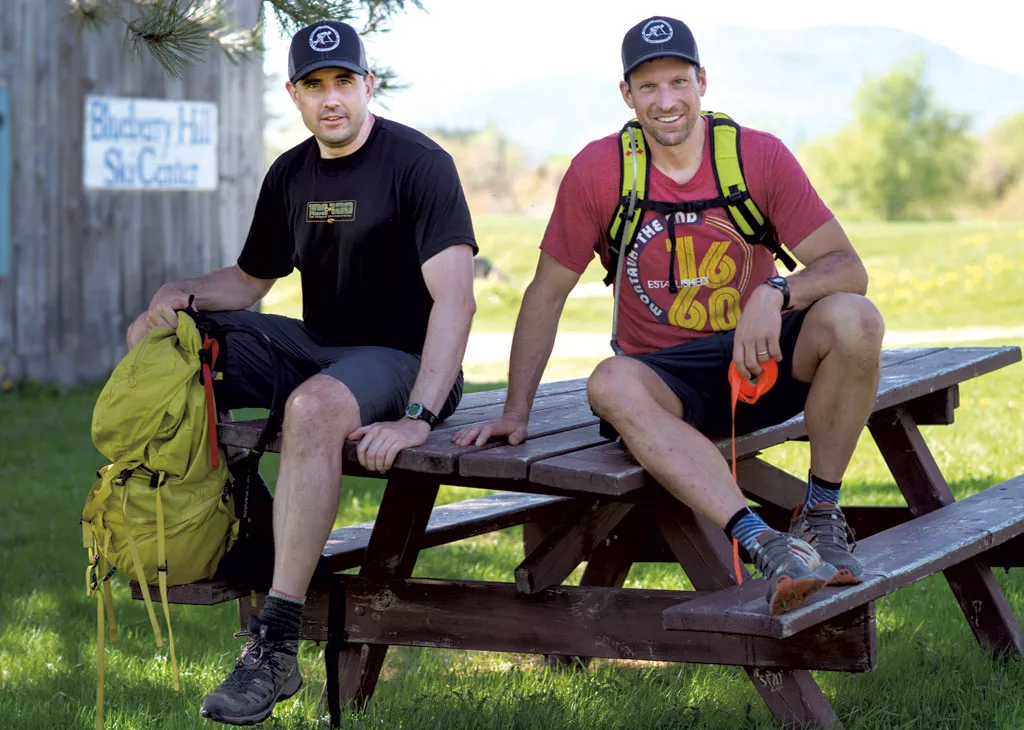 Caleb Kenna
Jack Cary and Andy Weinberg
"By the end of [a long race], it looks like a Michael Jackson 'Thriller' video," says Andy Weinberg. The boyish 45-year-old hops up from his chair in the athletic complex at Castleton State College, where he teaches physical education, and demonstrates a zombie-like lurch across the room.
Weinberg is talking about the kind of long-distance races — multiday affairs that stretch into hundreds of miles — that most mortals would consider punishment, not pleasure.
But Weinberg isn't like most people. Neither is his friend Jack Cary, 39, with whom Weinberg has teamed up to found a new business catering to endurance athletes and hobbyists. Their venture, the Endurance Society, plans adventure-style treks and races designed to push athletes to their outermost limits.
The society's latest event, Infinitus, kicks off this Thursday, May 21. (See Sarah Tuff Dunn's story) It's a 10-day trail race in Goshen, in which a small number of runners and hikers will attempt to complete 888 kilometers — roughly 551 miles — in 240 hours. For the slightly less ambitious, Infinitus also includes 8K and 88K races on May 30. Others are opting for timed races, in which they'll attempt to rack up as many miles as possible in 48- or 72-hour windows. All told, close to 200 participants are expected to descend on the Moosalamoo National Recreation Area for the event.
Sound like fun?
"Sometimes it's definitely not fun," concedes Cary. "When you're out there for 24 hours, and you've just thrown up on yourself, you're thinking, What in the world are you doing?"
That hasn't stopped Cary or Weinberg from attempting, and in many cases completing, any number of extreme events. Both dabbled in traditional endurance sports, like marathons and triathlons, but quickly moved on to events that made 26 miles look like a walk in the park.
"For me, I like the challenge. I like to find out what my breaking point is," says Weinberg. He insists that trying endurance racing isn't much different from proclaiming one wants to lose weight, or write a book, or quit smoking. Each feat boils down to setting a goal and overcoming the inevitable adversity en route to meeting it.
The challenge of these long events is more mental than it is physical, Weinberg says. And at the end, racers can tell themselves, "If I can do this, if I can get through these roadblocks, I can do anything."
While Weinberg has never completed a foot race as long as the 888-mile Infinitus, he did white-knuckle his way through a quintuple Ironman last year — that is, five times the length of a race that traditionally consists of a 2.4-mile swim, 112-mile bike and full marathon.
His ankles disappeared under massive swelling by the end of the race. And it wasn't just his body that took a beating. "My brain was tired," says Weinberg. He remembers his wife and children asking him questions. For a week or so after the race, he'd just stare in response, then answer after a 30-second pause.
The Endurance Society was modeled on old-school secret societies. The logo features a skeleton on one knee, drawing a sword from a scabbard and encircled by a Latin motto that translates as "Society of those who endure. Physical strength, mental fortitude."
"At first we wanted it to be really secretive," says Weinberg. Cary and Weinberg ultimately decided that, to attract more racers, they'd have to do a certain amount of promotion. But they still do plan on one top-secret event this year, called Sine nomine — the event without a name. Participants in that June race are sworn to secrecy; they're not allowed to post pictures online or blog about the race. They won't be allowed to bring family or support crews along, and have been warned that they'll be cut off from the rest of the world for the duration of the event. They'll receive information about mandatory gear and location in advance, but little more.
Before founding the Endurance Society in 2014, Weinberg played a leading role in two other well-known Vermont endurance events — the Death Race (which once boasted the tagline "You may die") and the more mainstream Spartan Race, a popular event featuring a brutal obstacle course. Both originated in Pittsfield, the bucolic town on Route 100 just north of Killington. Weinberg and his wife, both teachers, gave up jobs in the midwest in 2007 to move to Pittsfield and help run the races with Weinberg's then friend and partner, Joe DeSena.
Now these longtime enthusiasts of endurance racing are facing a slog of a different kind: DeSena, Cary, Weinberg and others are embroiled in litigation over the ownership status of the racing companies. DeSena is seeking a declaratory judgment in Boston's Suffolk County Superior Court to the effect that Weinberg is not an owner in either Peak Races, which operated the Death Race, or Spartan Races. In a lawsuit directed at Weinberg, Cary, the Endurance Society and two other defendants, DeSena alleges that Weinberg tried to "shake down" DeSena for payment based on a "bogus" claim of ownership in the Spartan empire. The claim further alleges that Weinberg and Cary started the Endurance Society as a way to siphon racers from the Spartan empire.
Weinberg's counter-claim insists that he was a cofounder, and entitled to a 50-50 stake in the business. (Some Spartan Race promotional materials still online, including YouTube videos posted by the Spartan account, refer to Weinberg and DeSena as "founders.") Weinberg claims he left the business details to DeSena and never saw fair compensation for his work with Spartan.
Weinberg wouldn't comment on the lawsuit or speak about his experience with Spartan Races — though banners advertising the race series still adorn his office walls at Castleton State. DeSena's lawyer provided Seven Days with a copy of the original complaint filed in court but otherwise declined to comment.
The Death Race was what originally brought Weinberg and Cary together. Cary, who works a 9-to-5 in Winooski as a software systems engineer, came out to watch in 2009. He vowed not only to participate the following year but to win. Cary fell short on that last count, but was among the 19 finishers that year, and he and Weinberg struck up a friendship.
They mounted their first event this past winter: a 50-mile trek on the Long Trail in minus-10-degree Fahrenheit weather. Fifty people turned out. In the end, the group pulled the plug about 30 miles in, after more than 20 hours on the trail, because 15 or so people were beginning to show signs of hypothermia.
"Everybody survived with all fingers and toes," says Cary, "even though our water bottles froze." So they deemed the event a success.
Now the Death Race is dragging Weinberg and Cary into court, with a trial date set for November. For the time being, though, they're focused on the task at hand. The two spent last weekend on the trails that snake through Moosalamoo, in Goshen, marking the figure-eight course that racers attempting to complete 888 kilometers will soon repeat for days on end.
The Ski Center at Blueberry Hill Inn, which sits at the hub of that figure eight, will be the race headquarters, where racers can pause to sleep on cots in the loft — likely in two- or three-hour spurts — or fuel up with the thousands of calories required to keep running.
Of course, "running" is relative.
"By the end of it, everybody is so destroyed," says Weinberg, chipper as ever. "It's kind of a shuffle. I wouldn't say it's a run."