Paula Routly in the Adirondacks, 1976
I used to think I was the only girl in America who spent 10 months a year pining for summer camp. I've since discovered the sentiment is widespread. There are all kinds of people for whom the sound of a slamming screen door is the secular equivalent of "Hallelujah."
I found salvation in a desolate corner of the Adirondacks, at a camp where I learned to hug. It was a place where the coolest people were the ones who were most unique — the opposite of my junior high school in suburban Maryland. I'm grateful to the counselors there who guided me down the tree-root-choked path of adolescence, pointing out awesome views, and valuable life lessons, along the way.
Turns out pretty much the same thing was happening at summer camps all around me. Or so I've discovered from talking to other people about their "sleepaway" experiences in New York, Ontario and Vermont.
How do you find the hardcore campers in the crowd? You ask around; people who are still talking about camp as adults range from outspoken to evangelical. They have a hard time containing themselves. As Camp Keewaydin enthusiast Bruce MacDonald put it, "I could talk about camp until your ears fall off."
Time seems to have only deepened alumni appreciation of these transformative experiences that, even at the time, were impossible to describe to friends back home. The further you get from the campfire, it seems, the better it looks.
Bruce MacDonald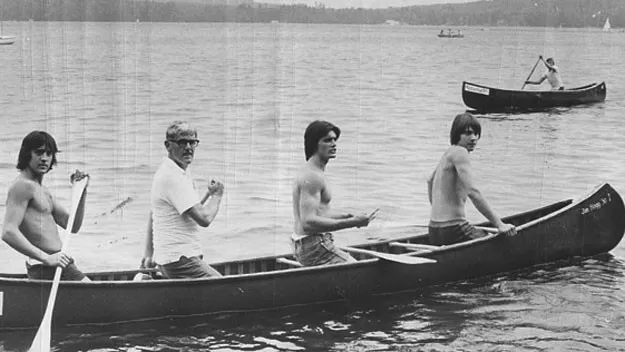 Bruce MacDonald, far left, with his father, Russ, and brotehrs Kevin and Andrew
South Burlington
Owner, BRM Design & Metalworks
Kids: Schuyler, 13; Spencer, 11
Camp Keewaydin, Lake Dunmore, Vt.
"Staff Brat": 1959-67
Camper: 1968-75
Counselor: 1976-82
Bruce MacDonald and his five brothers grew up at Keewaydin, following in the footsteps of their father and grandfather. Now a nonprofit foundation, the summer camp for boys also hosts environmental education programs in the fall and spring. Its sister camp across Lake Dunmore is Songadeewin.
Keewaydin is one of the oldest private camps in the country that's still in business. My father was the director there for nearly 40 years. My five brothers and I were staff brats. It was absolute paradise.
I have two sons, 11 and 13, and they have been going to camp every summer since they were old enough. I still go back to Keewaydin to work for a week or two. I have it in my blood. It feels more natural to be there than anywhere else on the planet.
When camp ends, people always talk about how you gotta go back to "real life." Camp is real life. All this other stuff we do is to pay the bills, buy a house, do some business. Real life is a place where you get up, eat breakfast and say: What do you want to do this morning? Do you want to go sailing? Do you want to go canoeing? Are we packing out a trip to the Great Range?
Even though Keewaydin is an outgrowth of the private-school mentality — people who have the money to go to Exeter also have the money to send their kid to camp — over the years the camp has developed into a place for everybody. It's a nonprofit now with tremendous scholarships. There are kids from Venezuela. Kids from inner-city L.A. There are kids who have never been swimming who show up at camp. And then there are kids who, you know, their fathers are former presidents of Walt Disney. Mike Eisner, former CEO of Disney, was one of my dad's buddies. Eisner wrote a book called Camp. It's kind of a breezy read, but it is an overview of the Keewaydin experience.
His son, Breck Eisner, was in my tent. John McPhee, the writer, is an old Keewaydin man. Life is supposed to work that way.
The camp motto is: Help the other guy. What does that mean? Kids spend weeks trying to get up the courage to do their 150-yard swim; you have to pass the test before you can go out in a canoe. Imagine 20 boys on the shore, just shouting and cheering, and when the kid finally makes it, they're on the dock jumping up and down.
That's what Keewaydin is all about: having some sort of connection with other humans that is not competitive. It's not "My s**t's cooler than your s**t." It's all about, "What can I do for you?"
If you expand that out, the world would be a better place. If everybody went to Keewaydin, there wouldn't be an Enron. Instead of invading Iraq, we'd have gone over there and said, "You guys are hurting. What can we do to help?"
Just so you know: That is like 0.0001 percent of everything I have to say about camp.
Kerin Stackpole
Shelburne
Lawyer, Bergeron, Paradis & Fitzpatrick
Kid: Clare, 5
Camp Marycrest, Grand Isle, Vt.
Camper: 1970-77
Burlington's Sisters of Mercy operated Camp Marycrest from 1957 until 1992 in a former hotel that is now the Grand Isle Lake House. The camp went out of business, according to Stackpole, because the nuns could not afford to bring it into compliance with the Americans with Disabilities Act. The building is now owned by Preservation Vermont.
Marycrest was a Catholic girls camp. What the sisters did — because it was part of their ministry — was they mixed girls who had money with girls who were there on scholarship, girls who had families intact with girls who had families in crisis. To the extent Vermont had diversity, it was there. I learned to be grateful for the blessings I have and to be more compassionate in my dealings with others.
We weren't in cabins. They were really lovely little rooms, with names on the doors like Lady of Fatima and Mother of Mercy. In fact we had a huge rivalry with Camp Hochelaga, which was a very popular girls camp at the same time. They would call us unflattering names because we basically got to live in an old, beautiful hotel, with screens. They were in cabins. They got eaten by a lot more mosquitoes than we did.
A typical day went like this. We were woken up by reveille, over a loudspeaker. We went downstairs into the beautiful lobby and sang a prayer that I still know and have now taught to my daughter. Then we went down to mass. It was usually half an hour, 45 minutes, not the full, huge one. Then you came up for breakfast, did morning chores and started activities. We did arts and crafts, drama, games, maybe some tennis or archery.
After lunch, there was a quiet hour, at which time your mail was delivered. They also had a little gift shop, where you could get a rosary or a little Bible, all kinds of good stuff.
Afternoon sports were the more physical things. We had sailing. We had canoeing. We had waterskiing. We had swimming, softball, dance, volleyball. Literally everything you could think of — except horseback riding.
Sister Ursula was an amazing archer. She did a lot of the sports. Sister Alma taught all the arts and crafts, from beads and copper work to ceramics. They had a kiln.
Then you'd have dinner, and evening program. It could be something theatrical, or we'd make up songs.
We had campfires at night, too. I learned every anti-war song, every Peter, Paul & Mary and Pete Seeger song that you can imagine, because the sisters' mission is social justice. They infused us with that around the campfire. You learn to be kind to other people. You learn about loyalty and friendship.
Not to say my bra never went up the flagpole, because it did. Not to say people weren't unkind to each other, because they were. And there was one year I did not get what was called the "Good Camper" award. Devastating, but I got past it.
Fast-forward 30 years: Last year, over 100 women from four different countries, of all ages, gathered in Burlington for a reunion. A bunch of the sisters also came. We got a songbook from the camp and then all went over to Mater Christi for dinner. It was a riot. We had a sing-along at dinner. People were just so glad to see each other, and a bunch of us are still in touch. There's a group on Facebook called "I went to Camp Marycrest" with 166 members.
To be as close as I am with these folks so many years later really tells you that it was a transformative experience for all of us. It really did allow you to kind of come of age.
Melanie Bilodeau-Meek
Essex Junction
Teacher, Albert D. Lawson Intermediate School
Kids: Alex, 7; Tommy, 3
Coutts-Moriarty Camps, Derby, Vt.
Camper: 1981-95
Bilodeau-Meek was all of 8 years old when her parents — both of whom worked at IBM — shipped her from her home in South Hero to sleepaway camp. She returned to Coutts-Moriarity every summer for 14 years, until, at 22, she met her future husband there.
There was definitely a little bit of everything: sailing, swimming, canoeing. It was a very traditional camp in that way. And it gave me a lot of confidence, to be away from home and my family. I'm from Vermont, but I ended up going to school for undergrad in Minnesota. I traveled. If I had never had the camp experience, I think that would have been a lot harder.
I remember being 13 years old and doing my first solo sail. I did everything: from raising the sail, putting in the centerboard, the rudder, bringing it all around, bringing it back, tacking, turning. I remember the incredible feeling of success I got from being in control of that. It was a big moment, like the big culminating event of the whole sailing program. After that, you had certain privileges.
Parents now — and I know I'm guilty of it — want to make everything so easy for our kids and take all element of risk out of everything. But there is no genuine sense of satisfaction in achieving something if all the difficult parts have been taken out.
I am starting to think and wonder if my son is going to have that camp experience that I had. ... where you got to try a little of a lot things, and there was a lot of focus on having fun instead of perfecting these skills before they turn age 10. Everything is so themed now. You go to art camp or you go to computer camp. When he is ready — and he literally hasn't had an overnight yet — I do want to look for that kind of camp again.
Ryan Ober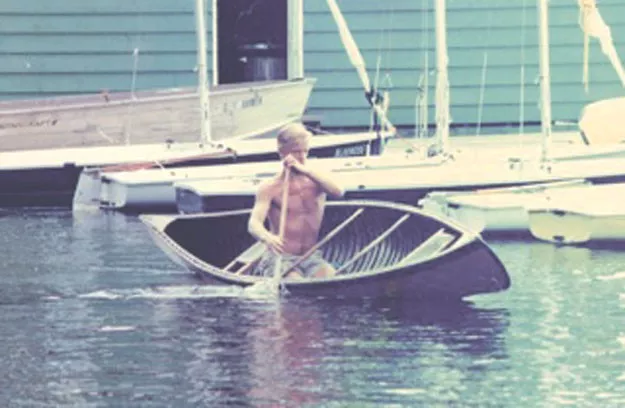 South Burlington
Art director/designer, North American Breweries
Kid: Frances, 3
Camp Ahmek, Taylor Statten Camps, Algonquin Park, Ontario, Canada Camper: 1987-92
Three generations of Obers attended Camp Ahmek on Canoe Lake in northern Ontario — a 14-hour drive from Ryan's childhood home in New Jersey.
Camp was really focused on Native American things ... with traditional canoe tripping at the center of it. The "senior" campers did these "brave" contests — as in Indian brave. The water-boiling contest is what I was really excited about. You'd spend all month looking for a piece of pitch pine or some other special wood for this ceremony: They give you a tin cup of water, and you'd arrive with your log and sticks, and everybody has a hatchet — and one match. Whoever gets their water to boil first, wins, with the entire camp yelling and screaming ... I still have the scars on my hand.
At the end of each session, all the campers would participate in this huge fire ceremony. Whoever was the director of the camp would dress up like Hiawatha. The entire camp would go to a place up in the woods and form a huge circle around a fire pit, at dusk.
When I look back on it now, it was so elaborate and awesome. There were four girls who rode up on horses, and their faces were painted. It was your chance to see the girl you were "kind of dating" across the lake ... Having the genders separated was a great thing. There were dances. You could pass notes on the barge that went back and forth across the lake. It generated this excitement and anticipation, something you could get in trouble for.
Later, when I was a counselor, I remember being on a portage with a bunch of kids. A tree that was too big to move, and too big to go around — through too dense of a wood — had fallen, so we wound up bushwhacking to a point where we had to cross a very precarious part of a river. Me and some other 16-year-old were handing kids over across the water. Granted we were very careful and whatever but now I think, What? I'm not letting some pencil-necked goon who only cares about his girlfriend take care of my kid.
Nina Lesser-Goldsmith
Burlington
Food education coordinator, Healthy Living Natural Foods Market
Farm & Wilderness, Plymouth, Vt.
Camper: 1992-99
Staff: 2001 and 2005
Lesser-Goldsmith visited her cousin at Farm & Wilderness, and seeing him "in an amazing world that I just really wanted to be part of," asked if she could go, too. She was 9.
Farm & Wilderness is a series of seven camps, and the whole place is run on Quaker ideals: simplicity, building community, no competition. It's very rustic. You're on a working farm. You live in a cabin with no electricity. There are no radios — we called it "canned music" — so you make your own music. You're not allowed to talk on the phone.
Some people might be freaked out by the simplistic, primitive nature of the place, but it's one of those things you really only understand the power of when you are there. When you don't have access to the outside world ... you create a community together.
I would spend the entire year waiting to go back. That place is so important to me, on so many levels. The physical place, which is beautiful and magical; the friends I made and am still friends with.
It taught me about myself; Farm & Wilderness does a great job instilling a strong body image in young women. They have a "no body talk" rule. You're not allowed to say, "Oh, my god, I love her hair; it's so pretty. I wish I had her hair." They really emphasize viewing your body as what it can do, not what it looks like: as in, my body can climb rocks, and my body can farm, and my body can get me across the lake — not my body is fat, and your boobs are big. That was incredibly powerful for me.
I didn't cook there at all, but ... a huge part of my career now includes advocacy for local farms, for sustainable ag, a passion to cook local, sustainable ingredients. My family, we value all of that stuff, but I don't think I would have ever gotten to work on a farm, and that's a huge part of daily life at camp: barn chores, maintaining the garden, eating the food that comes out of the garden on a daily basis and being thankful for what you've worked so hard to create.
Camp absolutely made me a hard worker. I don't see work as a burden. At Farm & Wilderness, there's a sign outside the lodge that says, "Work is Love made Visible"... Those are the words that we live by there, and I've applied those words to the rest of my life.
My mom always used to say Farm & Wilderness was my real home, and the rest of the year I was just visiting.
Jake Rutter
Burlington
Teacher, Early Learning Preschool Center
Kids: Mahala, 10; Beaven, 6; Celia, 4
Camp Dudley, Westport, N.Y.
"Staff Brat":1974-78
Camper: 1984-88
Staff: 1989, 1991 and 1994-97
Jake Rutter was in utero during his first summer at Camp Dudley. The Virginia native says all those summers on Lake Champlain inspired him to settle in Burlington. He and his wife, Glenn, got married at Dudley.
I grew up going to Camp Dudley, which is across the lake in Westport. It's an all-boys camp, has been since 1885. Six years ago, they purchased a girls camp in Colchester. It was perfect timing for us. This will be Mahala's fourth summer. They have a one-week session at the end of the summer. She's fifth or sixth generation at Dudley.
Camp's had a big impact on my life, and I remain involved. My wife, Glenn, works at the girls camp, Camp Kiniya, and we go over to Westport a few times a year when they have work weekends. Just about everywhere I set foot, I have a memory or story right there.
Every summer was the best summer of my life. Any sport you could imagine, you could play; it was like most summer camps in that respect. But also there was a full jazz band. Every Saturday night there was a "skit" show. Camp encompassed every different thing you could want to try as a kid. And with people from 13 countries and 36 states, you were exposed to a huge spectrum of the world.
Every single person was encouraged to be just who they were. There was this kid there when I was a leader, a little, chubby, redheaded, freckled kid. This kid would get up every Wednesday night and do a Michael Jackson impression. He would dance and lip-synch, and it was hilarious. I think anywhere else he would have been probably made fun of for that. But it became this thing that everybody embraced. People would chant his name, and it just felt great. I've got 70 other stories like that about kids.
But one of the most amazing aspects of Dudley — anybody will tell you this, and it's one of the hardest to explain. Every Sunday night we have this thing called "Hymn Sing." Everybody goes into the theater and sits on the ground ... and we sing hymns. Out of a hymnal. Traditional Christian hymns. It's incredibly moving.
You go home, and your friends from school are like, "What was the best thing about camp?" You tell them and they say, "Wait a minute. You sit on the ground and sing hymns with 300 other guys — and that's your favorite thing?" You just can't explain what it is that makes it so special.
—Paula Routly is the publisher, coeditor and cofounder of Seven Days.