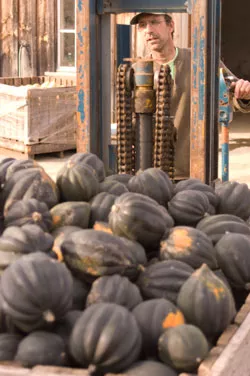 Matthew Thorsen
David Marchant
It's easy to find fresh, local produce through October at Vermont groceries, co-ops and farmers' markets. But when the weather turns, some former localvores will shell out more than $10 per pound for California lettuce. Others will flock to the freezer aisle for bags of veggies from the Pacific Northwest.
Do they have to? Not necessarily. It's increasingly possible to find locally grown spinach, carrots — even tomatoes — sharing our veggie aisles with their California competitors. On November 22, from 10 a.m. to 2 p.m. at Burlington's Memorial Auditorium, local farmers will hawk veggies at the city's first-ever winter farmers' market. At Montpelier High School, the Capital City Winter Farmers' Market has grown from one to two Saturdays per month.
Smelling a niche market, Vermont farmers are extending their growing seasons using energy-efficient greenhouses and crop-storage facilities. That's the word from spokespeople for the Northeast Organic Farming Association of Vermont, the Agency of Agriculture, Food and Markets, and the University of Vermont Extension in Brattleboro. "Season extension has become a huge force in Northeast agriculture," attests Vern Grubinger, a vegetable and berry specialist at UVM Extension. "All of the vegetable farmers are doing it."
Today's season-extension technologies, Grubinger explains, were pioneered in the 1970s by a University of New Hampshire vegetable specialist named Otho Wells. "Man, it's cold up here!" Wells remarked to himself, according to Grubinger, after relocating from South Carolina. The southern expat went on to design cold-weather plastic mulch, heat-trapping "high tunnels" and new kinds of floating row covers — "poly-something-or-others" that keep plants warm without shutting out sunlight or moisture.
Grubinger says the season-extension "revolution" has continued apace since the '70s. Lots of Vermont farmers now purchase custom greenhouse gear from Ledgewood Farm in Moultonborough, New Hampshire; a 26-by-96-foot high tunnel costs about $10,000 to install ,and pays for itself after a couple of seasons. Winter veggies, he points out, look better than their summertime counterparts. Consider that some farmers leave half their summer tomatoes in the field for fear the fruits are, as Grubinger puts it, "funky."
Greenhouses and high tunnels are key players on any winterized farm. Inside these movable structures — a high tunnel is the Mini-Me of a greenhouse — clear plastic panels trap radiant heat reflecting off the ground. The heat helps plants grow in a warmish environment despite chilly outside temps — think global warming on a small scale and without horrific consequences.
The latest season-extension trend? Renewably powered greenhouses and high tunnels. Since 2006, Vermont's Agency of Agriculture, Food and Markets has diverted a percentage of the state's $1.3 million Clean Energy Development Fund toward alt-energy farm projects. Most early applications to the $300,000-per-year grant purse came from dairies, reports Dan Scruton, a senior agricultural development coordinator at the agency, but vegetable and ornamental-plant farmers are beginning to get wise. Last year, a Cabot farm got $10,000 for turning Christmas tree trimmings into wood pellets. The ex-ornamentals will power a greenhouse full of pumpkins.
Through mid-November, reps from UVM, NOFA and the Vermont Vegetable and Berry Growers Association are conducting on-farm workshops at three farms — Cate Farm in Plainfield, Cedar Circle Farm in East Thetford and River Berry Farm in Fairfax — where greenhouses are powered by biodiesel, waste vegetable oil and wood pellets, respectively. "Everyone's trying to figure out how to get off the oil, " Grubinger notes. "Used to be, it was propane or oil. Some guys screwed around with wood. Now it's, like, everything but. Everything's on the table, and we're trying to figure out new options."
Not all indoor growers can afford to go green. Take Whipple Hollow Hydroponic Farm West in Rutland, which ships up to 200,000 pounds of tomatoes every year all over Vermont and to parts of New York. Founder and former owner Barre Roche reports spending an "absolutely exorbitant" $35,000 annually to heat his greenhouses with propane. Roche says he would have switched to wood chips if the investment cost had not been so daunting. At River Berry Farm in Fairfax, co-owner David Marchant spends more than $12,000 to run six propane-powered greenhouses in early spring; it would cost too much, he says, to start any earlier.
"To heat or not to heat, and if so, how much?" That is the question facing many a winterized farm, according to Vern Grubinger. Are winter producers defying nature? Depends on how you look at it, says Dan Scruton at the Agency of Ag. "Do you want to spend transportation fuels to bring produce from South America, or do you do it with a greenhouse here?" Scruton asks rhetorically. "I think I'd rather keep more of the dollars here locally, even if does burn some fossil fuels in the process."
Some farmers bypass heat altogether — by sticking to the durable root vegetables that have been Vermont winter staples for centuries. On a recent October afternoon in Fairfax, Marchant stands at a loading dock amid crates of pumpkins as a farmhand washes butternut squash in a gangly metal machine. Root veggies, not greens, are River Berry's biggest sellers. Up to 200 of these crates, each holding 20 bushel bins' worth of carrots, pumpkins, squash and other roots, will be stored here, Marchant explains, then shipped over time to Johnson-based Deep Root Organic Cooperative, City Market, Healthy Living and the Burlington winter farmers' market. Plant body heat keeps the packing house warm. In fact, this root-veggie storage warehouse requires air conditioning to prevent rot.
"Storage is a no brainer," Marchant, a skinny fellow wearing jeans and a baseball cap, says before returning to work. "It's an energy-efficient way to keep food around."
Other farmers find ways to grow greens all winter sans combustibles. One is Joe Buley, a former New England Culinary Institute instructor who has raised cold greens at Screamin' Ridge Farm in East Montpelier since 2004. Buley doesn't use any heat in his two 30-by-100-foot greenhouses, but his soil temp stays above 45 degrees all winter thanks to "passive solar" warmth and sturdy plastic insulation. "It's still evolving — there's a lot of stuff I don't know," he admits. "I'm just one of the few nuts that's decided to try!"
Buley recalls that he learned about season-extension techniques "before localvore was cool" — in the early 1990s, while attending cooking school in Paris. Wintertime greens don't have to contend with as many insects and weeds. They also give Buley a leg up over his competitors, most of whom don't sell produce in the winter.
Producing vegetables without heat can be tough, Buley notes, and not because of cold fingers. Potentially destructive fungi like the humid growing environment inside winterized greenhouses, for one, and a short fall planting season makes early mistakes more pronounced than they would be in warmer weather. What's more, even a well-insulated greenhouse won't get much light in winter, causing every crop to grow super slowly. Screamin' Ridge didn't produce greens last January because heavy snow and clouds obscured the sun.
Assuming his roughage grows, Buley will almost certainly find it a home. As of early October, the farmer was planning to supply winter spinach, mustard greens and heirloom lettuces to NECI, local schools, the Intervale Center's "Food Basket" CSA and the bimonthly Montpelier winter farmers' market. Buley turns three-quarters of his profits between November 1 and May 31. "Put it this way," he says, "I can't grow enough."
Last Tuesday, Buley was one of several Vermont farmers who attended a "matchmaker" event at Randolph's Three Stallion Inn. Deputy Secretary of Agriculture Anson Tebbetts tells Seven Days that some small-scale producers have trouble connecting with potential buyers. So the agency periodically hooks up vegetable farmers, cheesemakers, beekeepers and bakers with purchasing reps from Wal-Mart, Price Chopper, hospitals and food co-ops.
Entering the Three Stallion, Buley sidled up to buyers from City Market and Healthy Living and explained what he was growing in East Montpelier. Did he have any extra mesclun to sell? "It was like a 10-minute speed-dating thing," Buley recalls. "I'm going to swing by next Tuesday to drop off a sample and a price list."
And if he can help localvores eat their lettuce and have their sustainability, too, that'll be a match made in heaven.