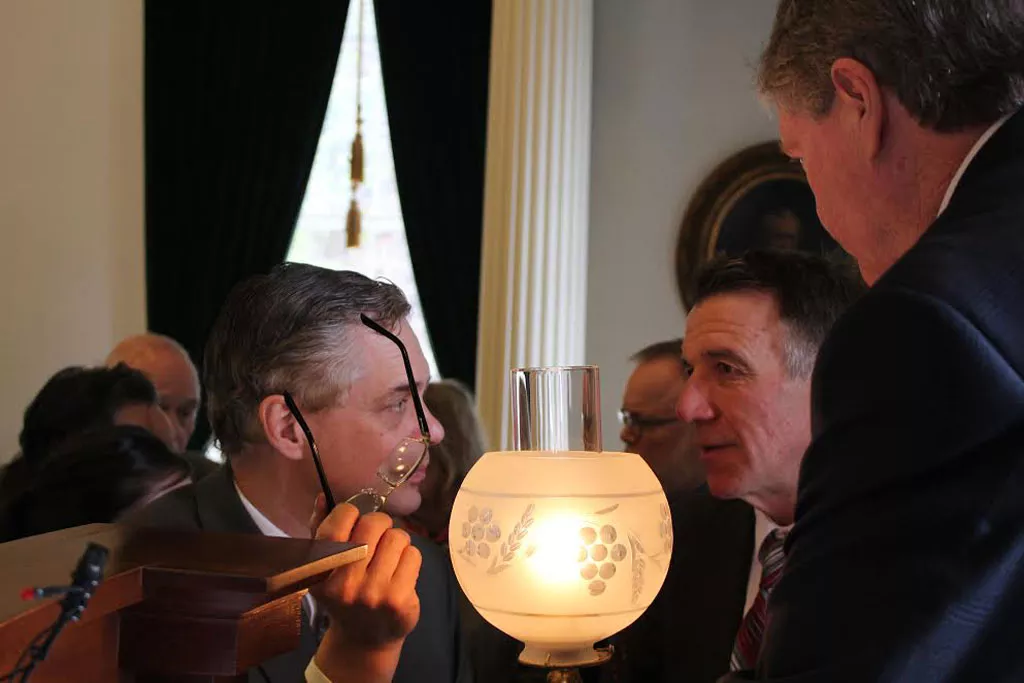 Paul Heintz
Senate Secretary John Bloomer, Lt. Gov. Phil Scott and Senate President John Campbell in the Senate chamber.
Is it over yet?
That's the question most Vermonters are surely asking about the state's dismal 2015 legislative session.
What began with farce — the second-place finisher in the 2014 election asking the legislature to name him governor — is ending in tragedy: sex-crime allegations against a longtime legislator that led to his arrest at the Statehouse last week.
In between those bizarre bookends was plenty of sound and fury, but it's unclear whether any of it signifies very much.
As the legislature creaks toward its much-anticipated adjournment this weekend, Gov. Peter Shumlin, House Speaker Shap Smith (D-Morristown) and Senate President Pro Tem John Campbell (D-Windsor) are preparing to declare victory. All their major priorities, they hope to say, will be signed into law: education, health care, water quality, energy and child protection bills.
But they shouldn't expect a ticker-tape parade.
All three made some awfully big promises during last fall's campaign season and again when the session commenced in January. Who knows? Maybe Vermonters will remember some of them.
Maybe they'll ask: Did the governor and the legislature make the state more "affordable"? Did they slow the growth of property taxes while protecting local schools? Did they stop the toxic algae blooms polluting Lake Champlain? Did they make health insurance any less expensive — and any more available — for low- and middle-income Vermonters? Shit, will Vermont Health Connect ever work as advertised?
Perhaps it's unfair to hold politicians to the standards they set for themselves. After all, they've spent much of the session grappling with a $113 million budget deficit for which nobody's willing to take responsibility.
Maybe Vermonters will be distracted by the carnival-like atmosphere that has descended upon the Statehouse in the legislature's closing days. On Monday night, roughly 300 people crowded into the House chamber to debate the sleeper issue of the session: whether to prevent families from opting out of vaccinating their children for purely philosophical reasons.
It's a battle few elected officials wanted to fight, given the fiercely emotional reactions it engenders. But despite Shumlin's efforts, the issue wouldn't go away. On Tuesday, Smith and his leadership team let it come up on the House floor, where it inspired more than four hours of debate. After a compromise amendment failed by just two votes, the House voted 85 to 57 to end the so-called philosophical exemption in 2016.
Consuming even more oxygen has been a series of recent allegations made against current and former elected officials.
Last Friday, Shumlin appointed former representative Tom Little to investigate whether Democratic Attorney General Bill Sorrell violated campaign finance laws or engaged in pay-to-play politics. Sorrell has denied the allegations, most of which stem from reporting over the past six weeks by Seven Days.
That very same day, former Democratic representative Bob South, a Vermont State Employees' Association union rep, pleaded not guilty in a St. Johnsbury courthouse to a domestic assault charge. Seventy-five miles west, in a St. Albans courthouse, Sen. Norm McAllister (R-Franklin) pleaded not guilty to three felony counts of sexual assault and three misdemeanor counts of prohibited acts.
It's like an episode of "Law & Order: Statehouse Unit."
The allegations against McAllister, a five-term House member and second-term senator, sent shock waves through Montpelier the moment plainclothes Vermont State Police troopers approached him last Thursday outside the Statehouse.
The charges themselves were jarring enough: The cops say the Franklin farmer repeatedly sexually assaulted two women, attempted to prostitute one of them to others and attempted to coerce a third into trading sex for her son's rent.
But the story hit even closer to home for Montpelier-ites when Seven Days reported Sunday night that one of the alleged victims worked for McAllister at the Statehouse just months ago. The woman, who is now 20, told the paper she was 16, or possibly 15, when he first allegedly assaulted her in his barn.
Until those allegations came to light, lawmakers had largely avoided publicly condemning McAllister, arguing that he should have his day in court. But on Monday morning, a series of elected officials, including Shumlin, Smith, Campbell and Lt. Gov. Phil Scott — the highest-ranking Republican in the state — called for the senator's resignation.
Whether he would heed their advice remained unclear throughout the day. On Monday morning, Scott told reporters that McAllister's "official representative" had told him the senator would resign within 24 hours, though the LG declined to identify the go-between. That afternoon, McAllister himself told Seven Days, "That's not the case."
"I haven't even talked about this with my lawyer yet. I'm going to talk with him tomorrow," McAllister said in a brief phone interview. "I've not made up my mind in any which way."
Later, Scott identified the go-between as Sen. Peg Flory (R-Rutland), who said she had spoken to McAllister "numerous times over the last couple of days" and was assured he would tender his resignation.
Meanwhile, 179 other lawmakers were wondering whether they should have known. In on-the-record conversations, many insisted that they never heard or saw anything unusual. But speaking on the condition of anonymity, several told Seven Days they had either overheard a sexist comment, witnessed an uncomfortable event or were aware McAllister was involved with a much younger woman.
One former lawmaker took her story public.
Soon after McAllister's arrest last week, former Burlington House member Rachel Weston called the senator a "pervert" in a Facebook post and alleged he had directed a lewd comment at her years earlier. On her first day in office, she recalled, McAllister said, "It's nice to meet you, but it would be better to meet you with your clothes off."
"I'll never forget it," Weston said. "It was completely inappropriate."
McAllister declined to address any of the allegations in Monday's phone interview. His attorney, Brooks McArthur, urged the public "not to rush to judgment" last Friday, but hasn't responded to requests for comment since.
Two of the 63-year-old senator's Montpelier roommates said they were aware that McAllister's Statehouse assistant routinely stayed in their Terrace Street apartment when she was working in the capital city.
"They shared the same room," said Rep. Timothy Corcoran (D-Bennington), who is 42. "I can't say if she slept on the floor or what."
Corcoran said the woman "never showed any outward signs that something was amiss." But, he added, "Morally, her sleeping in the same room as an older gentleman, I think that's wrong. I wouldn't do that."
A third roommate, Sen. Kevin Mullin (R-Rutland), said the woman "did stay over at the house a few times," but he assumed she slept in an extra bed in the basement.
Mullin, who is 56, described the victim as "a little girl" who "looked like she was about 13" but "claims she was 20." According to Flory, the victim "looked like she was 12."
It remains unclear why nobody thought it was a bad idea for three middle-aged men to share an apartment with a 20-year-old woman who they say looked like a preteen. Nor is it clear whether any of those who suspected a sexual relationship — consensual or not ­— asked her whether she was OK.
At a press conference Monday afternoon, House Republicans urged reporters to refocus their attention from the McAllister scandal to the Senate's version of an education governance bill. Their point was fair: In the coming days, four months' worth of legislative debate will come to a head as lawmakers work feverishly behind closed doors to reach agreement on several major bills.
Then again, it's hard to focus on water quality when Vermont State Police detectives are pulling legislators out of the Statehouse to interview them, as they were rumored to be doing Monday.
Perhaps the only thing that might move the spotlight back to legislative matters is a final standoff between Shumlin and the legislature over the budget and tax bills — and a possible veto.
Ever since his fellow Democrats refused to seriously consider imposing a new $90.4 million payroll tax to address the so-called Medicaid cost-shift, the gov has been spoiling for a fight. For the past few weeks, he's been calling on the legislature to find another $10 million in undefined savings and referring to the tax plans from both chambers as "foolish."
The governor appears to particularly detest proposals to extend the sales tax to candy, soda and bottled water and to limit some income tax deductions — even though he proposed eliminating a different deduction.
Shumlin rarely issues explicit veto threats — and he hasn't this year — but some top legislators wonder whether he's trying to take a page out of former governor Howard Dean's playbook. Before he became a hero to the national left, Ho-Ho loved nothing more than to goad the Democratic legislature and always wanted to veto one of its budgets.
In his politically weakened state, Shumlin may see some percentage in vilifying legislators and blaming them for the state's tax hikes and service cuts. Perhaps he sees vetoing their tax bill as a Hail Mary pass that could lead the way to political redemption. Desperate men, after all, do desperate things.
Meanwhile legislators, who smell the blood in the water, may see this as an opportunity to grow a spine and tell Shumlin he can take their plan or leave it.
But surely both sides realize that, outside Montpelier, few Vermonters distinguish between the Democratic legislature and the Democratic governor. A veto session would only further highlight the one brutal fact that has been apparent all year: Vermonters are going to pay more taxes next year.
Might be time for everyone to go home.
Media Note
One of the finest reporters at Seven Days is moving on at the end of the week.
Shoreham-based staff writer Kathryn Flagg, who joined the news team in January 2012, has taken a job at Press Forward, a Ripton-based public relations company. There, she'll head up communications for Shacksbury Cider, a company her husband, Colin Davis, cofounded, and work in the food, sustainability and wellness sectors.
Flagg, whose long-form stories often focused on agriculture and the environment, said she hopes to continue working as a freelance journalist "when the right stories come along."
"This was a really hard decision, because it's an amazing place to be a journalist," she said of Seven Days. "I can't imagine a better place to do this work in Vermont, so I'm definitely going to miss it."
Seven Days publisher and coeditor Paula Routly praised Flagg's "ambitious" stories.
"The more complex and demanding the subject, the better for Katie, who is a dogged reporter and skilled storyteller," Routly said. "She's gone to great lengths — literally, driving hundreds of miles — to make sure her stories are thorough, accurate and fair."
Routly said she plans on filling Flagg's position.
We'll miss you, Katie.