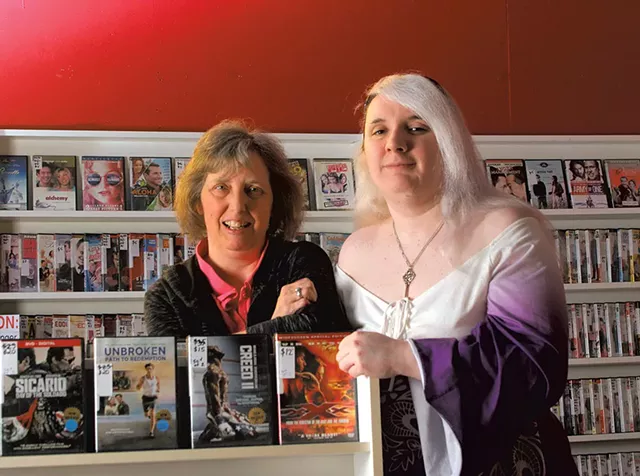 Robert C. Jenks
Dawn and Jadelyn Leroux
Dawn Leroux wants me to stop swearing in her store. We're standing at the counter of Video King, the last video rental store in St. Johnsbury, when I unwittingly utter the banned word: "Netflix." No, she doesn't have a subscription, so don't ask. While we're at it, she doesn't much care for "Redbox," either.
Leroux has been working at Video King for 22 years and has owned it since 2015. When she was first hired as manager in 1997, there were three video stores in St. Johnsbury alone. Until recently, Video King has been one of the last dedicated places to rent movies and TV shows in the state, and now all the movies are for sale. By the end of June, Leroux will close the doors for good.
That the store has outlasted the others in town — and stuck it out four years longer than the last video stores in Burlington and Montpelier — is down to Leroux herself. She's slight with graying hair, but when she leans up against her last rack of new releases, she gives off such a strong Fonzie-at-the-jukebox vibe that I have to snap an iPhone photo. She is open, charming and at times brutally candid.
"Some people hated me," Leroux says with a laugh. Her 24-year-old daughter, Jadelyn, who also works at the store, has banned her mom from the Video King Facebook page. As she sells off her inventory, Leroux has had people complain that her DVD prices are higher than Walmart's. "Then go to Walmart," she tells them. She says she will lower her prices as the as-yet-unspecified closing date gets closer.
During my first phone call with Leroux, I tell her how, in 2018, I worked at a video store in Missoula, Mont., that was in the process of going out of business. That storefront is now a Starbucks. We jokingly speculate that I'm the common denominator in these closings, a video store harbinger of doom.
But rest assured, superstitious Vermonters: It's not me. A Google search reveals stories of video store closures in Ohio, Illinois, Idaho, Pennsylvania and Washington, D.C., all in the past two months alone.
When Burlington's well-loved Waterfront Video closed in 2013, the milestone earned a cover story in Seven Days. Journalists from nearly every major media outlet have, at some point, made the same pilgrimage to the world's last Blockbuster in Bend, Ore. In 2015, Seven Days wrote about three of the remaining video rental stores in the state. Today, two of them are closed, and one, Harry and Lloyd's in Barre, stopped renting movies in late May of this year.
In the hour or so that Leroux and I spend talking at Video King, only three customers browse the shelves. (It's the middle of a weekday, after all.) Two come from the town's library, which will be buying up some of the collection to keep lending it out to locals. The third is a man who reminisces about visiting Video King as a kid, in its original location.
When he leaves, Leroux turns to me. "I've never seen him in here before," she says. Her point: It's one thing to wax nostalgic about video rentals, another to pay for enough of them to keep a video store in business.
What were her most popular movie rentals of all time? After some thought, Leroux comes up with Spirited Away, the Marvel movies and O Brother, Where Art Thou? "I didn't like it," she says of the 2000 Coen brothers film.
Running a small business in a town that, as of 2018, could no longer support a McDonald's is clearly a labor of love. Leroux loves it, and she loves sharing it with her daughter. The hardest part of closing, she says, was telling Jadelyn, who's been working at Video King since 2010 and wanted to make it an even decade. Thinking about that, Leroux sometimes tears up. But she says it's time for both of them to move forward.
Jadelyn is looking for work in Montpelier, and her mom is dreaming of a vacation.
"I haven't taken any time since I bought the place," Leroux says. She wants to visit Arizona. I tell her about a video store in Tucson that calls itself a "film bar," with 20 craft beers on tap alongside the rentals, and her eyes light up.
"I don't have the money backing to go the beer route," she says. "There was talk for years about pizza."
But selling food required too hefty a licensing burden; Leroux says she's not even allowed to sell Slim Jims anymore. She dabbled in CBD products and animal figurines, but neither could make up for a declining clientele, consisting mostly of older locals.
"However you want to put this," Leroux says, "they're dying."
She lost four of her regulars at the beginning of 2019. Support from her distributor and the film studios has also declined; they stopped sending movie posters and promotional brochures this year, Leroux says. The store is still in the black, but she's decided it's time to pull the plug.
In his book Videoland: Movie Culture at the American Video Store, Daniel Herbert contends that video stores are actually the very thing that paved the way for Netflix, Hulu and other streaming services. Before the advent of the VHS tape, a movie was a viewing experience that was dictated for you, available only at certain times of day in a theater or on your TV. Viewers had little say in what they watched or when.
Video stores ushered in an era of individualism and customization in movie consumption. Stores emphasized options — "Over 200 films to choose from!" — and turned spectators into shoppers for the first time. It's only natural that those shoppers would crave more and more choice. (In 2018, Netflix offered more than 1,500 TV shows and 4,000 movies.)
Margaret Grayson
Nancy's Video
"As a cultural practice," Herbert writes, "the video store lives on in myriad forms and activities." Vendors work harder to emphasize and cater to individual needs — using algorithms, for instance. But the conversations about media are becoming increasingly intangible.
"At one point, over 150,000 people were employed at video rental stores. There are about half as many [in 2014]," Herbert observes in his book. "Where are these people, and what are they doing? Where will these conversations go? What record of these encounters will there be except our vague memories?"
For Seth Jarvis, a former employee of Waterfront Video, the biggest loss accompanying the decline of video stores is curation by real people. On streaming services, it's hard to figure out what's good, and sometimes even to find it. Many people now subscribe to multiple services and still end up paying extra to rent the movies they want.
After Waterfront closed, Jarvis says, people searching for certain new and acclaimed movies, such as the Tom Hanks film Captain Phillips, couldn't find them on any big streaming service.
"There was this idea that you would be able to get any movie you wanted at any time in one place," Jarvis says. "That promise has disappeared now."
Seth Greaves, who owns Harry and Lloyd's in Barre and previously spent 15 years as the manager of Hollywood Video in Burlington, recently stopped renting out movies. He says Harry and Lloyd's still buys and sells used DVDs and Blu-rays, but its main focus is vintage video games, consoles and toys. When he decided to end his rentals, Greaves says, they made up no more than 10 percent of the store's business.
"It was more kind of window trimming," he says. His regular renters were in decline, and sales did more to earn the store space. People come from all over New England seeking rare and collectible games and consoles, he says.
Greaves suggests people still like the physical act of browsing movies. However, he doesn't think DVDs will gain the same nostalgia momentum that vintage video games or vinyl have. For one thing, there are just so many of them in the world, and they're cheap.
"I don't see DVDs, 10 or 20 years from now, being collector's items," he says.
Jarvis agrees, because DVDs aren't built to last that long. And that's too bad, he adds, because some die-hard collectors still exist.
"The physical [medium] itself was flawed," he says. "It was a real struggle to keep them functioning."
So what's left for Vermonters looking to browse shelves and rent new movies or hard-to-find classics? A video store in Plattsburgh, N.Y., offers movie and game rentals. On this side of the lake, you might need to head out to the boonies.
On Route 5, just outside Irasburg, lies what may be the video store's last stand in the state: Nancy's Video, run by Trish Jones and Brien Lemois.
Lemois' parents started the store in 1990 with their personal collection of some 300 movies after they visited a local video store and saw that the adult titles (you know, pornography) were kept right out in the open. Being fairly conservative folk, they viewed this as sufficient reason to start their own business, albeit a slightly more family-friendly one.
"I've had customers coming here for 25-plus years," Lemois says. "They've seen me grow up; they've seen my kids grow up."
But, like many rental spots, Nancy's diversified. Lemois is also a gunsmith, and in 2012 the store merged with Green Mountain Sporting Goods, so you can now browse DVDs, fishing bait and rifles all in one handy location.
Jones and Lemois use a different distribution method from the other store owners interviewed for this story, one they say helps them keep expenses down. They pay their distributor a flat $5 fee for each new release (a category that accounts for about 90 percent of their video business) and then 30 percent whenever that movie is rented out. After six months, they can either pay a few more bucks and keep the movie for good, or ship it back. This way they have lower inventory costs than stores that buy all their DVDs outright.
Jones says they try to emphasize the family atmosphere of the store, where customers will often see her toddler running around in the mornings. I ask Francis Lemois, Brien's stepson, if he plans to stay involved in the family business. He answers instantly: "It's my home."
In recent years, the store has had to downsize its collection and focus on new releases. But plenty of people in the rural area can't get, or can't afford, access to high-speed internet or cable, Jones points out. So customers of all ages still come in every day.
"As long as there are DVDs, we'll keep the new ones," she says.