We've been poring over the new performing-arts brochures and our first reaction is: whew. From the wealth of onstage options in the upcoming season, it's hard to tell the economy has been scary. Presenters all over the state and beyond are bringing in as many shows as ever, from as far away as India, Africa and Estonia to as close as the next town over. Better yet, the quality matches the quantity. And, rather than taking this for granted, can we take a moment for gratitude?
Presenting the performing arts is a risky business in the best of times, particularly for visionary artistic directors who believe in challenging, as well as entertaining, their audiences. But live-show aficionados in Vermont have to admit: We've come to expect a full platter of professional-level shows in this tiny state, and it's thanks to a dedicated handful of presenting organizations that we get them. Truly great performers — from musicians to magicians, actors to acrobats — come to share their passions with us, even in the dead of winter.
OK, OK, you're thinking, we're grateful. So, what's new this year?
Glad you asked, since this issue of Seven Days is all about telling you. Or, more accurately, sampling the season to come.
But first, "what's new" can be answered in more ways than one. At the Chandler Center for the Arts in Randolph, for example, it means extensive renovations that bring the historic, 103-year-old venue into fire-code and ADA compliance, making shows and exhibits accessible to patrons of all abilities. At Middlebury College's Mahaney Center for the Arts, some new events on the calendar are related to something old: what marketing manager Liza Sachelli Lloyd calls a "happy serendipity" of 40th anniversaries. Two of them are performance related.
Pianist Diana Fanning — "a musician of international renown who happens to live in Middlebury," says Lloyd — celebrates 40 years of performing professionally with a special concert in November. The Jupiter String Quartet, winners of an Avery Fisher Career Grant and considered one of the strongest young string quartets in the country, will join Fanning, as will Midd affiliate artist and cellist Dieuwke Davydov. In February, the center will mark the 40th anniversary of the installation of Mead Chapel's Gress-Miles organ — "one of the best in the state," boasts Lloyd. If you want to know what a rising-star organist looks, and sounds, like, go to Nathan Laube's concert. And if you like instruments with really big pipes, get there early for the tour with professor emeritus Emory Fanning (who happens to be Diana's husband).
In the Burlington area, personnel changes at several performing-arts organizations constitute something of a generational shift. At the Vermont Mozart Festival, Israeli conductor/composer Gil Shohat replaces founder and 36-year director Melvin Kaplan, a move the board hopes will help pull the organization out of financial difficulty. At the Vermont Youth Orchestra, Ronald Braunstein has stepped into a music-director role strongly shaped by Troy Peters, who moved to a position in San Antonio. Braunstein's first season with the VYO begins this fall. Shohat will begin his tenure next spring. These two leaders' influences on their respective organizations remain to be seen. Seven Days interviewed John Killacky, the new executive director of the Flynn Center, earlier this summer. He took over in June from cofounder and ED of 30 years Andrea Rogers, though the programming remains the bailiwick of seasoned artistic director Arnie Malina.
At the University of Vermont's Lane Series, Natalie Neuert ascended from manager to director when longtime director Jane Ambrose retired earlier this year. The two had worked hand-in-hand on programming for years and mostly accepted with each other's ideas, Neuert says, "though of course sometimes we disagreed." So, audiences will not see a completely different direction at the Lane but rather a continuation of the transition that began years ago: a move away from strictly classical music to, as the current season illustrates, about half "other" music.
"There is a need to continue to serve longtime Lane subscribers and an opportunity to reach out to new ones," Neuert says. With the exception of some larger acts that the organization occasionally presents with the Flynn on the MainStage, the foundation of Lane programming is music that sounds extraordinary in the acoustically perfect, 300-seat UVM Recital Hall. "For me the starting point is always that word 'chamber,'" Neuert explains. "Chamber music means a lot of things, many genres; because of our hall, what we do well is intimacy."
Perhaps for the same reason, the Lane is also known for excellence — as Neuert suggests, "really good music that can entertain, transform, take you on a journey." This year that journey includes such shows as Estonian early/folk music from a robe-wearing choir called Heinavanker, a collaboration of soul singer Mavis Staples and Brit folk-rocker Billy Bragg, Americana stylings from the rootsy Wiyos and Red Molly, a handful of solo classical pianists, and, yes, several chamber ensembles. Returning to the Lane — at the Fleming Museum — are faves Devil Music Ensemble, a trio of inventive musicians who write and perform original soundtracks to old silent films. This year's offering is a Halloween extravaganza: the 1920 version of Dr. Jekyll and Mr. Hyde.
An act "of unparalled beauty" that Neuert specifically pursued is, she concedes, the hardest to describe: John the Revelator, coming to the Recital Hall next spring. Called a "21st-century mass" and commissioned following the 9/11 terrorist attacks, the music was composed by Phil Kline for chorus and string ensemble. The two ensembles that performed the world premiere of John the Revelator in New York City's Winter Garden are reprising it in Burlington: respectively, the all-male early-music vocalists Lionheart, and Ethel, a string quartet that includes Vermont violinist Mary Rowell. Though both groups have performed at the Lane in the past, Neuert says, "Still, I felt this was a reach for us."
The same evening, she adds, will debut a new movement for organ (more big pipes!) commissioned by the Lane Series, Portland Ovations of Maine and Friends of the Kotzschmar Organ, performed by UVM's David Neiweem. "We now have the Jane Ambrose Commissioning Fund," Neuert points out, "so we'll be looking at doing more new music."
Over at the Flynn Center, the season is so diverse its description can include the words ballet, Broadway and Bollywood in one breath. But a close read of the brochure reveals a thematic thread in some of the programming: minimalism. That is, work that originated in the minimalist movements of the '60s and '70s or is influenced by it. The centerpiece performance in this vein is a re-creation of Lucinda Childs' 1979 Dance, set to music by composer Philip Glass and filmed by the conceptual artist Sol LeWitt. At the Flynn, that film will be projected behind the current generation of dancers simultaneously performing Childs' sweeping, geometric choreography, so that the piece offers not only a shifting point of view in space but in time. Philip Glass himself will be on hand, too, performing pieces from older works on the piano prior to Dance.
The Lar Lubovitch Dance Company, coming to the Flynn next month, also pioneered new works by Glass, as well as fellow minimalist composer Steve Reich, in the 1970s. The troupe influenced a generation of choreographers while continuing to create new pieces of its own. This is reflected in its Flynn program, which includes Lubovitch's 1978 North Star, with a Glass score, and a brand-new piece set to music by John Coltrane.
The Flynn season honors other icons of the past, too — some of them long gone. Jazz giant Charles Mingus is represented by the three-part Mingus Repertory Ensembles as well as his widow and conservator, Sue. The José Limón Dance Company — at 64 the longest continually running dance troupe in the U.S., notes Malina — reprises a 1955 masterpiece, Rooms, choreographed by the great Anna Sokolow. Avant-garde singer, composer and music-theater creator Meredith Monk is still very much alive and exploring the reaches of the human voice; in February, she brings a program of works from the '70s as well as contemporary compositions.
"All these people are great American figures and deserve for people to learn more about them," says Malina. He feels the same about "two major plays that are part of theater history": Waiting for Godot and Death of a Salesman. The former proved its timelessness once again when director Christopher McElroen produced the Samuel Beckett classic in post-Katrina New Orleans, infusing the dialogue with the rhythms of hip-hop and speech patterns of African Americans in the Crescent City. "It was originally staged in the flooded areas, with black actors," Malina says. "Beckett's Irish characters effortlessly become citizens of New Orleans waiting for help. Sometimes adaptations don't work," Malina adds. "But when they do, it speaks to the universality of the work. It is a real thrill."
Arthur Miller's Salesman, appearing around the state as well as at the Hopkins Center, has both homegrown and Hollywood appeal: It's a Weston Playhouse production starring film and television actor Christopher Lloyd. Groundbreaking when it premiered 60 years ago, the play remains just as relevant — perhaps even more so — to the state of the human condition today.
If works become classics for the timelessness of their content, we have to ask what will happen in decades hence to contemporary pieces that rely on technology. After all, to the modern mind, gizmos are continually outdated. Will the technology used in a performance doom it to the cultural landfill, or will it simply serve to anchor the work in a time period, much as historic costumes do? Chances are the technology of today will be not just quaint but nonexistent decades hence, so we'll have to cross that bridge when we come to it.
Meanwhile, though "the multimedia approach is so much more ubiquitous" these days, observes the Hop's programming director Margaret Lawrence, "artists don't necessarily feel like they have to do it in really high-tech ways." She points to the example of "LA Party," a "hilarious, entertaining and surreal freakout of a show," according to the cultural webzine Culturebot, that will skid into the Hop and the Flynn next February. About a fanatical vegan who slides off the wagon for a wild bender in Los Angeles, it's narrated by writer David Barlow. But the piece also uses live video featuring six performers who make up one composite human being. Not sure what that means, really, but Lawrence suggests viewers might think, Well, I could have done that. But could they? More to the point, she says, they didn't. "As with YouTube," Lawrence concludes, "some people are using technology in very sophisticated ways or in less technical ways, but with great imagination."
And that's where the magic of performance has always come from. On with the shows.
******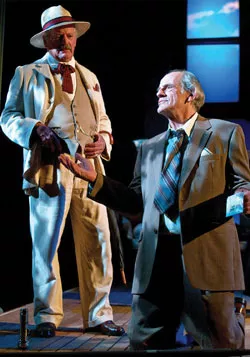 Death of a Salesman
When it was first produced, in 1949, Arthur Miller's Death of a Salesman defied expectations: Here was a high tragedy about Joe Average struggling to pay off his mortgage. Sixty-one years later, the tale of 63-year-old family man Willy Loman may seem dated in some ways, but its theme of one man's American dream and its smackdown by reality is as relevant as ever. Disrespected at work, disappointed in his slacker sons, Loman is "the eternally adolescent American male who goes to the grave without ever learning who he is," as Frank Rich wrote in 1984.
For all these reasons, Salesman is a go-to choice for actors who want to challenge themselves. When the directors of the Weston Playhouse asked Christopher Lloyd what role he'd most like to play, Willy Loman was his answer.
Everyone who lived through the '80s most likely knows Lloyd as the crazy, time-traveling inventor from the Back to the Future movies. (He also had a long run on "Taxi" and has appeared in films ranging from One Flew Over the Cuckoo's Nest to Piranha 3D.) The actor, whose brother Sam Lloyd lives in Weston, has stayed active in the theater.
Lloyd's choice to take on Miller in what a New York magazine blogger called a "way-off-Broadway" venue has made waves. In a recent New York Times piece, Dave Itzkoff described 71-year-old Lloyd as approaching the role "with profound seriousness, knowing he might never get the chance again." Locals, however, get several chances to see him this month as the Weston production tours the state.
Paramount Theatre, September 28, 7:30 p.m. $22.50-27.50.
Dibden Center for the Arts, September 29, 8 p.m. $20.
Moore Theater, Hopkins Center, October 1 & 2, 8 p.m. $25-42 (sold out).
Town Hall Theater, October 7 & 8, 7:30 p.m. $29.
Flynn MainStage, October 9, 8 p.m. $25-39.
Catamount Arts at Fuller Hall, October 10, 7 p.m. $28-42.
MARGOT HARRISON
******
Angélique Kidjo
On her new album, Õÿö, Angélique Kidjo (left) sings a joyful, Afrobeat version of Curtis Mayfield's soul classic "Move On Up," featuring the voices of Bono and John Legend. In the track's video, the regal, 50-year-old singer with the shorn head is riveting — even though she's surrounded by the colorful costumes and infectious hip swinging of Bill T. Jones' dancers from the Broadway musical Fela!
No matter how much she mixes it up, culturally speaking, Beninese singer Kidjo can rely on her powerful alto and stage presence to work a crowd. On Õÿö, she performs songs made famous by one of her role models, South African diva Miriam Makeba, but also works of James Brown and Aretha Franklin, and even a Bollywood melody. They all represent early influences on the singer, who started performing publicly at age 6. Kidjo left her native land for Paris when she was in her twenties — and now lives in Brooklyn — but the Grammy winner has remained an activist for African women's rights and other causes; her Batonga Foundation funds scholarships and builds secondary schools for girls.
Kidjo's voice can caress a standard like "Summertime," muscle its way through a hand-clap a cappella number, and do justice to a soul anthem. She's been known to invite her listeners up on stage: The New York Times described a show last March as becoming "an amateur dance-off, utopian in its welcoming exuberance." Join that exuberance at the Hop and Flynn next spring.
Spaulding Auditorium, Hopkins Center, April 28, 7 p.m. $25-37.
Flynn MainStage, April 29, 8 p.m. $24-38.
MARGOT HARRISON
******
Cirque Éloize
Cirque Le Masque
Cirque Mechanics
There's never been a better time to run away with the circus, or at least snag a seat to ohh and ahh at one. Or three: World-class acts Cirque Éloize, Cirque Mechanics and Cirque Le Masque all swing through our neck of the woods next year. The first two have previously graced the Flynn stage and are back — perhaps by popular demand? Meanwhile, Long Island-based Cirque Le Masque, coming to the Paramount, has a new bag of tricks up its sleeve.
The daredevil troupe aims to astound with graceful feats of strength in flying-silk acts, gasp-inducing trapeze turns and tandem tumbling. But the intriguing premises of its shows set this cirque apart. In Carnivale, a world-weary young girl harboring dreams of becoming a circus artist travels to "the ultimate party town," Rio de Janeiro. Full of gravity-defying antics by acrobats, physical comedians, aerialists and character actors, the performance captures the spellbinding lure of the circus tradition. Cirque Le Masque's newest show, Evolution, is also out of this world. Imagine aliens touching down in the middle of a circus show, and you begin to get the gist.
Touring internationally since the mid-'90s, the traveling spectacle owned by brothers Dennis and Bernie Schussel touts performers with names such as Cirque du Soleil on their résumés. Not an artist himself, Dennis Schussel wasn't about to let the circus pass him by. His philosophy? "If you can't do it, own it," he jokes. And if you can't join it, see it.
Cirque Éloize, Flynn MainStage, February 18 & 19, 8 p.m. $27-47.
Cirque Mechanics, Flynn MainStage, March 11, 8 p.m. $27-47.
Cirque Le Masque, Paramount Theatre, May 13, 8 p.m. $31.50-41.50.
CAROLYN FOX
******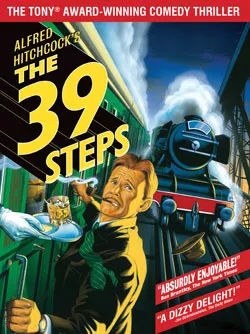 Alfred Hitchcock's The 39 Steps
Spies. Murder. Romance. An onstage plane crash. The 39 Steps is the theatrical adaptation of Alfred Hitchcock's classic film that's been a hit on Broadway and is suddenly all over Vermont. The fast-paced comedy-thriller ran this summer at the Weston Playhouse as well as at the Depot Theatre in Westport, N.Y. It's coming up in November at Northern Stage, and in May the Broadway tour makes a stop at the Flynn.
You don't have to know the film to enjoy this two-time Tony Award-winning play, though the script hews closely to Hitchcock's masterpiece, simultaneously celebrating and spoofing it. Four cast members play more than 140 characters, flipping their identities seamlessly — and hilariously — from vaudevillian to cop to traveling lingerie salesman.
As the play begins, protagonist Richard Hannay is attending a show at a London music hall when shots are fired and the audience breaks into chaos. He takes home a woman who tells him she's a spy. When the woman is fatally stabbed the next morning, Hannay finds himself the prime suspect in her murder, and he quickly becomes embroiled in a mysterious plot to uncover British military secrets. He hits the road to save his life.
Despite its cinematic setting, the play is produced with minimal, but inventive, set design. The magic, the critics are saying, is in the theatrics.
Find out what all the buzz — and those 39 steps — are about this season.
Northern Stage production at Briggs Opera House, November 3-21, various times. $30-56.
Broadway national tour, Flynn MainStage, May 13, 8 p.m. $43-50.
MEGAN JAMES
******
The Klezmatics
Klez•mer (klez-mer) — 1. a Jewish instrumentalist especially of traditional Eastern European music; 2. the music played by klezmorim. Origin: Yiddish.
While the above may be the definition of traditional Jewish klezmer music, it is far too narrow a category to encapsulate New York-based band the Klezmatics. For more than 20 years, the eclectic bunch has drawn from African, Arab, Latin and Balkan world-music traditions. At times, their music is inflected with punk, jazz and classical tones, making them anything but a traditional folk band.
Over the years, the band has collaborated with artists as varied as violinist Itzhak Perlman, African American Jewish gospel singer Joshua Nelson, playwright Tony Kushner and Pilobolus Dance Theater. In 2007, the Klezmatics took home a Grammy for Best Contemporary World Music album for their most recent studio album, 2006's Wonder Wheel. The album — seven years in the making — is an homage to Woody Guthrie, infusing Dust Bowl ballads with klezmer style. The Klezmatics are the only klezmer band to win a Grammy.
Not only does the band's music represent the Jewish Diaspora through thundering clarinets, whining violins and piercing accordions, but it also serves to draw in listeners from around the globe with common themes and rhythms. You don't have to be Jewish to appreciate a good drinking song or socialist anthem. Or a good time.
Ira Allen Chapel, UVM, April 17, 7:30 p.m. $20/25.
LAUREN OBER
******
Khmer Arts Ensemble, The Lives of Giants
Take a moment to let this sink in: Your culture has been annihilated, its music, dance, art and theater traditions wiped out. Most of its practitioners and teachers have been systematically killed. It may seem far fetched, but this is exactly what happened in Cambodia in the 1970s when the communist Khmer Rouge attempted to purge anything they considered "elite."
One of the survivors of that holocaust is choreographer, dancer and vocalist Sophiline Cheam Shapiro. Born in 1967 and just a child during the Pol Pot regime, she was one of the first to attend Phnom Penh's newly reopened fine-arts school after the country's civil war ended. She devoted herself to mastering complex, 1000-year-old dance movements, whose grace and delicacy belie the strength required to perform them. Later, Cheam Shapiro started her own school, the Khmer Arts Academy, to preserve and teach these traditions. She also maintains a school and residence in Long Beach, Calif., home to many Cambodian refugees.
"She is at the very leadership of a profound movement to preserve classical dance and music," says Margaret Lawrence, programming director of the Hopkins Center at Dartmouth College. Cheam Shapiro's performances retain "that beautiful, glittering, slow-moving art form," Lawrence notes, but she also uses it, with very subtle changes, to reflect on her country's history over the last 40 years.
Over the last two decades, Cheam Shapiro has earned international renown, collaborated with artists such as Americans John Zorn and Peter Sellars, and won prestigious awards, including the National Heritage Fellowship. The striking elegance of Cambodian costumes, movement and music has struck a chord the world over.
So, too, has the country's story, which from this remove can be told as both a cautionary tale and a parable about the resilient human spirit. In its current production, Cheam Shapiro's 30-member Khmer Arts Ensemble does just that through The Lives of Giants, about a 10-headed despotic king.
Hopkins Center, September 28 & 29, 7 p.m. $25-37.
Flynn MainStage, October 1, 8 p.m. $22-38.
PAMELA POLSTON
******
Niklas Sivelöv
Sweden seems to be suddenly hot here: Think of best-selling novelist Stieg Larsson or pop singer Robyn. But the increasingly acclaimed Swedish classical pianist Niklas Sivelöv is not just riding a wave. A well-known soloist and composer in his own country, Sivelöv often performs unusual, on-the-spot improvisations on the compositions of his mid-18th-century compatriot Carl Bellman.
"Shockingly beautiful" is how University of Vermont Lane Series director Natalie Neuert describes the improvisations, which she heard live at the Scandinavia House in New York City last January. "The basis is 18th century, so it has a Bachian feel. You've never really heard anything quite like it in a concert."
Sivelöv is a Bach specialist who garnered warm reviews for a series of all-Bach concerts he gave last January at Bargemusic in Brooklyn. In addition to selections from the Baroque master's The Well-Tempered Clavier, Sivelöv's Lane Series program will include Chopin favorites and Argentinian dances by Ginestera, as well as Schumann's impassioned Sonata no. 2 in G Minor.
Neuert scheduled a total of three classical pianists this season to showcase the UVM Recital Hall's "fantastic" Steinway concert grand and "clear-as-a-bell" acoustics. Why the Swede? "There are a lot of solo pianists out there," Neuert notes. But when she saw him, Sivelöv had a real ability to connect with his audience — whether through the "quirky," vintage three-piece suit he wore or his playing style, which prompted the New York Times to dub him "the extrovert."
"His performance style and his charm and his entire being just kind of radiate this intelligence," Neuert promises.
UVM Recital Hall, April 15, 7:30 p.m. $20/$25.
AMY LILLY
******
The Wiyos and Red Molly
New York City's Wiyos adopted their curious name from the most notorious of old New York's street gangs, the Why-ohs. Though they hardly resemble that bloodthirsty consortium of thieves, murderers and scoundrels, the band has earned a reputation as one of the baddest old-time outfits around, trading in early American roots music performed with reckless, vaudevillian abandon.
If the Wiyos are rough and tumble, Red Molly are sweet and refined … and funny. The New York-based, all-female trio has risen to wide acclaim, especially in traditional-music circles, for a cunning take on high-lonesome bluegrass and gospel music that belies the women's urban origins. Or, as the Boston Globe puts it, "It's as if their notes are carried to you on the crisp air of the Ozarks."
The Wiyos — who performed at the Lane Series' summer Film and Music Series four years ago — return with their three lady friends next month.
UVM Recital Hall, October 29, 7:30 p.m. $20/25.
DAN BOLLES
******
Radio Macbeth
You can't beat Macbeth for a story about the lust for power. But Shakespeare's bloody drama certainly takes on a different kind of intensity in the SITI Company's version, which Variety magazine calls "a bullet of a play." This one is set in a warehouse where a group of 1940s-era radio-play actors come together to deliver their lines for the production. But "what begins to happen is the play becomes alive for them in an amazing and almost haunted way," describes Margaret Lawrence, programming director at the Hopkins Center. "They, and you, become gripped in the play, and the audience almost becomes a kind of nervous system for the actors. The energy is palpable."
Lawrence says she's brought the New York City-based ensemble — under the artistic direction of MacArthur "genius grant" winner Anne Bogart — to the Hop three times before. One of those productions was A Midsummer Night's Dream set in the American Dust Bowl of the 1930s. "She loves classics," Lawrence says of Bogart, "but set in other landscapes, both geographically and psychologically."
SITI Company is also known internationally for combining Bogart's "viewpoint" style of acting with the Suzuki method of actor training developed by company cofounder Tadashi Suzuki. "It's a way of presenting yourself very physically," Lawrence explains. "You're part of a very active, dynamic set of relationships on stage. For the audience, it creates a very exciting thing that draws you in."
Drawn into Macbeth? Could get edgy.
Flynn MainStage, March 29, 7:30 p.m. $25/39.
Moore Theater, Hopkins Center, April 4 & 5, 7 p.m. $10-42.
PAMELA POLSTON
******
13 Most Beautiful … Songs for Andy Warhol's Screen Tests
Once upon a time — OK, it was 1964 — iconic American pop-art provocateur Andy Warhol began shooting a series of "screen tests" in his fabled New York studio the Factory. His subjects ranged from virtual unknowns to some of the most "beautiful" and enchanting young stars of the day, including Lou Reed, Dennis Hopper and Edie Sedgwick. Those four-minute films, nearly 500 in total, were shot in black and white and had no sound. Until now.
Acclaimed indie duo Dean & Britta (both formerly of Luna) have crafted a suite of new music, collectively titled 13 Most Beautiful … Songs for Andy Warhol's Screen Tests, to accompany, well, 13 of Warhol's shorts. The project, commissioned by the Pittsburgh-based Warhol Museum, has spurred a critically acclaimed new double album. But when it comes to experiencing what makes this union of sight and sound so special, nothing compares with the duo's live performance, which Toronto's Globe and Mail calls, "At once beguiling, witty and poignant … a moody, evocative soundscape."
Moore Theater, Hopkins Center, April 8, 8 p.m. $10-32.
DAN BOLLES
******
Lucinda Childs' Dance
Three decades have passed since choreographer Lucinda Childs' definitive collaborative work, Dance, premiered in New York City, but the original cast, including Childs, will be right there on the Flynn stage — in the form of ghostly video projections — accompanying the new cast as they dance the piece live next April.
The video component is nothing new. In the original production, a collaboration between Childs and composer Philip Glass, artist Sol LeWitt filmed the dancers from various perspectives and overlaid the footage on the live performance, creating a kind of multidimensional study of movement. Now the work incorporates a whole new dimension: the passing of time.
The individual components of Dance are as minimalist as its title suggests. Dancers dressed all in white move swiftly across the stage, entering and exiting on a grid. Glass' music is almost hypnotizing in its repetition and reiteration. The movements haven't changed much from those in the video of the original cast, but when the large images are projected behind the live performers, you get the impression each dancer is accompanied by a giant alter ego.
That performance at the Flynn is the second half of a double bill; the first is a solo piano concert by Glass. He'll play from his early works, including Einstein on the Beach, Satyagraha and Metamorphosis 1-5. Attend both parts of the evening, with a talk in between, and you'll have a chance to immerse yourself in the work of two legendary American artists. Plus, you'll get a reduced ticket price for the pair.
Flynn MainStage, April 2; Glass at 7 p.m., Dance at 9 p.m. $24-$40.
MEGAN JAMES
******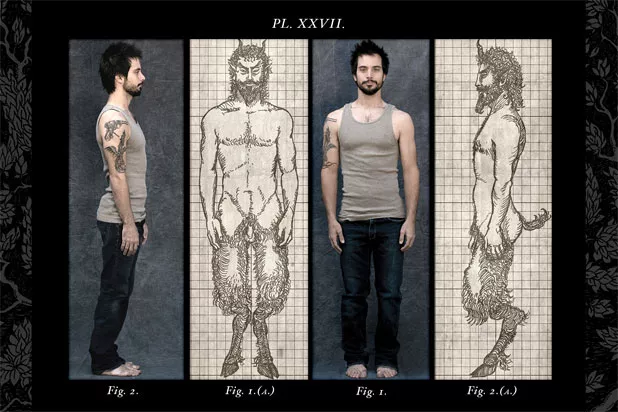 Diagnosis of a Faun
When choreographer Tamar Rogoff first saw Gregg Mozgala, Mozgala wasn't a dancer; he was an actor playing the lead role in an off-Broadway production of Romeo and Juliet. Mozgala's cerebral palsy gave him an awkward gait — he walked on his toes, knees bent inward, his hips swinging from side to side. But Rogoff was captivated by his energy onstage and approached him afterward about working with her.
"His body was so responsive to the text," she writes in an email about the performance where she spotted him two and a half years ago. "He was so alive and physically present."
Less than a year later, Mozgala was moving his body in ways he'd never thought possible and starring in a dance Rogoff created for him, Diagnosis of a Faun, which comes to Middlebury College's Mahaney Center for the Arts next month. In it, Mozgala plays a 5000-year-old faun — that is, half-man and half-goat — interacting with doctors and dancers in both the operating room of a modern-day hospital and the forest.
Mozgala's transformation wasn't easy. In addition to daily rehearsals, Rogoff coached him through intensive body work and movement exercises, essentially retraining his muscles so he could keep his alignment and balance in check.
"I'm sure no other choreographer and dancer have ever worked like we do. Movement just doesn't move through my body like other people's," Mozgala wrote on Rogoff's performance blog during the initial rehearsal period. "This is, of course, why Tamar was interested in working with me."
What they achieved together isn't just a transformation of his body; it's a work of art.
Dance Theatre, Mahaney Center for the Arts, October 29 & 30, 8 p.m. $24/18.
MEGAN JAMES
******
Popovich Comedy Pet Theater
When it comes to family entertainment, you can't go wrong with circus arts, comedy and dogs doing tricks. But Russian-born circus performer Gregory Popovich has a secret weapon: the reputedly untrainable house cat. Images of kitties riding bicycles lure Vegas tourists to the V Theater in the Planet Hollywood resort, where they find Popovich and his human troupe — which includes his daughter — juggling, clowning, and cavorting with cats, dogs, ferrets and geese.
While the felines do not, as attested by reviewers at Yelp.com, actually pedal cycles, they do show off their natural grace in feats of agility. And every single one of them was rescued from a shelter.
That story has landed Popovich and his pets on "The Tonight Show," "Late Night with Jimmy Fallon," "America's Got Talent" and the Animal Planet network. Next March, a collaborative effort of the Chandler Center for the Arts and the Lebanon Opera House will bring the Comedy Pet Theater to the Upper Valley.
Not for the first time. When CPT appeared at the Chandler in 2005 and 2006, says executive director Rebecca McMeekin, "the show was wildly popular with the audience." After Popovich got his gig in Vegas, she notes, he took a break from touring the show, "and when it came back, the artist fee had more than doubled. The show had gotten too big and expensive for Chandler to present and still keep ticket prices at an affordable level." So McMeekin and Heather Clow, executive director of the Lebanon Opera House, teamed up to bring the CPT to the larger venue, giving local kids a chance to take a break from Lolcats and check out the real thing.
Lebanon Opera House, March 5, 11 a.m. & 3 p.m. $15-20 or $40 family rate.
MARGOT HARRISON