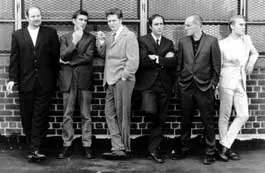 When The Beauty Queen of Leenane won four Tony Awards in 1998, the lead actress of the play stepped up to the microphone at the nationally televised ceremonies to thank the Atlantic Theater Company and its artistic director Neil Pepe. He had seen a performance of the Irish drama in London the previous year and imported the original production for a limited run at his troupe's 182-seat Manhat-tan venue. The show earned such glowing reviews that it moved to Broadway to meet the demand for tickets.
The accolade at the tony Tonys was yet another indication that Atlantic — and Vermont-born Pepe — had truly arrived. A string of their own successful theatrical endeavors, many of which were developed during the company's summer residencies in the Green Mountain State between 1985 and 1998, marked the course of a long journey. With an increasingly hectic schedule in the Big Apple, however, the annual summer schlep north finally became too problematic.
This month, Atlantic returns to Burlington after a four-year lapse. "Vermont always felt like it offered a nurturing atmosphere to explore new work," says the 39-year-old Pepe. "Ironically, we found that staying in New York each summer ended up being even crazier than leaving."
Instead of Burlington City Hall Auditorium, which Atlantic took over in the past, the Flynn Center for the Performing Arts is now the primary base of operations for a two-week stint of staged readings and workshops. A separate, three-week session at the University of Vermont accommodates students recruited in New York.
"I'm excited they're here," notes Flynn Executive Director Andrea Rogers. "I've always enjoyed their urban, edgy feel. They're only doing readings, but it's amazing what you can get out of just a reading with such talented people."
Atlantic also comes with impressive associations: In the mid-1980s Pulitzer Prize-winning playwright David Mamet and actor William H. Macy, both graduates of Goddard College in Plainfield, cofounded the company with students from their acting classes at New York University. This nascent group of young performers was encouraged to launch a summer season in Montpelier largely because Mamet and Macy have getaway homes in the area. In hopes of attracting bigger crowds, Atlantic relocated to the Queen City in 1989.
"It was usually, at best, a break-even proposition," Pepe recalls. "But Vermont was less about economics than allowing us to take a long, hard look at our new work before bringing it to New York."
Atlantic excels at discovering unknown playwrights, many with a penchant for deadpan satire and irony. That tone lends itself to a crisp acting style primarily derived from Mamet's Practical Aesthetics, in which emotional responses spring from dialogue and action — as opposed to a performance driven by preconceived sentiments. The company's technique can give even more dated material a jolt of postmodern ambiguity.
While evolving from fresh-faced kids to savvy veterans in the last decade, the ensemble also began to establish a significant presence in the city that never sleeps. Vermont-tested plays like The Lights in 1993 or Mojo in 1997 went on to critical acclaim at the company's theater, situated in a former Gothic Revival church on West 20th Street.
Edmond, in 1996, was one of several Mamet works that Atlantic has presented over the years. An entire New York season was devoted to the company's mentor three years ago, with versions of American Buffalo, Sexual Perversity in Chicago, The Duck Variations and The Water Engine in the lineup. Pepe directed American Buffalo in both New York and at London's legendary Donmar Warehouse.
This summer in Vermont, Atlantic will tackle two pieces without sets or costumes. The Homecoming, by Harold Pinter, is "a dark, scathingly funny take on an emotionally abusive English working-class family," explains Pepe, who will serve as the director. Jeff Whitty's The Hiding Place, he says, is "charming and funny, a New York romance that circles around a young writer, a Spalding Gray-type performer and a visual artist."
The brief season will end on August 3 with a "classic" — as yet undecided — featuring a large cast. "We might do The New York Idea," Pepe speculates. "It's a 1904 play, and one of the first that ever dealt with divorce."
In keeping with its pedagogical bent, the company decided to offer local residents an ecucational opportunity. The Atlantic Theater Acting School is conducting three evening sessions in conjunction with the FlynnArts program. One of these workshops explores Practical Aesthetics, in which Mamet tapped into the philosophical wisdom of Stanislavsky, Freud, Aristotle, Joseph Campbell and Bruno Bettelheim.
"Atlantic has done a very serious investigation of the theater's intellectual backbone," suggests Flynn Artistic Director Arnie Malina. "Their work synthesizes the great thinking of generations into a sophisticated 21st-century approach."
That approach will be intensive for the 25 of Atlantic's more experienced acting students who signed on for three weeks of advanced training on the Red-stone Campus at the University of Vermont. The company's standard six-week introductory session is taking place simultaneously in New York.
"The regular New Yorkers who study with us year-round wanted to come up here, of course," says Mary McCann, director of Atlantic's school on West 16th Street. "But we find new people who actually do want to be in the hot city. Many of those are international students — a lot from Australia."
Some of the company's academic expertise was refined in Burlington. The summer classes, once held at the now-defunct Trinity College, would usually attract about 30 students. When that program moved to the New York location in 1997, it doubled in size.
That professional growth is mirrored in the troupe's personal lives. "There were six Atlantic babies born in six months last year," says Pepe, who is married to McCann and fathered their daughter Lena, now 11 months old. The census includes a second child for Macy and his wife Felicity Huffman ("Sports Night"), as well as a first for Clark Gregg (a recurring character on "West Wing") and Jennifer Grey (best known for Dirty Dancing).
In addition to those "old-timers," Atlantic boasts illustrious alumni and current associates such as Kristen Johnston ("Third Rock From the Sun"), Camryn Manheim ("The Practice"), Kathryn Erbe ("Law & Order: Criminal Intent") and Giancarlo Esposito (Spike Lee's Do the Right Thing). Scott Zigler, an original company member who now heads the prestigious American Repertory Theatre at Harvard University, will be teaching in the Vermont program this summer.
Atlantic's Burlington stay will allow time for what Pepe calls "a company retreat and summit meeting." Chances are the conversation will turn to money. Like virtually every other arts group in the country, theater troupes are always struggling with finances.
In 2001 Atlantic organized two movie premieres — Mamet's State and Main and Jurassic Park III, both starring Bill Macy — as fundraising events. Two months ago Cynthia Nixon and Sarah Jessica Parker of HBO's "Sex and the City" headlined a successful benefit gala, says McCann. "Most of us have appeared on that series at one time or another."
The schedule is a bit frantic for Pepe, who hails from Westminster West in southern Vermont. While McCann sets up shop in Burlington with baby Lena and the summer students, he's directing a play in the Berk-shires of Massachusetts: Red Angel, written by and starring Eric Bogosian, opens at the Williamstown Playhouse next week. Pepe will rejoin his colleagues here a few days later.
Red Angel, about a college professor who gets involved with a graduate student, is under consideration for Atlantic's 2003 season. The Flynn could conceivably pick it up after that; Malina wouldn't mind luring Bogosian back. "When you host a company like this, there are many ramifications and possibilities," he says. "Who knows what might grow out of it?"
The idea of inviting the troupe back north occurred to Flynn Programming Manager Aimée Petrin in December. "I always liked their work, but wasn't sure why they stopped coming to Vermont. I figured that they might not know we now have FlynnSpace," she says, referring to the 150-seat facility adjacent to the main hall. "When I faxed Neil, he responded positively. Arnie and Andrea were enthusiastic, too, even though it was getting a little late in the game to add Atlantic to our summer schedule."
Petrin was apparently psychic. "We decided last year that we wanted to get back to Vermont this summer," Pepe says. "It was really fortuitous when Aimée got in touch with us."
The company will be renting the FlynnSpace, which provides an intimate setting for an array of music and dance activities. It's also where Vermont Stage Company is based the rest of the year.
Petrin believed that Atlantic's classes and workshops would complement the ongoing educational activities at the Flynn. "It all seemed like an interesting match," she says. "And I think this is a wonderful chance for our community to see some great theater."
For Pepe, it's also about the people. "Burlington is a great audience," he surmises. "This is like coming home."
Atlantic Theater Company will perform a number of works-in-progress and readings during its two-week residency at the FlynnSpace in Burlington, including:
Oona and Lurleen, by Madeline Olnek: Wednesday, July 24, 8 p.m.
The Hiding Place, by Jeff Whitty: Thursday through Saturday, July 25-27, 8 p.m.
Cogan's Trade, by Tracey Letts: Tuesday, July 30, 8 p.m.
The Homecoming, by Harold Pinter: Wednesday and Thursday, July 31 and August 1, 8 p.m.
[To Be Announced] Saturday, August 3, 8 p.m.