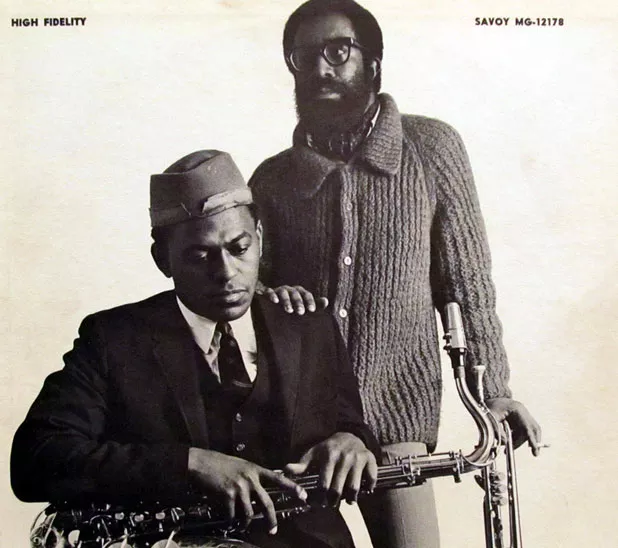 .When it comes to interviewing jazz legends, I am developing something of a checkered history. For example, several years ago, I interviewed Ornette Coleman for a cover story previewing that year's Burlington Discover Jazz Festival. It was a weird, wild interview in which we spent more time talking about sex than music. Coleman also stopped the 90-minute conversation on at least three occasions to ask who I was and how I had gotten his phone number. Maybe that had something to do with all the sex talk? Hmm…
For that same story, I also attempted to interview the late Bill Dixon, a Coleman contemporary who, at the time, was teaching music at Bennington College. Despite agreeing to the topic of conversation in an earlier email, Dixon took umbrage at my calling him to discuss another musician and essentially told me to, ahem, go jazz myself. (In retrospect, I think Mr. Dixon was irked that his significant contributions to the avant-garde are often overlooked by historians and fans, often in favor of more widely known artists such as Coleman. He probably had a point.)
The trend continued this past weekend when trying to interview saxophonist Archie Shepp for the story that appears in this week's issue. (Incidentally, Shepp's first record was a collaboration with Dixon titled Archie Shepp-Bill Dixon Quartet. The world is funny sometimes.)
Originally, I was scheduled to speak with Shepp last Friday evening. But when I called, there was no answer — or even an answering machine or voicemail. After several attempts and no luck, I gave up and emailed his handlers to reschedule. Flash to the same time the following evening. This time, instead of endless ringing, I at least got a busy signal. (As an aside, when was the last time you called a number and got a busy signal? How many readers under the age of 20 even know what a busy signal is?)
But after more than an hour of said busy signal, and being already late for another commitment, I threw in the towel again, angrily wondering what the hell I was going to do to fill the now open space in the paper by our Monday deadline. (A roundup of weird CDs or Band Press Release Mad Libs crossed my mind.)
The following afternoon, a minor miracle arrived in the form of a phone call from Meg Hammond, the one-time owner of Langdon Street Café in Montpelier who is currently helping to curate music at the Haybarn Theatre at Goddard College, where Shepp performs this Saturday, January 19.
Hammond had tracked down the elusive Mr. Shepp.
I jumped in my trusty Volkswagen Snarkmobile — the preferred vehicle of music critics everywhere — zipped down to the office as fast as I (legally) could and dialed Shepp's number.
After several rings, a woman with a thick French accent appeared on the line.
"'allo?"
"Uh, hi. This is Dan Bolles from Seven Days newspaper. Could I speak with Mr. Shepp, please?"
"Er … no. 'E eez, er … occupied? Could you call back een 10 meenutes?"
(Slamming my head on my desk.)
"Sure."
(Click.)
Ten minutes later — and increasingly bewildered — I tried again. This time the French woman handed the phone to Shepp.
"This is Archie Shepp."
"Mr. Shepp! This is Dan Bo …"
"Uh, yes. Could you give me a few minutes, please? I need … a few minutes, please. Thanks."
(Slamming my head against my desk. Again.)
After what seemed an interminable amount of time that had me seriously questioning my chosen career path, the line clicked again and Shepp reappeared.
"OK. I'm here. Now, who are you?"
What followed was the interview that appears in this issue. Mostly. There was much more, some highlights of which I'll share with you now.
On rapping before there was rap music:
"I wasn't the only one. Combining music and poetry goes back to Duke Ellington in the 1920s, if not earlier. He wrote a piece called "Pretty and the Wolf," in which he recites text. During the 1950s you had Langston Hughes, Jimmy Dufree and Melvin Van Peebles. Today I suppose you would call that slam. But combining language and music has been a consistent convention in jazz music."
On the term "rapping":
"That term has existed almost forever. It has become commercialized as a term and has a more specific meaning, reciting poetry in rhyme and having that poetry configure with drum music."
On the culture shock he experienced as a black teenager from Philadelphia coming to Goddard College in the 1950s:
"It was profound. But I am perennially indebted to the people at Goddard for having chosen me. There weren't many options for me otherwise. Philadelphia at the time was a very racist city."
On changing his Goddard major from pre-law to playwriting:
"My father was very politically conscious. So I grew up very politically conscious and thought I'd be a lawyer. This was before the civil rights movement began, but I probably would have been someone like Jesse Jackson, engaged in the civil rights movement. But in my sophomore year I took a course in dramatic literature and discovered I could be a writer. I had never thought of being a writer, and where I came from, black people didn't take seriously the idea of being writers or painters. Those options didn't exist in the world I had…" (Click.)
In a divine twist of tragi-comic fate, that "click" is precisely where Shepp's phone line went dead, effectively ending in mid-sentence a conversation I had been trying for days to have. In hindsight, I don't think it could have ended any other way.
BiteTorrent
With the recent news of another Montpelier venue, the Black Door, folding, the Capital City music scene could use a lift. Perhaps it will come in the form of the Summit School Winter Folk Festival, which runs this weekend, January 18 to 20, at various locations around the city. The fest, which includes numerous workshops and concerts, is highlighted by appearances by Dirk Powell and Riley Baugus, two highly regarded traditional players who may be best known for contributing music to the film Cold Mountain. Other highlights include Swedish fiddler Anna Lindblad, as well as a slew of local folk talent including Pete Sutherland, Jeremiah McLane, Sarah Blair and Mayfly, to name but a few. For a full schedule and ticket info, check out summit-school.org.
A new EDM series is set to launch this Friday, January 18, at Signal Kitchen in Burlington. Dubbed — get this — the Real Housevibes of Burlington, the showcase aims to give local DJs a little more room to stretch out than the typical short sets found at most EDM showcases. Rather than have 15 DJs playing 20-minute sets, you'll find a handful of artists playing extended sets. For the inaugural edition, DJs Jahson, Helixx, Haitian, Sleezy D and Sharkat man the turntables.
Last but not least, a quick update on DJ A-Dog — aka Andy Williams — who is currently undergoing chemotherapy in his battle with leukemia. As part of his treatment, Williams will need a bone marrow transplant. Finding a donor match is always tricky, but in A-Dog's case, it's proving especially challenging because he's biracial — Filipino and African American. Typically, the odds of finding a match increase when you can draw from donors with similar ethnic backgrounds. Care to guess how, many folks in Vermont match Williams? (Answer: not many.) If you'd like to donate — even if you likely won't match A-Dog — check out the National Marrow Donor Program at marrow.org. It's easy, painless and free. So come on, people, give A-Dog a bone. (You had to know that was coming, right?)
Listening In
A peek at what was on my iPod, turntable, eight-track player, etc., this week.
Sunshine, Sunshine
Aly Tadros, The Fits
Yo La Tengo, Fade
Parquet Courts, Light Up Gold
Jawbreaker, Bivouac