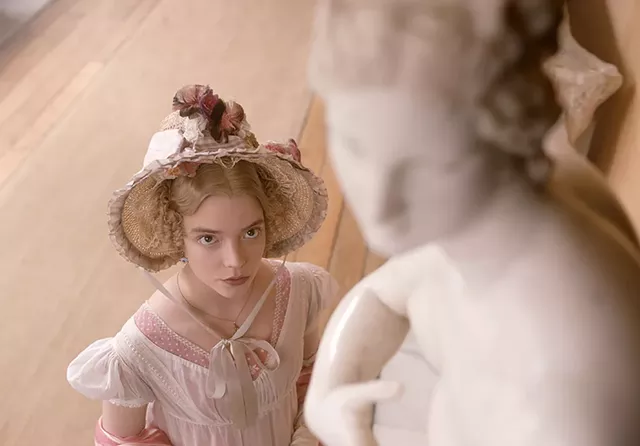 STAREDOWN Taylor-Joy plays an influencer with a ruthless appetite for perfection in the new adaptation of Austen's novel.
Music-video director Autumn de Wilde has made the perfect version of Jane Austen's Emma for the Instagram era. If that sounds like a slam, it's not. The movie is a gallery of carefully curated visuals — towering pastel cakes you can almost taste, jutting hats and Empire-waist dresses to match, light-filled Georgian interiors, flowers galore. But it's not just about those surfaces.
No, this sparkling satire takes aim at the image curator herself — Emma Woodhouse (Anya Taylor-Joy), the privileged, headstrong young woman at the center of Austen's novel. She's introduced to us as she directs her servants, with great seriousness, in the cutting of hothouse flowers for her governess' bridal bouquet.
This Emma is a matchmaker for her friends and neighbors, but her instincts for control go beyond that. She lives a relentlessly posing, performative life — much like an influencer's feed — and treats her rural village like the set for a photo shoot in which she expects to see nothing that doesn't please or flatter her. When she does anyway, the trouble starts — and so does the fun.
The plot revolves around Emma's interactions with two young women who challenge her control. Her puppyish protégée, Harriet Smith (Mia Goth), for whom she's determined to find an illustrious husband, persists in crushing on a lowly farmer. Then there's her nemesis-by-default, Jane Fairfax (Amber Anderson), who's a potential rival for the affections of Mr. Churchill (Callum Turner) and, perhaps more importantly, a dark blot on Emma's pastel world. In the background lurks Mr. Knightley (Johnny Flynn), the only person who openly challenges Emma's assumptions — or, as we'd say these days, calls her out.
While the script (by novelist Eleanor Catton) elegantly conveys the essentials of Austen's book, de Wilde's direction emphasizes what words hide — the physical punctuation, as it were (that period in the title can't be random!). This version features an emotional nosebleed, a startling flash of nudity and plenty of nonverbal comedy. In Emma's first scene with Jane, the contrast between the former's perkiness and the latter's glumness is so exaggerated it makes us laugh. Later, when Emma discovers Jane has a talent she lacks, her crisis of self-worth is written all over her face, comic and tragic at once.
The physical comedy gets broader in the supporting characters. Emma's dad (Bill Nighy) flutters around complaining of chills and drafts, Mr. Elton (Josh O'Connor) is such a smarmy suck-up you want to slap him, and Mrs. Elton (Tanya Reynolds) keeps her nose in the air at all times. They're caricatures, yes, but in the vein of The Favourite, with an absurdity that feels like a direct emanation of their world.
Though de Wilde's Emma is a period piece, one feels the influence here of Clueless (1995), in which writer-director Amy Heckerling found surprising (or not) parallels between Austen's landed gentry and the students of an elite LA high school. Both movies revel in shallowness and stylization while gently leading their protagonists — and the viewer — toward the deeper humanism that Austen promoted within the strictures of her time.
Taylor-Joy's Emma is almost as immature as Alicia Silverstone's version; her disdain for chatty Mrs. Bates (Myra McFadyen) has a mean-girl edge. Yet it's impossible not to feel for her when she faces her limitations and starts the painful process of growing into a person who doesn't judge everyone against her own studiously cropped and filtered ideal. Maybe, after all, Austen's rigidly stratified Regency world isn't as different from our own as we'd like to think.