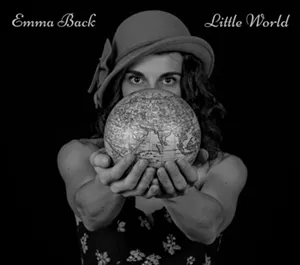 (Self-released, CD, digital download)
Emma Back is an inquisitive singer-songwriter based in Worcester, Vt. The artist ponders questions big and small on nearly every track of her full-length debut, Little World. From existential queries ("What's of the flesh? And what's of the mind?") to scathing admonishments ("You think that you can tame me?"), she seems to make sense of a chaotic world through a torrent of various musings.
An accomplished fiddler, Back infuses her modern folk ballads with Eastern European and Americana influences. From brusque and guttural tones to lines both feathery and gauzy, she wields her bow like a third arm. In live performance, Back loops strings, vocal harmonies, beatboxing and percussion into textured, multilayered songs. On the Colin McCaffrey-produced album, sparse arrangements hint at those performance techniques. It's easy to imagine each track stripped down to its individual parts, as well as how Back might gradually build up songs by stitching their elements together from nothing.
Conceptually, Little World deals with some heady and timely issues. Most notably, Back calls on her time spent traveling in Israel over swung beats and a ghostly choir on "Mockin' Gun." Hardly an attempt to solve one of the world's most complicated and controversial sociopolitical disputes, she laments the absurdity of war: "I want to kill you / You want to kill me / Everybody's afraid / So let's just kill each other now!"
Another nod to the Fertile Crescent, "Traveler's Prayer" is a reimagining of Tefilat HaDerech, a Hebrew invocation for a journeyer's safe passage. A waffling string line crisscrosses a patchwork of beatboxing and handclaps as Back interprets and expands on the prayer.
A rally cry for empowerment, "Women at the Wall" is a fierce folk-rock indictment of female oppression and subjugation. Over molten snares and spindly, arpeggiated string triplets, the artist questions men's "birthright" of violence, arriving at yet another question: "How long 'til we arise?"
On "This Fear," Back conjures a tableau of dark harmonies over a rush of fissured, plucked strings. A foreboding sense of dread washes over the listener as she sings, "This fear, this fear / It burns my ground / I tell you my story / To slow it down."
If Little World has a failing, it may be that Back is so verbose, her words can fly by too quickly for us to properly absorb the nuance of her phrases. But this is only a problem on the initial listen. Her charming sensibilities, excellent structuring and arranging, as well as her ability to confound emotionally will likely bring listeners back for repeat encounters.
Little World will be available on iTunes on Thursday, May 24. Back celebrates its release on the same day at ArtsRiot in Burlington.