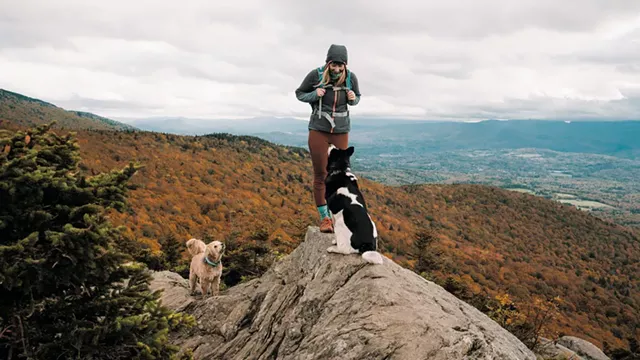 Grant Wieler
Maura Wieler with her two dogs atop Stowe Pinnacle
Ah, November, that ornery, ashen month of plunging temps and four o'clock sunsets! Winter is coming, all right, and under the shadow of a global pandemic that prevents cozy, light-filled indoor gatherings, the season ahead might seem very dark indeed.
But November is also traditionally a time for gratitude, and this month's Staytripper aims to remind you of Vermont's windfalls: a relatively low statewide infection rate; locally owned businesses working hard to serve their neighbors; close, ample access to Mother Nature; and, of course, the sweet promise of snow and all the fun to be had in it.
This issue is a road map to continued safe exploration and enjoyment of Vermont, from horseback riding and indoor rock climbing to a luxurious stay at a historic estate with cute farm animals.
As writer Chelsea Edgar notes in her story about winter hiking, Norwegians embrace the concept of friluftsliv, or the uplifting effect of getting out in nature, whatever the weather. It's a spirit well suited to Vermont, and one we hope will help you embrace this season.