Courtesy of Open Farm Week
Cloverworks Farm
Vermont's farms have been busy this year. They've adapted to an incredible increase in demand for their CSAs, stocked farmstands for customers hoping to avoid the grocery store, and built online stores to offer local delivery.
Much of that work takes place behind closed barn doors. For one week in August, though, those doors will swing wide open as Vermonters experience Open Farm Week.
Like the farms themselves, this sixth annual event has adjusted its approach this year due to the pandemic. Some farms will go virtual, offering online workshops, guided tastings and behind-the-scenes stories on social media. Others will spread out across expansive pastures for tours, picnics and pick-your-own.
"Food and farms are such a wonderful way to explore Vermont," said Tara Pereira, executive director of the Vermont Fresh Network and Open Farm Week committee member. "It's about celebrating local farms, getting outside and learning where your food comes from."
In addition to scheduled events at farms around the state, this year's lineup includes activities you can get out and do on your own time. Farms open for picnicking and walks will be listed along with traditional tours and educational events, kicking off Vermont Fresh Network's monthlong Great Vermont Picnic and new ongoing Farm Walks initiative.
Read on for five farm-focused experiences to explore during Open Farm Week, August 10 through 16. Find the full list of events at diginvt.com.
Don't Be Sheepish
Cloverworks Farm, 4558 Creek Rd., Irasburg, 324-2039
Courtesy of Open Farm Week
Yarn from Cloverworks Farm
Cloverworks Farm raises Bluefaced Leicester and Border Leicester sheep in the Northeast Kingdom, selling wool, yarns and lamb.
Daily tours — conducted at a six-foot distance — will take visitors on a walk around the farm. (Be sure to wear closed-toe shoes!) Learn about sheep farming in New England while you meet the flock. Back at the farmstand, browse the vibrant yarns and take a skein or two home for your next knitting project.
Aspiring shepherd? On August 15, farmer Katie Sullivan will lead a free workshop for those thinking of starting a sheep venture of their own.
Highland Times
Courtesy of Open Farm Week
Combing a Highland cow at Greenfield Highland Beef
Looking for a good view? Pack a picnic and head to Greenfield Highland Beef on August 16, where you'll find majestic cattle grazing on hillsides, with the mountains of the Worcester Range and the Adirondacks standing tall in the distance.
The farm's heritage cattle belong to the oldest registered herd of Highlands in the United States; post-picnic, you can get up close and personal with the gentle, shaggy, long-horned animals. Taking turns to practice proper social distancing, family units will be able to pet or comb a Highland calf. Beef will also be for sale on-site.
Life in Miniature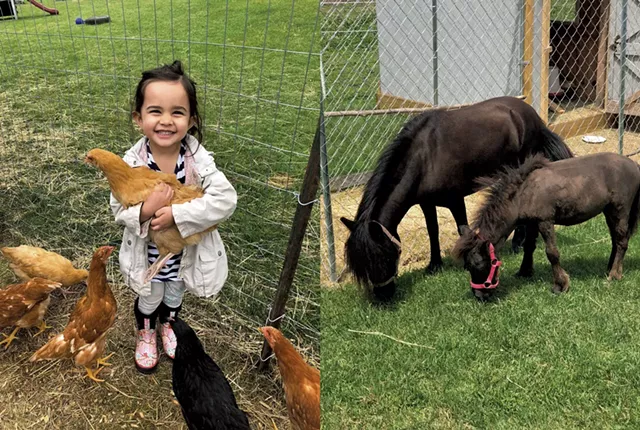 Courtesy of Open Farm Week
Checking out chickens and horses at the Miniature Farm
Say hello to miniature and full-size horses, mini donkeys, ewes, goats, ducks, chickens, and pheasants at the Miniature Farm on August 11 and 13. For the second year, the farm leads walking tours through its animal habitats and barns for Open Farm Week — petting encouraged.
Spending time with animals can be incredibly therapeutic, and these little guys are ready to snuggle. Bring a brown-bag lunch to eat at the farm's picnic tables while you enjoy the fresh air and animal antics.
Ya Herd?
Morse Brook Farm, 226 Kurkul Rd., Westminster, 518-2155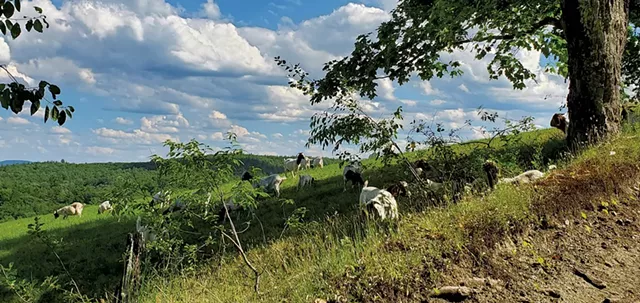 Courtesy of Open Farm Week
Morse Brook Farm
Established in 2019 when two friends combined their farming ventures, Morse Brook Farm raises Cheviot Cross sheep, Boer goats and cattle on picturesque pastures in southeastern Vermont.
During Open Farm Week, Morse Brook will offer a glimpse into the life of a shepherd with daily herding demonstrations. Contact the farm to reserve a time, and be sure to stock up on meat, maple syrup and yarn from the farm's sheep in the farmstand while you're there.
Keeping Your Distance
Last Resort Farm, 2246 Tyler Bridge Rd., Monkton, 453-2847
Courtesy of Open Farm Week
Garlic braids from Last Resort Farm
Garlic is the original social-distancing food, right? If you've been stocking up to keep people six feet away, Last Resort Farm will teach you how to weave it into a beautiful, storable braid.
Farmer Eugenie Doyle has been offering an on-farm version of this garlic-braiding class during Open Farm Week for years, and it always sells out. This year, it will be aired via YouTube for what Pereira called "weather- and virus-proof learning."
Pick up a garlic bundle at the farm — available for preorder online starting in late July — and follow the video tutorial from the comfort of your home; it will be accessible anytime during Open Farm Week.