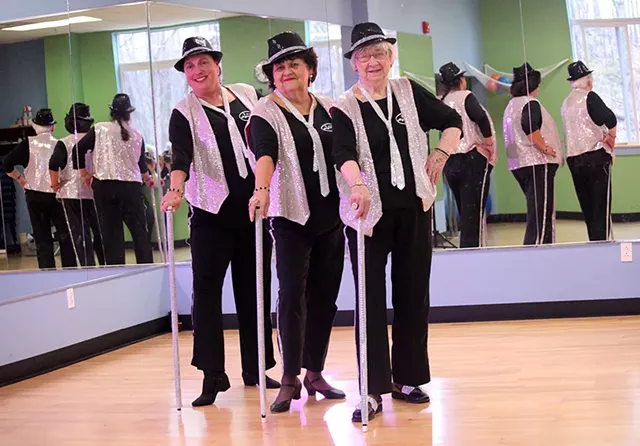 Matthew Thorsen
Left to right: Donna Zeo, Nan Spence and Elsa Wheel
You might call 90-year-old dancer Elsa Wheel a late bloomer. Aside from the occasional World War II-era jitterbug as a young woman, she rarely set foot on the dance floor. Though quick to praise her now-deceased husband as a fine man and sharp accountant, she jokes with a smile that she "had the misfortune of marrying a man who didn't dance."
It wasn't until she turned 70 that the tall, willowy Burlington native discovered her passion for dance. On a routine trip to the Heineberg Community & Senior Center, an ad for a dance class caught Wheel's eye. "It was with a group called the Highsteppers. It said you didn't need a partner," she recalls. "I liked that I could get out on my own and dance."
That class, taught by local instructor and choreographer Donna Zeo, proved a gateway into a new life. Wheel has been performing with Zeo's all-female group ever since. Bedecked in sequined vests, hats and feather boas, the 12 dancers of the Highsteppers — who range in age from 65 to 90 — are like a senior version of the Rockettes. They perform line-dance routines to classic jazz and show tunes by the likes of the Andrews Sisters and Frank Sinatra.
Wheel is the oldest of the group. She keeps to a schedule of three hourlong rehearsals a week and three or four local performances each month. The Highsteppers have frequent gigs at the Elks Lodge and the Heineberg Senior Center and regularly perform with local jazz singer Jenni Johnson on her community access TV show "Jenni's Joint."
Perhaps because Wheel led an active life as a young woman — walking and cycling often — she hasn't had an injury in over two decades of dancing. "I'm just blessed, I guess," she says. "I take it one day at a time."
In a recent interview, Wheel is elegant and humble. With short white curls and a demure smile, the mother of three and former bookkeeper looks very much the businesswoman in a pink sweater, gold blazer, dress pants and flats. She's quick to question a reporter's attention on her, pointing out other women in the group who, she says, are far better dancers than she.
Reflecting on her childhood, Wheel says it was surprisingly unmusical for someone who enjoys dancing so much now. "We had a Victrola but didn't play it much," she recalls, adding, "I did enjoy singing in school."
Matthew Thorsen
Left to right: Nan Spence, Elsa Wheel and Donna Zeo
These days, Wheel is making up for lost time. Though she occasionally suffers from dizziness or achy knees, the perks of dancing far outweigh the risks, she declares. It's great for building balance, and it provides a chance to meet new people and travel. Wheel looks forward to the group's annual summer performance at Oakledge Park for the Senior Picnic, as well as regular dance performances on the Spirit of Ethan Allen.
Another pleasure, Wheel notes, is being able to don colorful and enticing clothing. "I have a big bag of goodies at home," she says. "Red boas, a hula skirt with red fringe, a pair of see-through harem pants. You have to be careful what you wear underneath!"
Perhaps the best part of being a Highstepper, though, is the sense of community, Wheel says. Elders can often experience isolation. Despite losing her husband six years ago, Wheel says, she feels emotionally supported by the 11 women dancing at her side.
"We are like one big family of close friends," she observes. "Over the years I've seen a lot of women lose their spouses."
There was a time, about two years ago, when Wheel felt she was finally through with dancing. Many of her longtime friends had died or left the group owing to health issues. "There were a bunch of younger girls of about 70 who had joined," she recalls. "I had some trouble with my knees. I got dizzy twirling. I thought, What am I doing at this age dancing? I don't want to hold these girls up."
Wheel handed in her notice, and the "girls" threw her a huge surprise party. But within a few weeks, she found herself hanging around the Highsteppers' performances like a starry-eyed soccer mom.
"I missed the girls, and I missed dancing," Wheel says. "So, after about a year, I came crawling back. Some people shop 'til they drop. For me, it's dance 'til I drop!"
Since then, Zeo has adapted the moves that Wheel previously struggled with, which has helped her to feel more confident.
Like mischievous kid sisters, her fellow dancers haven't let Wheel live down her "retirement." At the end of a show, it's become routine to tease her onstage. "They say, 'Elsa retired, but we let her back in,'" Wheel says with a laugh.
Zeo, now 67, started the Highsteppers at the Heineberg Senior Center in 1995 after moving to Vermont from Springfield, Mass., where she'd led senior dance groups for 15 years. She says she was delighted when Wheel decided to come back to the group. "Elsa never misses a beat," she says. "She has a memory like you wouldn't believe, and she always has this little smile on her face. She just loves what she's doing."
Does Wheel ever feel self-conscious dressing up in sequins and sashaying across the stage? "I've done a lot of moves I never dreamed I'd do," she reflects.
"Recently, we did a fundraiser for Puppets in Education at the [Main Street Landing] Black Box theater, and my daughter was in the audience," Wheel says. "I asked her afterwards if it embarrassed her to see me up there dancing, dressed in my glittery costume. She said, 'You have to wear a lot of glitter if you dance.' I guess it's fun to see old ladies shaking their booty."