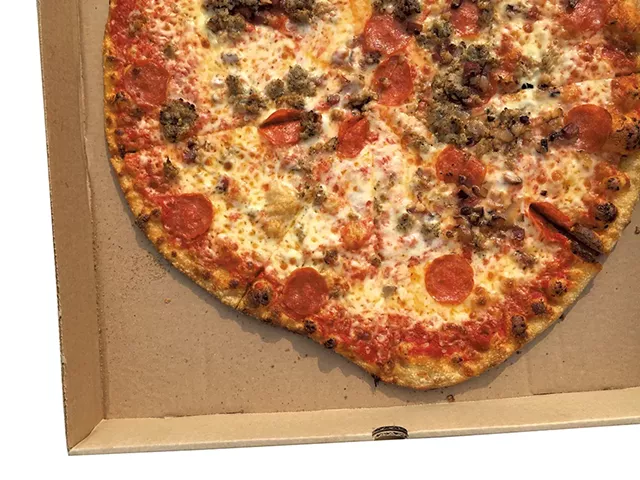 Hannah Palmer Egan
Three Dog Night
"This is the best meat pizza I've ever had," said my friend Dave, midway through a slice of Fire Tower Pizza's Three Dog Night meat-lover's pie. Indeed, each bite was a savory fiesta of smoke and spice, marinara and mozzarella, all awash in that greasy special something only pork fat and cheese can elicit.
Dave's assessment wasn't flippant; he's a New Yorker, raised on Long Island with at least 100 excellent pizzerias within 20 minutes of his house. And New Yorkers have opinions about pizza. Even within families, siblings cling to disagreements about which local pizzeria serves the finest pies, how crispy the crust should be, what must go on it, etc. Nationwide, too, pizza can convert generally mild-mannered eaters into nativist zealots defending their views on which style — Chicago, New York, Detroit — constitutes a proper pie.
In places lacking significant pizza heritage, diners can perhaps be more flexible with their loyalties. Even so, the most beloved pies tend to reflect something of the local character.
In Vermont, you'll often experience some of the same quirky charms on a steaming pizza pie as you will at a well-attended town meeting: In some villages, there's diffidence about execution — cheap, fast and good enough will pass muster. In others, there's concern — often to stupefying excess — for every little detail. Wherever you go, you'll find a fierce sense of independence and self-sufficiency — This is how we do things here — expressed in pizza form. Regardless, the pies are always crafted with care and input from the wider community.
In Elmore, John and Kristen Howell opened Fire Tower Pizza at the Elmore Store in 2014. They contracted local baker Blair Marvin of Elmore Mountain Bread to produce a straightforward white crust. For a little more than two years, they topped those crusts with fresh ingredients.
Last January, the Howells sold the business to Marvin and local chef Jimmy Kalp. Marvin makes the dough using fresh-milled, whole northeastern wheat. She delivers the dough to Kalp, who takes things from there.
Kalp's résumé includes eight years as chef at Blue Moon Café in Stowe, followed by stints at Cork Wine Bar & Market, which moved into the Blue Moon space in 2015, and at Sauce, also in Stowe, where he honed his skills creating red sauce and other Italian-American staples.
Hannah Palmer Egan
Back porch at the Elmore Store
After spending decades plating entrées in high-end kitchens, Kalp said working within the pizza box is liberating, in a way. "It's limiting and freeing," the chef told Seven Days last week, adding that the format leaves ample room for experimentation. And the experiments tend to build on each other.
One day, he splashed heavy cream over a white pie. "You'd think putting heavy cream on a pizza would just sog it out," he said, "but [the cream] reduces and becomes this awesome sauce. So, OK, now I can flavor that cream." Then, "Let's add some garlic and chives and fennel fronds."
Across town at Elmore Mountain Bread, Marvin and Andrew Heyn mill whole, organic grains grown in Vermont and the Northeast into crusty sourdough loaves that fly off the shelves at local stores. Since opening the bakery in 2004, the couple has increasingly focused on working with and promoting the local grain economy. In 2015, Heyn founded New American Stone Mills after building a custom flour mill for the bakery. Since then, he's built several others for fine bakeries around the country.
Artisan bread is one way to support local grain producers, whose farm practices often sidestep heavy chemical applications common at the massive grain-belt farms that supply most of America's wheat. Pizza, Marvin told Seven Days when Fire Tower opened, is another.
"I think people really dig the fact that [we use] Vermont grain," Kalp said. "Vermonters are proud people. It's like, We don't need anyone else, we can do it ourselves." Kalp works at a hot Blodgett deck oven at the back of the store. Through a window at the counter, he's happy to discuss the pizzeria's grain-sourcing practices and the reasons behind them. And, spring through fall, most of the other ingredients come from Kalp's home garden in Wolcott or from Jupiter Farm, just across the road from the store. The meats and cheeses are all local, too.
But most customers really just like eating the pizza, the chef said.
In high summer, when Elmore State Park draws a steady stream of visitors to town, through Columbus Day, Fire Tower's pie count is 40 to 50 per night, Kalp said. He also sells some 50 premade pizzas per week; these are par-baked and stored in a cooler near the front door.
On a warm afternoon last week, the village went about its lazy summer business. A few families — two from nearby, another traveling in a car with New York plates — sidled up to tables on the store's back porch. They ate overlooking Lake Elmore and the bald face of Elmore Mountain beyond. Camps along the lakeshore were silent; no boats broke the water with wake. Everything was shrouded in a breezy stillness that seemed to whisper, Shhh, just sit and let yourself enjoy this.
Where the porch connected to the building through a small, enclosed room, Kalp handed hot pies through a small window, calling each order by guest name.
The day's Jupiter Farm Special (which changes according to what the farmers bring in) seemed an echo of the August scene: sunny splotches of lemon-whipped ricotta; soft-roasted eggplant sliced thin so it melted into the cheese; spinach leaves; and fragrant, fresh basil. Fine sourdough breadcrumbs scattered over the top lent the pie a can't-put-your-finger-on-it texture.
Hannah Palmer Egan
Jupiter Special
Over two slices and a fresh green salad, I imagined gathering with friends there, on that porch, with a bottle of wine. I envisioned the sun sinking behind the mountain, setting the lake aflame in citrus hues before fading to blue and then black.
As my mind wandered, my inner cynic chimed in. This store is the only show in town. It could probably do a fine business serving premade, frozen crusts made in some midwestern factory with midwestern GMO wheat, she said. It could probably top those crusts with canned tomatoes and the sort of mozzarella that comes in 10-pound bags from who-knows-where. And it would probably be cheaper and easier to do so.
But after a quiet meal immersed in blissful summer idyll, the virtues of goodness and pleasure superseded cynicism. I bit into a fresh-baked chocolate chip cookie, all butter-soaked blondie batter puffed up around generous hunks of semisweet chocolate.
The cookies don't have to be this good, I thought. Nor must the store stock fresh cheese curds and milk from Sweet Rowen Farmstead. And it doesn't have to hand select wines — which you can buy and drink with your pizza — that are priced to sell and absolutely worth drinking.
Then again, the Elmore Store — and Fire Tower Pizza — is the only gig in town. If it didn't offer this community food crafted with pride and mastery and great ingredients that support other local businesses, who would?