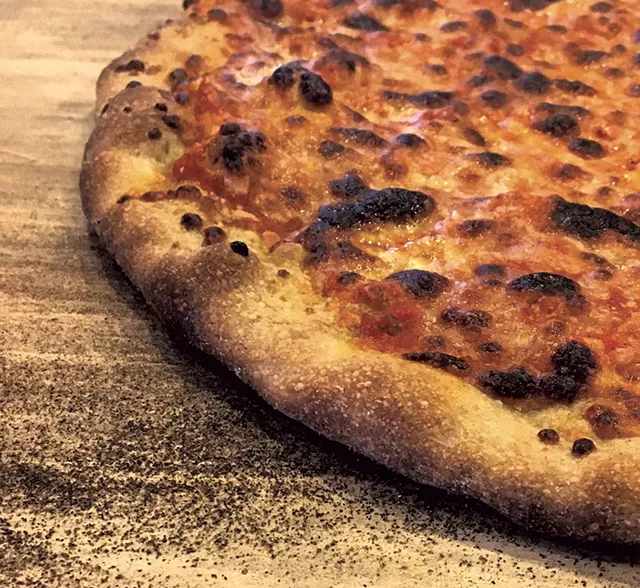 Courtesy Of Fire Tower Pizza
Fire Tower Pizza
For two years, Elmore's Fire Tower Pizza, located at the Elmore Store on Route 12, has turned out classic pies with a focus on quality that is rare among small-town pizzerias. The long-fermented sourdough crust is a particular point of pride. It's crafted by Blair Marvin and Andrew Heyn of Elmore Mountain Bread, a grain mill and bakery just up the road.
When Fire Tower's owners, John and Kristen Howell, decided to step down, they found a new team of owner-operators in Marvin — who has a culinary degree and work experience in restaurant kitchens — and Jimmy Kalp, another Elmore resident and chef.
This weekend, if all goes well, the biz partners will open FTP's new incarnation with an even greater focus on "using as many of our lovely, food-producing friends' products as we can," says Marvin. Most of the vegetables will come from Jupiter Farm, and other players include Fayston's Ploughgate Creamery, Berlin's Rogers Farmstead and Westfield's Butterworks Farm.
What's on the menu? Seasonal salads — such as one with kale, cabbage, local cranberries and goat cheese — and both traditional and creative pizzas. One of the new pies, dubbed Farm and Sparrow, will be made with a gluten-free polenta crust and topped with spinach, sausage, onions and mozzarella. Many dishes will rotate based on availability, Marvin notes.
Marvin attributes her decision to get into the pizza biz to her love for the 855-person town and a passion for freshly milled, Vermont-grown grains. "Everybody loves pizza, and this is one more way to support our local grain economy and build that," she says.