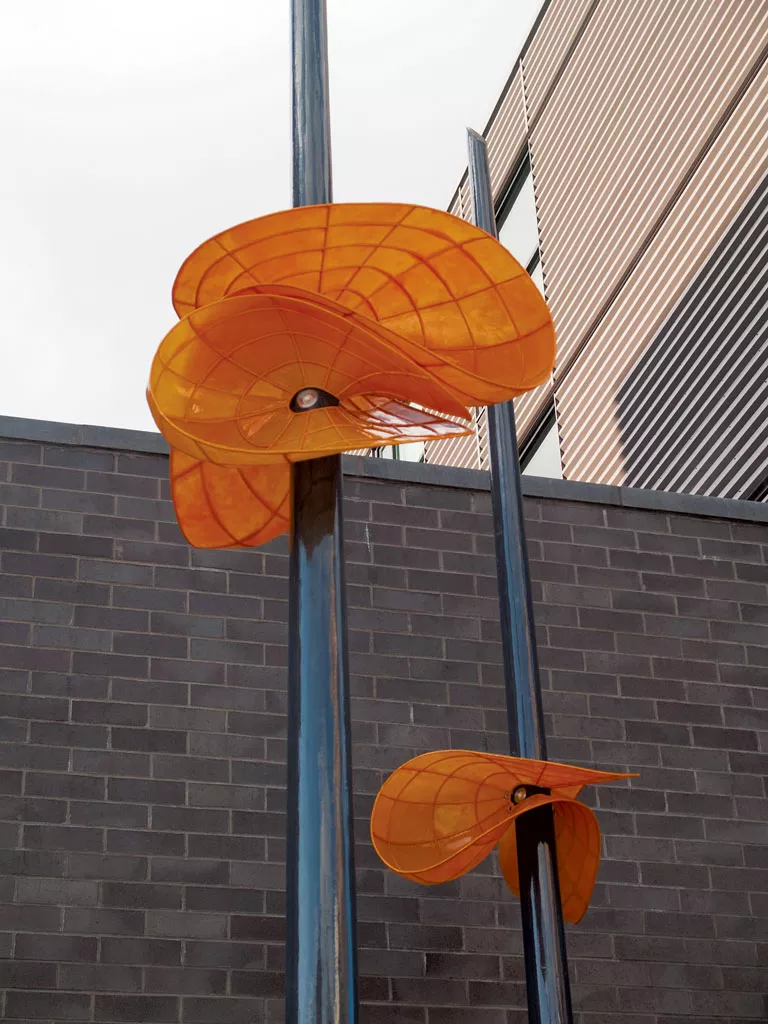 courtesy of R. Elliott Katz
"Mushroom Grove"
Burlington has experienced a growth spurt in recent years, with new construction and renovation projects popping up like mushrooms after a heavy rain. But the downtown core still has a few nooks in which wildlife thrives. In one little niche on St. Paul Street, an unusual species of mushroom did, in fact, bloom last week.
Burlington artist R. Elliott Katz's installation, titled "Mushroom Grove," has taken root in a recess of the exterior wall of the new Hilton Garden Inn. The piece's strong vertical lines and curvaceous, mega-fungal canopies enliven an area dominated by dark brick and cement.
In fact, Katz says, as he leads a reporter around his sculpture, "Mushroom Grove" was designed specifically to comment on the Queen City's downtown building boom. "I really think they did an awesome job with the new building, but it's a hard-edged kind of thing," Katz says, as an icy winter wind whips the words from his mouth. "The sculpture ends up being a weird hybrid of natural inspiration with a really mechanical, structural foundation."
The piece's three masts appear to stretch upward almost phototropically, as if their ambition is to challenge nearby buildings in a race to the sky. Midway up the masts, floppy, ribbed orange forms — a mushroom's conception of waffles, perhaps — lend the work organic playfulness. Nestled in the folds of these sinuous shapes are small, bright lights, which at night illuminate the sculpture and the "micropark" it occupies.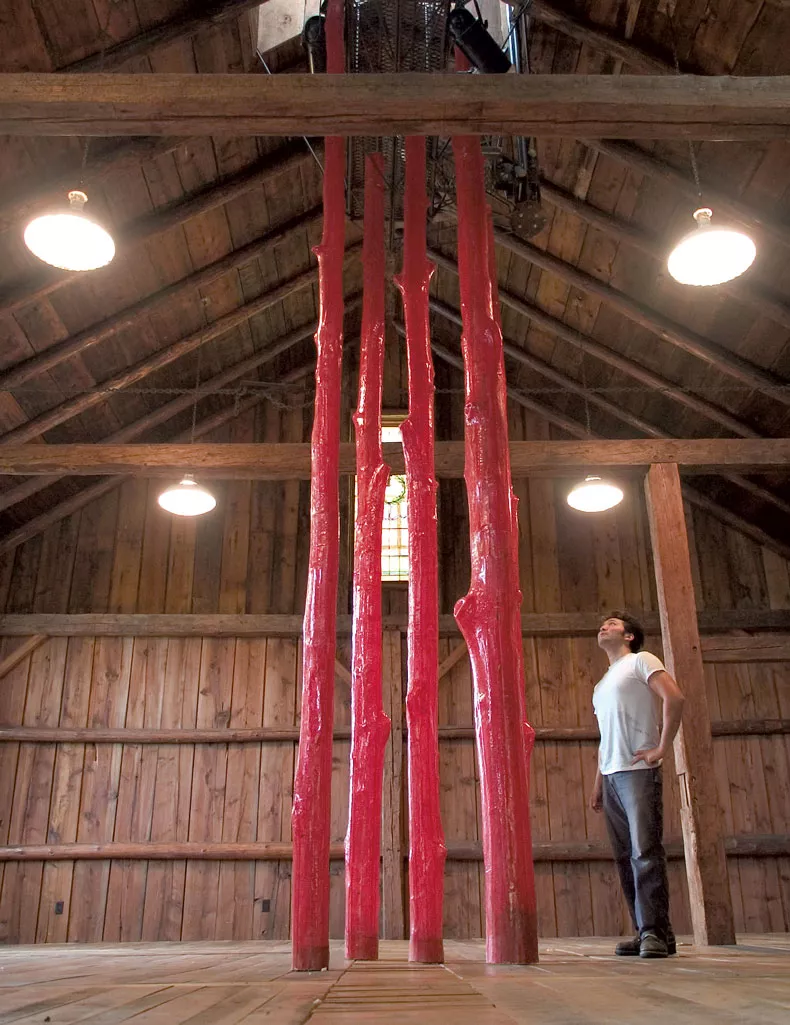 courtesy of R. Elliott Katz
Elliott Katz with "Brightly Colored Trees"
The sculpture's gray, needle-tipped masts look like steel, but are actually made of wood that Katz cut and planed. The folded orange forms, too, belie their construction. While they appear to have started out as discs that the artist later warped and twisted under heat, in reality Katz planned out every curve and custom-cut every panel. The frameworks are steel; the translucent panels were amassed from layers of fiberglass. It was, the artist says, a challenging, "completely invented process."
Katz, 31, has worked with similar forms before. For an outdoor show in 2006 in Stockbridge, Mass., he wrapped early versions of these "mushroom caps" around living trees. His studio, too, brims with works-in-progress and finished pieces that include or were inspired by natural forms. Growing up on his family's farm in Cabot, he says, he "was always out in the woods looking at mushrooms. It was inspiring for me, and it was something to do in a rural place," Katz says.
"Mushroom Grove," notes Erik Hoekstra, "was far and away the most vibrant, compelling and interesting" of the proposals that his company received in its call for submissions. Hoekstra is development manager for the Burlington-based commercial real estate developer Redstone, which has undertaken the task of converting the city's former armory into the new hotel. He's enthusiastic about the way Katz's installation enlivens the newly created nook. "I like the vibrant orange color against that black brick wall. It just really popped," he says.
Burlington City Arts administered the call for proposals, which elicited about 10 submissions, Hoekstra estimates. (Katz's sister, Sara, is assistant director of BCA; Hoekstra stresses that she had no influence on the selection process.)
Redstone put out the call, Hoekstra says, because the support of local arts "is an important part of keeping the community interesting and vibrant." The company also recently commissioned a sculpture by Burlington artist Kate Pond for a project in the Old North End.
Katz will soon install another of his sculptures on a patch of land near the hotel's Main Street entrance. "Brightly Colored Trees," a variation on a previous work installed at Burlington's Maltex Building, is a stand of arboreal sculptures that are highly naturalistic apart from their coating of electric-red paint. The artist received $5,000 from Redstone for this second piece, and $10,000 for "Mushroom Grove."
That's a nice commission for a young artist who still has another semester of graduate school to go. In May, Katz will graduate with an MFA from the University of Connecticut's studio art program. Until then, he'll split his time between Willimantic, Conn., and his Kilburn Street studio. In the summers, he's the studio manager and working resident at the Seven Below Arts Initiative, an artists' residency program founded by BCA and Phish's Trey Anastasio.
Katz plans to live in Vermont year-round after he graduates. By that time, wild grasses will surround "Mushroom Grove" — the final step in the project's landscaping. Though the plants selected for the micropark typically grow more than three feet high, Katz's "mushrooms," straddling the border between natural and manmade, will dwarf them.
INFO
R. Elliott Katz's "Mushroom Grove" is installed along St. Paul Street in Burlington, between Main and King streets. The original print version of this article was headlined "Artist Gives Down Burlington a 'Mushroom Grove'"