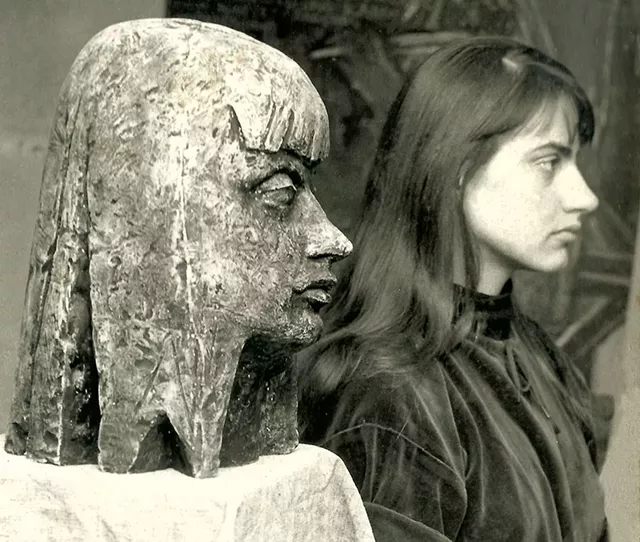 Courtesy
Elka Schumann standing beside a sculpture of her made by her future husband, Peter Schumann, in Hanover, Germany, in 1958
Elka Schumann (August 29, 1935-August 1, 2021) was born to a Russian mother and an American father in Magnitogorsk, a Soviet city known for its steel production. Her family — mother, father and two young girls — left the Soviet Union for the United States when Elka was 5, escaping World War II. She grew up in New York City, Berlin, Germany, and Ridgefield, Conn., and studied for a year at the Putney School in southern Vermont, where she later taught Russian.
At Bryn Mawr College in suburban Philadelphia, Elka majored in art history and traveled to Munich for her junior year.
One day, Elka was walking down a street in Munich when an oboe player approached her and asked whether she was a dancer. The man belonged to a loose affiliation of artists and musicians who were forming a dance troupe. The answer to his question was no; Elka was not a dancer.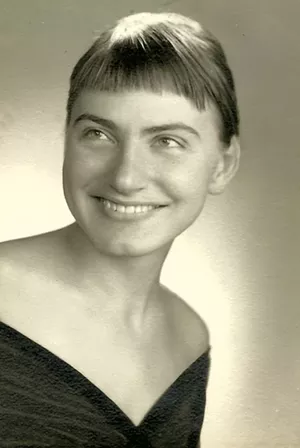 Courtesy
Elka Schumann's Bryn Mawr graduation picture
But she was interested in art, and the dance group he described was actually an "anti-dance" troupe led by a visual artist. Intrigued, Elka agreed to meet the group's director. He was in the hospital, bandaged up and recovering from a head injury sustained in a bicycle accident.
So it was that Elka met Peter Schumann in a hospital room in Munich. She was 20; he was 21.
"She knew right then," said Tamar Schumann, the oldest of their five children. "This was the man."
A "free spirit," in the words of Tamar, Elka eventually made her permanent home in Glover, Vt. She lived with her family on a farm in rural Orleans County, on land that was also home to Bread and Puppet Theater, from 1974 until her death from a stroke on August 1. She was 85.
On the old dairy farm with its hilly fields and big woods, Elka grew vegetables and flowers, tapped maple trees, and raised her kids. She made dyes from goldenrod and onion skins to color the wool she spun, sheared from the sheep she raised.
Elka wrote letters and made jam late into the night and sang songs in Russian, German and English. (New rounds she sang with her kids quickly became old favorites.) She shared her okroshka and zapekanka — Russian cold beet soup and cheesecake with poppy seeds, respectively — with the ever-changing cast of people at her table.
These endeavors surrounded and complemented the main event at the farm in Glover, which springs to life every year with the help of painted bedsheets and supersize papier-mâché: Bread and Puppet Theater. Peter founded the sprawling, bold and acclaimed company early in the couple's 62-year marriage. Elka's countless, essential contributions to Bread and Puppet included booking shows, running the print shop, maintaining the museum, keeping track of finances, leading rounds and conveying keen-eyed criticism.
"She loved motion and action and enterprise," Tamar, 62, said. "She loved engagement with animals and people and projects. That's why Bread and Puppet is possible, because there was somebody like that, centrally, within the theater."
Yet Elka also had a very private side, her son Max, 57, said. Even as she shared her beloved Northeast Kingdom land with puppeteers, painters, dancers and thousands of audience members, "she needed that separation between family and theater."
Elka was buried on August 4 in a basket made by puppeteers in the pine forest at Bread and Puppet. Her burial site is marked by buckets of wildflowers, evergreen saplings and banners printed with Peter's signature bread image. It is among a collection of sculptures, paintings and installations that memorialize deceased relatives, friends, artists and activists.
Peter painted Elka's shroud blue and yellow, covering it with stars and flowers and inscribing it with medieval German love poems they recited to each other.
In a poem he wrote recently, Peter described Elka's place in his life and work:
The obligation to survive her husband's brain + papiermache chaos + slowly + surely plant sense + order into the mess — right next to the garlic patch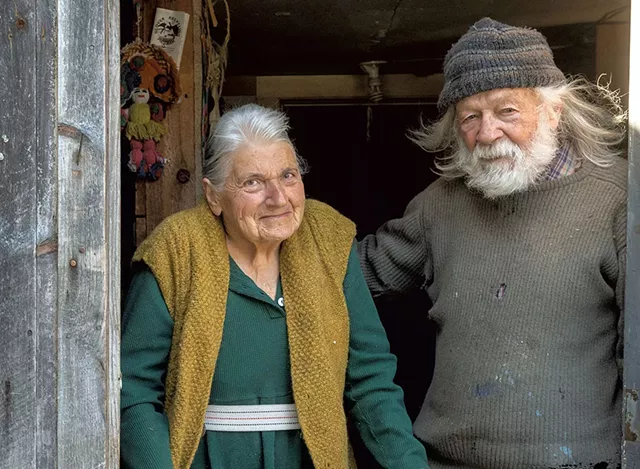 File: Jeb Wallace-brodeur
Elka and Peter Schumann in spring 2021
A garlic patch in Vermont might be commonplace now, but it was less so about 45 years ago. That's when Maria Schumann, the youngest of the five siblings, remembers an auctioneer holding up a garlic braid for bidding, her mother's contribution to the local school fundraiser. Elka planted, grew, harvested and braided the garlic, and the sight of it embarrassed young Maria. Why couldn't Elka make Rice Krispies treats, she wondered, like the other mothers?
Now a 54-year-old farmer in Greensboro, Maria laughed at the memory of the garlic braid — and noted the interests and activities she shared with her mother as an adult.
"If we had been 45 or 50 at the same time," Maria said, "we would've been such good friends."
Little in Elka's background suggested she'd ever produce a conventional offering for a school event. Her mother, Maria (Masha) Dikareva Scott, was from a family of Russian peasants who by necessity were self-sufficient. Her father, John Scott, was working as a pipe fitter when he met Maria. Later, he became a journalist stationed in Berlin to cover postwar Europe for Time.
John's father, Elka's grandfather, was Scott Nearing, the radical economist who, with his wife, Helen, wrote the 1954 back-to-the-land manifesto Living the Good Life: How to Live Sanely and Simply in a Troubled World. Elka admired the Nearings and loved visiting her grandparents in Jamaica, a small town in Windham County, Vt.
"I think it was central to her," Tamar said. "She chose that lifestyle to emulate."
In college, Elka returned to Germany, where she had lived from age 11 to 13. This second time, based in Munich, she hitchhiked and backpacked around the country, taking a special interest in visiting art museums.
When she and Peter met in his hospital room, he was living where he could find free housing — painting, making sculptures and practicing no-dance dance.
"He was just so interesting, and she came from a very interesting family herself," Tamar said. "I don't think she aspired to become whatever young women were expected to do in the late '50s."
The young couple traveled in Germany, France and Sweden. "They managed to combine couch surfing and squatting in a bunch of very interesting places," Max said.
Courtesy
Peter and Elka Schumann with their kids Tamar and Salih
Elka was pregnant with her first child when she and Peter were married in 1959. Tamar was born in a nunnery in Salzburg, Austria, five days before her mother turned 24. The birthplace was arranged by Elka's parents, who arrived from the United States to "whisk" their daughter away for the birth of their grandchild.
The Schumanns' second child, Salih, was a baby when the family of four traveled from Germany to New York City. Peter was interested in the downtown art scene, wanting to check out artists such as John Cage and Merce Cunningham. The visit turned into an extended stay, and the Schumanns never returned to their lives in Europe.
Peter was painting apartments and making masks when he founded Bread and Puppet in 1963. The company was based in lower Manhattan until 1970, when the Schumanns, by then a family of seven — Solveig, Max and Maria were born in New York City — moved to Vermont.
They lived first in Plainfield, where Peter had a residency at Goddard College. Jules Rabin, who taught anthropology at Goddard, was one of several faculty members who advocated for the college to become the new home of Bread and Puppet.
"I don't like to use clichés, especially toward people dear to me like the Schumanns, but Goddard College and Bread and Puppet had somewhat overlapping cultures," said Rabin, now 97. Both the college and the company, he continued, were representative of an "alternative culture."
"And I think that those cultures were prognostic of what we have today in the way of alternative cultures," Rabin said.
He remembered Peter, Elka and three of their kids walking one night from their home at Cate Farm to the Rabins' house, cutting across fields and the campus. They made their way in the dark without flashlights.
"Peter had his homemade rye bread, and that was good enough to subsist on," Rabin said. "And he had his two eyes and the eyes of Elka and the kids to get by."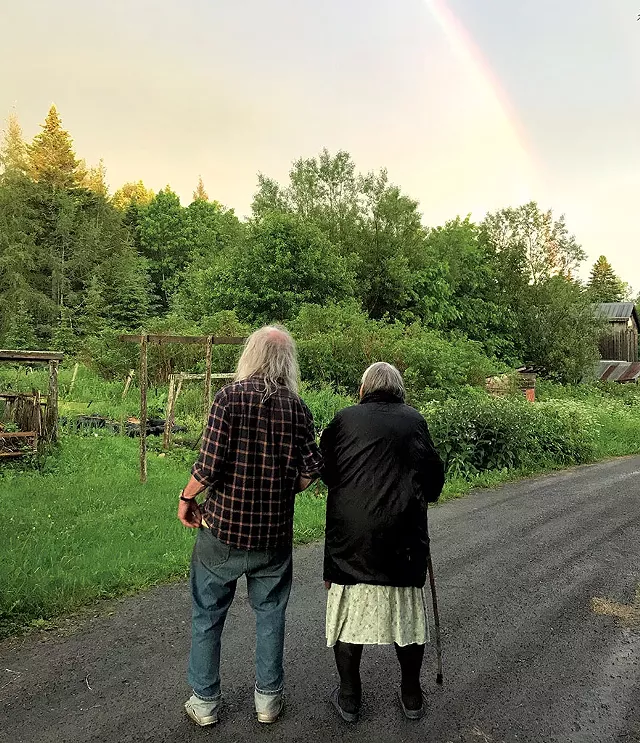 File: Sally Pollak
Peter and Elka Schumann in 2019
Elka, he said, "was kind of a brake on Peter's forward thrust."
In Plainfield, Elka sang in a group devoted to shape-note singing (also known as sacred-harp singing) and performed hand puppet shows at area schools. Trudi Cohen, then a recent Goddard graduate, got to know Elka through those activities and went on to become a 10-year member of the company.
"Elka was a completely fascinating person," Cohen, 71, said. "I was drawn to her; she had such a welcoming manner."
Though Elka played a "back-seat role" in Bread and Puppet, Cohen said, "I think she really made it possible for Peter to pursue his vision."
In 1974, the Schumanns moved from Plainfield to the farm on Heights Road in Glover. Elka's parents purchased it and gave it to the Schumanns: a home for their family and Bread and Puppet.
The circus field — a grassy amphitheater for pageants and puppet shows — was formed when workers hired by Elka's father blasted rock from the hillside. The quarried gravel was used to pave Interstate 91 — a highway to the Kingdom that people travel every summer to go to the shows in Glover.
Bread and Puppet concluded its 2021 season on August 29, the day Elka would have turned 86. The performance ended with the company singing a shape-note hymn in four-part harmony. The song is called "Gratitude."