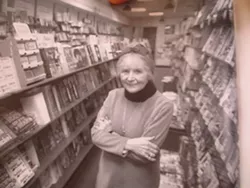 Elizabeth Orr passed away at age 88 on February 4, 2016, after a short illness. Born Elizabeth Margory Pedley in Hanley, Stoke on Trent, England, on June 12, 1927, Elizabeth grew up during the bombing and rationing of the Second World War. She was clever with what little schooling she received and landed a job as a clerk in Bladen Brothers, a fashionable clothing firm. Known as "Margo" in those days, she would be seen driving around in her little red convertible wearing the latest fashions. She married Gregory Niski in 1951 and emigrated to Ottawa, Canada, later that year. After an annulment 18 months later, Elizabeth took a job in WH Smiths Ottawa bookstore, starting a lifelong love of books. It was here she subsequently met and married her second husband, James Orr, with whom she had their daughter, Belinda. In 1965 they moved to WH Smiths in Montréal but by 1967 they wanted to own and operate their own shop. They discovered and purchased the Everyday Bookshop, then located at 213 College St. In 1971 they moved to a larger premises on 106 Church Street (currently the fashion boutique Spellbound), becoming a Church Street fixture for the next 25 years.  In the late 1990s, with a tough trading atmosphere due to the the trend for large bookshops with internet cafes and following her divorce from her husband, Elizabeth decided to downsize and moved the shop back to 194 College Street. There she continued to provide books, newspapers and quiet good humor to all her loyal customers right up until 2008 when, at the age of 81, she retired due to ill health. She will always be remembered by all those she quietly helped around Chittenden County. 

Her customers and friends will remember her as much for her quirky refusal to use modern technology (making copies requiring a customer's signature using an ancient hand machine and looking up publishers information on microfiche) as her quiet English accent and friendly manner. She would walk two and a half miles to work and back from her home on Spear Street and was an active participant in tai chi, dancing and jogging in her younger days. In retirement she found enjoyment in reading some of the many books that she had spent time selling to others and being "lazy daisy," puttering around her home. She could often be found on the UVM walking trail, sweeping her driveway or sitting on a chair by the front door. The last six months of her life were spent at Mansfield Place Care Home in Essex Junction, where she enjoyed singing and dancing at every opportunity. She is survived by her daughter, Belinda Orr, her husband, Gary Slack, and their two sons, Liam and Callum Slack.
Services will be private at a later date. Arrangements are under the care of LaVigne Funeral Home and Cremation Service. Donations may be made to a charity that helps children discover the love of books and reading. Condolences may be shared at lavignefuneralhome.com.