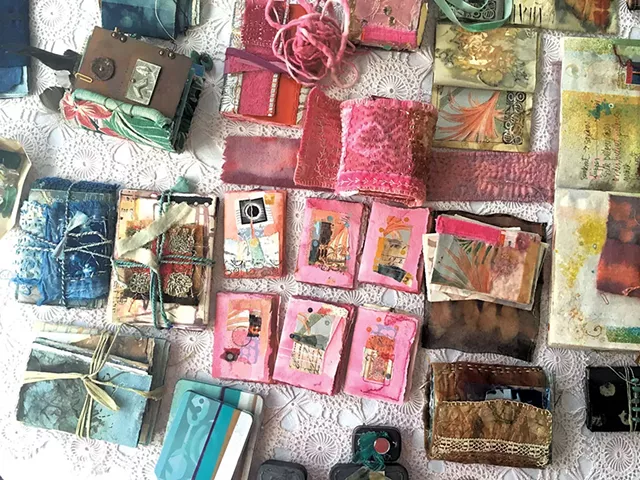 Art books by Elizabeth Bunsen
Not all books are for reading. Some, like Elizabeth Bunsen's intricate art books, must be experienced visually. Each of her tomes — she's made hundreds — is a highly personal exploration of interior emotional landscapes guided by needle, thread and color. Some she keeps for herself. Others she sells through her website and on Instagram.
Bunsen creates her books, and other artworks, in the solitude of her Charlotte home overlooking Lake Champlain. But the 63-year-old artist has developed a significant following on social media, including more than 2,500 followers on Instagram. Though that number pales in comparison to, say, celebrity accounts, it's impressive given Bunsen's late arrival to the digital scene and the fact that her work is almost metaphysical in nature.
Her books incorporate natural dyes, stitching, textile and collage. Bunsen shifts between two major color schemes — blue and, more recently, pink — and has created a body of work in a wide variety of shapes, sizes and composition types.
While the prevalence of pink is informed by the current political climate — remember those pink pussy hats from the Women's March protests in January? — it's not meant to convey an explicitly political message. "I'm not a rip-snorting political animal at all," Bunsen says. Rather, she explains, the hue addresses the emotions and topics that have been swirling around over the past year, as well as what it means to be female.
"For me," Bunsen says, "this pink exploration is a little bit like channeling my inner 8-year-old. Pink is all about compassion and self-love and tenderness. It's a complicated color, and, in art, it's equally complicated."
If that sounds vague, it's because Bunsen remains entrenched in exploration: Her color palette, materials and technique play with concepts of femininity. There are no answers, just a continual process of examining feelings related to being a person, and a female, in today's world.
Bunsen is equally intrigued with the book format itself. "The thing about a book is that you can hold it. It's in the palm of your hand," she says. "They're intimate, [and] intimacy is something I'm very interested in. And vulnerability."
That interest is hard for Bunsen to articulate. "I don't have something specific in mind I want to say," she says. "But, by working with the materials, I've found the conversation."
Bunsen's books vary in scale from the size of a magazine to just an inch wide. The covers are made with felt, leather, stitched fabric and/or paper. Each is unique. Some have pages stained with cochineal, a vibrant red dye made from the crushed bodies of the cochineal bug. Others are tinted with eucalyptus, which produces a slightly rustier red.
Bunsen sometimes elaborately collages her books with stamps, little drawings, made-up constellations stitched in embroidery thread and maybe a feather or a scrap of lace. Others contain lightly stained pages made of different types of paper — wax, or yellow legal pad — that Bunsen says are intended to inspire drawings and scribbling. These are the books that she tends to sell.
"I'm always kind of surprised to think someone might be interested in my [collaged books]," Bunsen says, holding a palm-size pink volume that retails for $375 on her website. "My husband says [this one] is dirt cheap, but he's my biggest fan."
Given the hours of work and intricacy of each piece, the price tag seems appropriate. Other books on Bunsen's site sell for $75 to $150. She bills one $85 indigo volume, called "stars and fireflies," as "a beautiful play book ... perfect for documenting summer poems, doodles and frog songs."
Though Bunsen does sell books, creating a marketable object isn't her primary driving force. "I make things for me," she says. But she acknowledges the economic challenges that come with being an artist. "There's always that issue: Do I need the money? How attached am I to the piece?" she asks rhetorically.
Very attached, it seems, insofar as her process, product and working environment serve an almost spiritual function.
"I think of what I do as magic more than art," Bunsen explains. "Because magic is more like a conversation; it's more like alchemy."
The process of engaging in that dialogue is how Bunsen navigates the world and makes it her own. "At this stage in my life," she says, "what I do is a way of thinking and a way of being. It's my medicine."