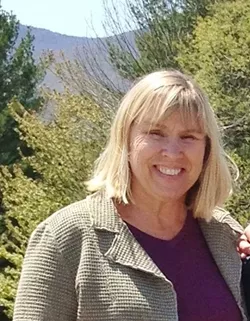 Elizabeth Anne "Lizzie" Burke-Tabor
After an all-too-brief life of selfless service to others, Elizabeth Anne "Lizzie" Burke-Tabor, 59, passed away peacefully, in the company of family and loved ones, in hospice at the Central Vermont Medical Center on Monday, November 23, 2015. Born in Dedham, Mass., to Edward J. Burke and Elizabeth Drinkwater, Lizzie studied political science at Keene State College and earned a master's of science degree in organization management from Antioch University of New England. Lizzie met her husband of 32 years, James M. Tabor, at the Putney Federated Church in 1983. Their son, Jack Buchanan Tabor, was born in Brattleboro in 1985.
Lizzie's irreverent humor, commitment to social justice and boundless love for the earth (she was a passionate master gardener) made her a true real Vermonter in the purest, sweetest sense. Those who knew her well thought of Lizzie as an angel on earth, beautiful both inside and out, with good reason: hers was a life devoted to helping those in need. Her first work, in Boston, involved enriching the lives of developmentally challenged adults. She next served as a counselor for recovering alcoholics and addicts at the Brattleboro Retreat. After moving to the Mad River Valley in 1993, she became the founding executive director of the Evergreen Place Senior Center in Waitsfield. And for the last 14 years, she worked as a resident services coordinator for the Vermont State Housing Authority. In that role, she improved the quality of life in countless ways for hundreds of Vermonters throughout the state.
Lizzie is survived by her husband, James M. Tabor, of Waitsfield; her son, Jack Buchanan Tabor, and his wife, Yumi, of New York City; her stepson, Damon Michael Tabor, and his partner, Emma Pildes, of Brooklyn, N.Y.;  by her sisters-in-spirit Wallis Anne Wheeler, of Richmond, Va., Sheila Bannister of Northfield, Kathie Laing of Boston, Mass., and Janet Langdon of Putney; by her brother Edward Burke, sister-in-law Anna, nieces Kristin and Suzanne, and nephew Edward III of Norwood, Mass; by her brother James Burke and sister-in-law Delvonne of  Beaumont, Texas; and by her sister, Sandy, and brother-in-law Ed Maguire of Cataumet, Mass.
In lieu of flowers, please consider making a donation to the Cancer Patient Support Foundation, PO Box 1804, Williston, VT 05495.