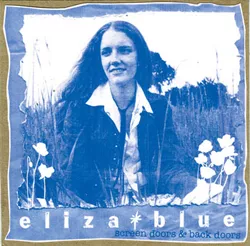 (Lucky Micah Records, CD)
Receiving constructive criticism is always a difficult proposition, and dropping your guard to accept the observations of a total stranger can be terrifying. But sometimes, we music reviewers actually know what we're talking about, and willingness to open one's self up to critical nitpicking can lead to artistic growth. Exhibit A: St. Paul, Minnesota acoustic-roots duo Eliza Blue.

Last year, former Seven Days Music Editor Casey Rae-Hunter reviewed the band's debut album, One Year. The critique was mostly favorable, but pointed to the generally mournful tone of the recording as a significant weakness. When the group's latest record, Screen Doors & Back Doors, crossed my desk a few weeks ago, it was accompanied by a note from songwriter Elizabeth Bonacci saying that Rae-Hunter's words were exactly what she needed to hear at the time, and she hoped the new release would serve as a reflection of her efforts to reach her potential as an artist. It does.

Bonacci obviously took my predecessor's words to heart and has produced a collection of songs that, while still melancholic, reveal a depth lacking in her previous work.

Don't get me wrong, this is still some pretty sad stuff, but Bonacci and multi-instrumentalist husband Paul Miksic have flavored their dour ruminations with varied and occasionally playful arrangements, as well as instrumentation that contrasts the songwriter's dolefulness in a way that augments the power of her writing.
The true strength of the duo is still Bonacci's exquisitely expressive vocal delivery and she's in fine form here. Particularly on the title track, where Bonacci conveys pure nostalgic emotion with vocal lines that nimbly weave around rolling, fingerpicked guitar and plucky banjo.
The following track, "Turned Away," has a similar vibe but also employs the slide-guitar work of Ben Durant, adding layers of sonic dissonance that further reinforce Bonacci's weighty musings.
Eliza Blue is still a young band with room to grow, but the duo has made impressive progress in the last year, suggesting an ability to continue to do so. Check them out this Wednesday, August 22, at Radio Bean, and be sure to let the band know what you think. Apparently, they listen.