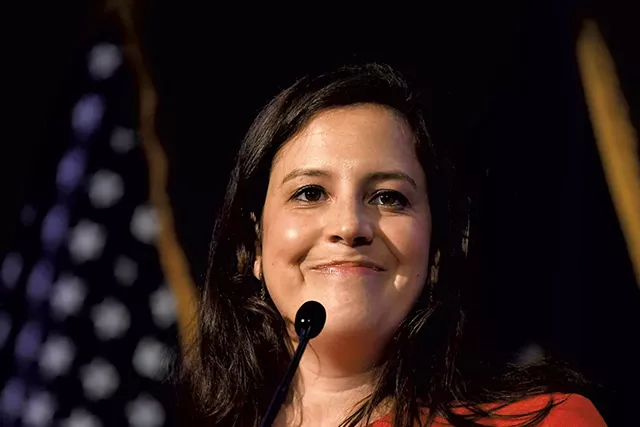 Courtesy Of Will Waldron/times Union
U.S. Rep. Elise Stefanik
At a debate last week in New York's North Country congressional district, U.S. Rep. Elise Stefanik (R-N.Y.) was asked whether she believed Democrats actually want to take away people's guns.
"Yes," the member of Congress said, noting that her Democratic rival, Tedra Cobb, was recorded two years ago telling teenage supporters that she backed a ban on assault weapons but could never publicly say so because it would kill her electoral chances. The video was taken by a teenager who was paid $1,000 by the Republican National Committee and later interned for Stefanik's campaign.
"Those are her own words, caught on camera," Stefanik said. "She was willing to lie to voters. This is a clear difference in this race."
Cobb, a Canton business consultant and a former St. Lawrence County legislator challenging Stefanik for the second time, responded that she believes the rights of responsible gun owners should be respected. "But I also believe that we should pass meaningful legislation banning, uh, uh—" Cobb said.
As she searched for her next word, Stefanik pounced: "She said it herself! Banning. Banning. She said it herself. Banning assault weapons. She said, 'banning.'"
Cobb finally explained that she had planned to say "banning gun show loopholes." But the damage was done.
The exchange epitomized Stefanik's dogged portrayal of her opponent as a flip-flopping, far-left liberal out of touch with conservative northeastern New York. The district, which lies across Lake Champlain from Vermont, includes a 15,000-square-mile swath of territory, from the Canadian border south to Saratoga Springs and west to Watertown.
More revealing was the degree to which Stefanik reveled in her role as agitator.
Wielding the same take-no-prisoners style she has adopted in defense of President Donald Trump, Stefanik has drawn partisan battle lines throughout the campaign, even as she touts herself as someone always willing to reach across the aisle. When she isn't calling Cobb a "parrot" of House Speaker Nancy Pelosi (D-Calif.) and praising Trump's handling of the pandemic, she is listing bipartisan bills she has worked on to deliver wins to the North Country.
Stefanik beat Cobb by 14 points in their first showdown two years ago and is favored to prevail again next week. Though the district was once considered moderate, twice voting for Barack Obama, Trump flipped it red in 2016, carrying it by the same margin as Stefanik. Even some Cobb supporters concede that there may not be a blue wave big enough to overcome the realities of a district where registered Republicans hold a 45,000-voter advantage and the incumbent has raised twice as much money.
Still, Stefanik's latest reelection bid has showcased her desire to be both a champion of the polarizing president and a centrist, pragmatic lawmaker — no matter how contradictory those stances may seem. While supporters say she has walked this tightrope well, critics aren't convinced.
"She is the most partisan member of Congress that I can imagine right now with her language, which is straight out of the Trump playbook," said Mark MacWilliams, a professor at St. Lawrence University who volunteered for Cobb's 2018 campaign. "She treats her constituents as if we're stupid. That we'll take her lies about Tedra Cobb, and take her claims of her achievements, which are really all not that much, and take this flimflam in her commercials and the name-calling and the rest of it — and just vote for her."
A former aide to president George W. Bush and to vice presidential candidate Paul Ryan, Stefanik was the youngest woman ever elected to the House when she took office at age 30 in 2014. (A 29-year-old New York Democrat, Alexandria Ocasio-Cortez, beat that record in 2018.)
The Harvard University graduate was closely aligned to the GOP establishment during her first two terms, even as she built a reputation as one of the House's most bipartisan members. She also demonstrated her independence, bucking her party on issues such as equal rights for LGBT people and efforts to grant legal status to young undocumented immigrants.
Like many moderates, Stefanik kept her distance from Trump as he bulled his way to the party's nomination, and she eventually pledged only to support the party's top office seeker, avoiding mention of his name. She later spoke out against some of his chief priorities, criticizing a travel ban on Muslim-majority countries and opposing construction of a southern border wall.
But Stefanik has gradually set aside her misgivings, welcoming Trump to the district for an event at Fort Drum in 2018 before later emerging as one of his staunchest defenders during impeachment proceedings.
As Trump confronted the existential danger to his presidency, Stefanik frequently appeared on Fox News in his defense. She rejected claims that he had abused his power by pressuring a foreign leader to investigate his political rival. She sparred in House Intelligence Committee hearings with chair Adam Schiff (D-Calif.) over the Democrat-controlled process.
Many Republican constituents back home cheered her on, believing the allegations against the president were unfounded.
Stefanik's efforts also caught the president's attention. "A new Republican Star is born," Trump wrote in a tweet, sharing a video of Stefanik questioning the former U.S. ambassador to Ukraine. "Great going @EliseStefanik!"
Stefanik has savored her newfound stardom. A campaign email sent out around that time described her as "the 35-year-old Republican congresswoman standing between the Democrats and our American Democracy." In May, she flew on Air Force One to join Trump at the launch of the SpaceX rocket at the Kennedy Space Center in Florida. She later hit the campaign trail for him, attending his indoor rally in Tulsa, Okla.
More recently, Stefanik used a prime-time slot at the Republican National Convention to decry the "baseless and illegal impeachment sham" and "Joe Biden's far-left socialist policies," which she contrasted with Trump's commitment to "stand up for the American people and the Constitution."
Returning the favor last week, Trump officially endorsed her, tweeting that she was doing a "terrific" job.
"She fiercely defends us and exposes the Radical Left's lies!" he wrote. "Strong on our Second Amendment, Vets, Military and New York Law Enforcement, Elise has my Complete and Total Endorsement!"
Many Republican lawmakers have shifted from Trump skeptics to card-carrying MAGA members over the last four years. But while some are now distancing themselves from Trump as he trails Biden in national polls, Stefanik has remained loyal.
"The North Country is Trump country," she told Seven Days in an interview.
"You can drive around and see the support," said Stefanik, who lives close to the district's southern border in Saratoga County. "It's organic. It's more than it was in 2016. People are energized."
Though the district has been hit hard by the pandemic's economic crunch, its Republican voters view Trump favorably, according to several county GOP chairs.
"Contrary to what you might see on the national television, people support the president," said Donald Coon, head of the Jefferson County Republican Committee. In the southern part of the district, a New England-based merchandise company has opened two separate stores called "New York for Trump" just a 20-minute drive apart.
Stefanik employs some of the same abrasive campaign tactics that Trump rode to the White House. She has nicknamed her opponent "Taxin' Tedra" and accuses her of voting more than 20 times to raise taxes, which local news outlets call highly misleading. She alleges that Cobb supports controversial positions, such as defunding the police, even though Cobb does not.
The combative approach seems to play well in the district; Cobb's critics have flooded her Facebook page with similar language. But some Stefanik supporters wish she would tone down her rhetoric.
"I don't like that kind of campaign, to be honest," said Paul Maroun, the Republican mayor of Tupper Lake and a Franklin County legislator who supports Stefanik. "I never mention my opponent, and I've always counseled my people [to do the same]."
Still, implying that Stefanik is essentially just defending herself, Maroun said it has been a contentious race "on both sides."
"When somebody punches you, you may take one punch and try to walk away," Maroun said. "But somebody hits you two or three times, you get ready to strike back."
Stefanik's alignment with Trump has gotten her an eye-popping $11 million in campaign donations this cycle — four times her 2018 tally. About half has come from donations under $200. She's also taken in $1.5 million from PACs and counts major corporations among some of her biggest donors, including Blue Cross Blue Shield, Boeing and Amazon.
But her rise to prominence cuts both ways. The same weekend Trump dubbed Stefanik a "star," Cobb's campaign reported a haul of more than $1 million — about two-thirds of what she had raised in her entire previous campaign. She, too, has raised half of her money in small contributions, while receiving support from national left-leaning groups such as EMILY's List and Planned Parenthood, as well as celebrities.
Cobb argues that Stefanik's support of Trump is a clear liability.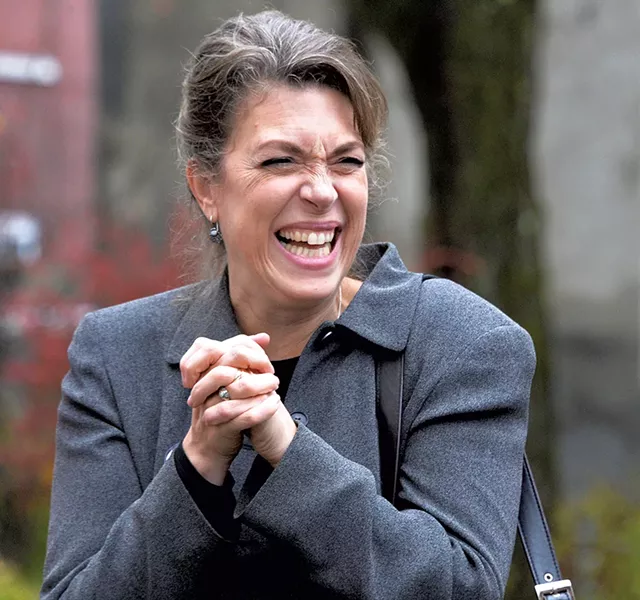 Courtesy Of John Carl D'annibale/times Union
Tedra Cobb
"She has tied herself to this president, and she will put herself before her own constituents," Cobb said in an interview. She later added, "When she says that the president has done a good job, it just shows how disconnected she is from the lives that people live here."
Stefanik and Trump don't always see eye to eye. She voted in late August to give the U.S. Postal Service $25 billion and block operational changes to ensure that mail-in ballots would be counted on time, making her one of only 26 Republicans to support the measure.
But skeptics argue that she typically breaks ranks only when the GOP doesn't need her support.
"You could make the case that [Republican leaders] will let her do that — let her have a vote against the party every once in a while," said Ken Tingley, a recently retired editor of the Glens Falls Post-Star.
Cobb, meantime, has routinely slammed Stefanik over her failure to call out Trump on a number of issues, including his refusal to respond to a reported Russian plot to pay bounties for the killing of American soldiers in Afghanistan. Stefanik argues that those reports have not been substantiated.
Some Republicans worry that a president dogged by such questions might lose. The Washington Post reported last month that GOP insiders are speculating that the party may need to recalibrate should Trump be defeated. In that case, the GOP might seek new leaders among those who, like Stefanik, could appeal to both the MAGA and moderate wings of the party.
While some New York observers believe Stefanik has political ambitions beyond her current job, she declined to speculate about the future. "I'm focused on this district," she said.
Her supporters and critics were more willing to comment.
"I think she's a great representative, but I'd like to see her move on [one day]," said Clark Currier, chair of the Clinton County Republican Committee. "She brings a lot to the table, and I think she could really help no matter where she went."
"Let's just put it this way," he added, "I have higher aspirations for her."
Others have a more cynical take. MacWilliams, the college professor, said Stefanik has "modified herself" to the "political realities of the moment" at every turn.
"She's a complete and total political animal who is out for power," MacWilliams said, "and we are a way station on the road to becoming speaker of the House — or even, possibly, the presidency."