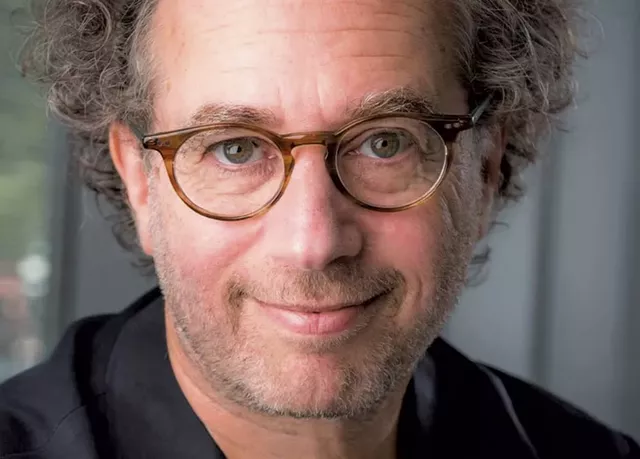 Courtesy of Tod Machover
Tod Machover
Electronic music was born of experiments with radio equipment after the Second World War. The advent of the synthesizer brought that technology to compositions as diverse as Switched-On Bach and the works of the Beatles. Now every kid with a laptop can use readily available software to achieve things unheard of even 10 years ago.
In short, advanced music technology is no longer exotic. What's interesting today, according to composer-pianist David Feurzeig, who teaches classes in the University of Vermont's brand-new music technology major, is the "bleeding edge" of the discipline.
Tod Machover has long occupied that edge. The music-tech innovator started teaching 30 years ago in the newly founded MIT Media Lab and never left; he currently heads the lab's Opera of the Future group. In 2005 and 2008, his students invented the wildly popular video games Guitar Hero and Rock Band. A cellist and composer, Machover (whose name sounds like "Mackover") continues to push boundaries with inventions such as "hyperinstruments," robotic operas and Hyperscore — software that allows anyone to compose music with their fingers on a screen.
Machover will do a better job explaining these innovations when he gives a talk and concert this Friday, October 14, at the UVM Recital Hall, at Feurzeig's invitation. Both events are open to the public, as is a "petting zoo" of the Media Lab's latest generation of hyperinstruments, which will take place the preceding evening.
Courtesy of David Feurzeig
David Feurzeig
The concert program consists of music spanning Machover's composing life, from the 1980 work "Soft Morning, City!" for soprano, double bass and a prerecorded electronic track; to "Physical," composed this year, for cello and a new hyperinstrument called the MM-RT. Machover's doctoral student Akito van Troyer invented the latter and will play it.
Machover will play cello and, on one piece, hypercello. Feurzeig is the pianist, while Mary Bonhag and Evan Premo, the Marshfield-based couple who founded Scrag Mountain Music, will sing soprano and play double bass, respectively.
Machover's "Soft Morning, City!" is based on the ending of James Joyce's Finnegans Wake. He wrote the piece while he was director of musical research at the first electronic music institute, the Institut de Recherche et Coordination Acoustique/Musique. IRCAM was founded in the basement of the Pompidou Center in Paris in 1977 at Pierre Boulez's request; the French government was keen on luring the U.S.-based conductor-composer back to his home country.
Boulez invited along Machover, then a doctoral student in composition at the Juilliard School under the mentorship of Elliott Carter. As Machover explains in a phone call, he was the only American composer Boulez knew who was interested in electronics. Machover's leave from grad school turned into an eight-year stay.
Bonhag and Premo, who will perform "Soft," say they were surprised to discover a composition for soprano and double bass that they hadn't heard about. The electronic component makes the piece particularly tricky, Bonhag notes of the "dreamy" 25-minute work.
"It feels like the tape part is another instrument," but an "immovable" one, she says. "It's like there's an orchestra back there; you're just not able to communicate with it." Adds Premo, "You can't cue with your head."
The couple has performed electronic compositions before — notably a piece with a live DJ on a program for Anne Decker's new-music series TURNmusic. Machover's work differs, says Premo, in that its electronic component drops out for stretches and then reenters, requiring the live musicians to have "really steady tempos."
By 1986, Machover had moved from using electronic components made from reel-to-reel tapes to crafting instruments that augment sound in real time — what he calls hyperinstruments. He designed an early version of the hypercello for Yo-Yo Ma that featured sensors on the bow, instrument and cellist's hands. Signal-processing software connected to the sensors allowed Ma to create an accompaniment that was based on his own physical cues as he played.
On Friday, Machover will play the latest-generation hypercello in his composition "VinylCello," written for cello and electronics. "This involves using my normal cello," Machover explains in an email, "but with two wireless sensor bands worn on each arm (just below the elbow), and audio/visual monitoring from an iPad."
In 50 years, he suggests, hyperinstruments will not just register rhythm, emotion and musical language through physical movement; they "will be able to tell what's going on in your mind."
Given the range of Machover's accomplishments so far, that doesn't seem out of the range of possibility. The program also includes three "HyperEtudes" for piano that he composed using Hyperscore, and an aria from his 2010 opera Death and the Powers, for which he invented a chorus of gliding, LED-lit robotic cubes.
As Feurzeig points out, "The piano was once experimental technology. There will always be people out there doing the next thing. [Machover] is the mad scientist."