Dan Bolles
Tesla Supercharger station at Healthy Living Market & Café
Todd Lockwood's Tesla sailed smoothly and soundlessly, gliding like a ghost along a winding South Burlington back road. The sleek white all-electric sedan crested a small rise, hugging the curve as it picked up speed. Just ahead, a Toyota Corolla chugged along the two-lane blacktop at the 40 mph speed limit or even a little faster — too slowly for Lockwood's liking.
Turning to his passenger, Lockwood grinned. "Let's give this guy a little heart attack, shall we?" he said, guiding the car across the double yellow line to pass the Toyota.
When he hit the accelerator, the surging sensation resembled the first moments of takeoff in a jet plane. As the car (and physics) threw us back against its black leather seats, I gasped. Lockwood giggled.
"That was fun, wasn't it!" he exclaimed, beaming as we pulled safely into our own lane and decelerated toward an intersection.
"Fun" is not a word typically associated with electric vehicles, even those as flashy and expensive as Lockwood's 2016 Tesla Model S 90D, the near-top-of-the-line sedan of the most famous electric car brand in the world.
But the promise of fun is exactly what drew the South Burlington photographer to the California car company's potentially revolutionary luxury car.
"I didn't buy a Tesla for environmental reasons," Lockwood said. "I bought it because it was drop-dead gorgeous — and really fast."
Lockwood, a self-professed "sports-car guy," is driving his second Tesla; he bought his first in 2013. That places him among the state's early adopters of fully electric cars, as well as their cheerleaders.
"As a society, we haven't even begun to scratch the surface of electricity's potential," Lockwood said. "We have all of this brilliant technology that already exists, but we keep clinging to gasoline-powered engines."
While it's true that gasoline-powered passenger cars registered in Vermont this year still outnumber all-electric vehicles 725,000 to 1,700, there are signs of drivers' growing interest in abandoning the gas pump. Those 1,700 cars represent a 41 percent increase in EV registrations over the number registered in 2016. The state's number of publicly accessible battery-charging stations — necessary for vehicles with a limited driving range — has grown to 158.
Now Vermont policy makers are attacking one imposing barrier to wider adoption of electric cars: their price.
Though undeniably cool, Lockwood's Tesla spaceship-on-wheels comes with a suggested retail price of $88,000, putting it in the class of luxury cars such as BMW and Mercedes-Benz. Even the small all-electric Nissan Leaf sells for $30,000, beyond the reach of some buyers who might be interested.
Earlier this month, Gov. Phil Scott, Burlington Mayor Miro Weinberger and a group of electric utilities announced new incentives aimed at making EVs affordable for low- and moderate-income Vermonters. Among them are discounts from local car dealers, an income-based $1,800 rebate from Burlington Electric Department for a fully electric EV, and a $600 rebate from Green Mountain Power that comes with a free in-home car charger. Buyers qualify for rebates only from the utility in the territory where they live.
Through the month of October, Shearer Chevrolet Buick GMC Cadillac in South Burlington is offering General Motors employee pricing on the all-electric Bolt and plug-in hybrid Volt. The discount varies from car to car, but consumers can expect at least a few thousand dollars in savings.
Freedom Nissan on Shelburne Road is offering a $10,000 rebate on the Leaf. That's in addition to customer incentives from the Burlington Electric Department and GMP. Dealership co-owner Robert Miller reported that between June, when he began offering the rebate, and September, he moved 151 all-electric 2017 Leafs. In June alone, he said, Freedom sold 55 Leafs, second in the country to a dealer in San Francisco.
Weinberger, who owns a Leaf, pointed out that a low-income Burlington resident could pay as little as $11,300 for the car, presuming that buyer qualifies for the full $7,500 federal electric vehicle tax credit.
BED communications manager Mike Kanarick said the utility has handed out 25 EV rebates since June. "The incentives really seem to be working," he said.
What else needs to happen to push EVs into the fast lane?
"The last hurdle is awareness," said Dave Roberts of Drive Electric Vermont, a subdivision of Vermont Energy Investment Corporation. Roberts said he will consider EVs entrenched in Vermont when ownership hits 15 percent of all registered vehicles. While he sees the recent sales surge as encouraging, he added, there's a long way to go.
In many cases, Roberts suggested, the biggest obstacle to selling an all-electric vehicle is simply that buyers don't know what they're missing.
"We're advocates," he admitted. "But electric cars are really fun to drive. You're getting a car that performs as well — and, in some cases, better — than your gas car."
Lockwood noted that his Tesla accelerates from zero to 60 mph in 4.2 seconds, which puts it in roughly the same class as some high-performance sports cars. And, because the innards of an EV are far less complicated than those of an internal combustion engine, maintenance costs, even for his luxury sedan, are much lower than for gas-powered cars.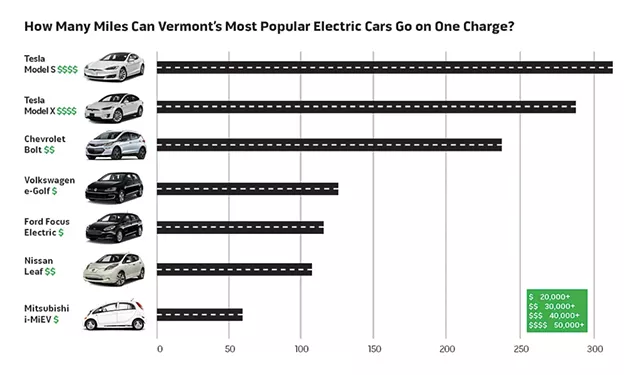 Rev. Diane Sullivan
Note: Numbers represent the EPA's maximum estimated battery range.
Source: Drive Electric Vermont/U.S. Environmental Protection Agency.
"How many hundreds of moving parts does a combustion engine have?" Lockwood asked rhetorically. "Now, how many does this car have? It's, like, eight."
He added that annual state inspections are "almost a joke," since the car has no emissions.
"That's, like, half of the inspection checklist," he said with a laugh.
On a recent test-drive of the all-electric Bolt, Shearer Chevrolet salesperson Doug Littlefield encouraged me to floor the accelerator to get a sense of the car's pickup. While it didn't compare with the Tesla's g-forces, there was no questioning the compact four-door's pep. It turned on a dime, to boot.
Littlefield said he's seen markedly increased interest in Chevy's EVs recently, and not necessarily from the customers you might expect to drive a Big Three brand.
"We get a lot of people coming in looking at them," he said. "But the interesting thing is that they're not the typical Chevy customer."
A glance at the Shearer lot illustrates what he means by "typical": It's dominated by row after row of muscular pickup trucks, many with beds nearly big enough to hold the zippy little Bolt.
"I think the average Chevy buyer is still skeptical of EVs," said Littlefield. He described Volt and Bolt buyers as "often former Prius owners" who "tend to be more educated" about EVs. Before the test-drive, another salesperson recalled a "hippie-ish" couple who flattened out the four-door Bolt's back seats to "see if they could sleep in it."
One former Prius owner who made the switch is Jill Lyons of Charlotte. She recently bought a 2017 Volt, Chevy's plug-in hybrid EV.
Lyons said she chose the Volt over the fully electric Bolt not so much out of anxiety about its battery range (the distance one can drive without charging) but because the hybrid was a little bigger and much less expensive. But, after driving the Volt, she said she'd consider going fully electric.
"It's been so easy," Lyons said, explaining that she's only once exceeded the car's battery range and had to switch to gas. She typically charges at home and occasionally uses the public chargers in downtown Burlington while she's running errands.
She added that she regularly logs more than the Volt's Environmental Protection Agency-estimated 53-mile battery range. For that she credits "regenerative braking," a system common to EVs that uses kinetic energy to return power to the car's battery as it slows down, extending the battery life.
"I haven't used a drop of gas in weeks," said Lyons.
Clearly, EV drivers save money on gas. Does the uptick in their electric bill offset that savings? To some extent, said Lockwood.
Before buying his first Tesla, he drove a V8-powered Audi. When he switched over, his electric bill spiked by about $50 a month — but his gasoline spending? "It dropped by $250 per month," he said.
While all-electric vehicles may spare their owners pricey trips to the pump, their critics say they aren't as environmentally friendly as advertised. Questions remain about the ecological hazards of the lithium batteries that power EVs, as well as about the costs of producing the lighter and rarer metals from which the cars are often built. Finally, in areas where most electrical power comes from fossil fuels such as coal, an EV may not offer much of an environmental advantage over burning gasoline.
But in Vermont, where nearly all the electricity comes from renewable sources such as wind, solar and hydroelectric dams, that argument carries less weight.
Lockwood powers most of his home — including his Tesla charger — with solar panels in his yard.
"I like the idea that I'm indirectly driving on sunshine," he said.
Charged Up
One barrier to widespread electric vehicle ownership has been "range anxiety" — the fear that the car will run out of juice before reaching a recharging station.
Manufacturers are addressing that anxiety by increasing the range of EV batteries. Meanwhile, many private businesses and utilities in Vermont have done their part by installing publicly accessible charging stations.
They may not be as commonplace as gas stations, but you'll now find charging stations on Burlington's Main Street, at highway rest stops, at the Ben & Jerry's factory in Waterbury and at the Vermont Antique Mall in Quechee. You'll see them at grocery stores — and not just at eco-minded City Market/Onion River Co-op or Healthy Living Market & Café, but at conventional supermarkets such as Hannaford. In total, Vermont has 158 public charging stations, stretching from Derby Line to Bennington. And more are coming online.
Healthy Living in South Burlington currently boasts eight Tesla Supercharger stations — which only Tesla drivers can use — and two universal EV chargers, with eight high-speed chargers soon to come, co-owner Eli Lesser-Goldsmith told Seven Days.
Burlington Electric Department operates 13 charging stations in the city and saw a major jump in use this summer, said communications manager Mike Kanarick. In June, BED's charging stations dispensed roughly three megawatt hours of electricity. By September, that number was up to nearly six megawatt hours.
It's possible some of the increased charging is due to tourist traffic, particularly from Québec, where electric vehicles are more common. Nevertheless, he said, "The continued increase in the amount of energy dispensed since June is really exciting."