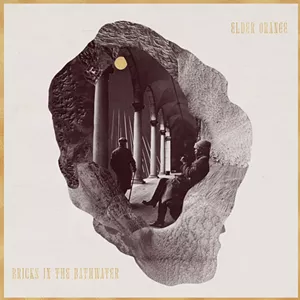 Courtesy

Elder Orange, Bricks in the Bathwater
(Self-released, digital)
2020 has been a cruel year for the music business, but if anyone was prepared to weather this apocalypse, it was the home-studio auteurs of the world. Vermont is full of such hermit wizards, including Bennington-area resident Elder Orange, aka Matthew Scott of the Nektones. His latest offering, Bricks in the Bathwater, is a knockout mashup of a half dozen genres and the culmination of years of work.
With his band on indefinite hiatus, Scott has been channeling his energies into side gigs and developing his new solo persona. His 2018 Elder Orange debut, All My Friends Believe in Ghosts, was very much a "beat tape," with generous helpings of progressive rock and dub influences. Bricks in the Bathwater offers plenty of wild instrumentals but marks the first time Scott's talents cohere into a total singer-songwriter package.
That package comprises heavy, funky, hip-hop-influenced R&B, as heard on album opener "Clearing a Path." It's a Zapp-style liftoff that sets the tone for the LP: a house party at the end of the world where everyone's on mushrooms. "Here's a sticky situation," Scott sings, "when we're facing enemies we don't even see."
Scott writes timely and topical stuff, but it's always rooted in the personal, even spiritual, dimensions of our claustrophobic era. As he observes on "Meaning" a few songs later: "Someone's always trying to change your mind / So how do you create meaning? / How do you create your love?" He knows better than to give prescriptive answers.
And he doesn't go it alone. Remote collaboration has always been possible, but a global pandemic has made it necessary. Scott tags in some of his longtime coconspirators, such as Adam Turner and Mike Sutton (drums), JJ Beck (piano), and fellow Nektone Alex Wolston on trumpet.
Scott also brings along some surprising guest vocalists, including Philadelphia microphone assassin Curly Castro and BTV's own rap strongman Mavstar. The rap tracks are a solid fit here and also suggest that Elder Orange could make a monster hip-hop LP in the vein of Portishead producer Geoff Barrow's massive Quakers project.
For now, Scott has much broader ambitions. Bricks in the Bathwater is a throwback to when "trip-hop" was wide open, weird and guided by live instruments. It's also a carefully composed journey, presented as a single, 33-minute track. Many artists insist they make albums, not singles, but seldom do you see that kind of conviction.
As on Elder Orange's 2018 debut, the sound quality is perfect. Once again, that's due to Scott's ongoing collaboration with 802 engineer Walter Westinghouse, who outdoes himself with the depth and detail here. Scott draws from King Crimson and Just Blaze in more or less equal measure.
The result is one hell of a unique synthesis. Bricks in the Bathwater is an unpredictable and genuinely exciting experience, one of the most distinctive local albums of the year.
Bricks in the Bathwater is available at elderorange.bandcamp.com.