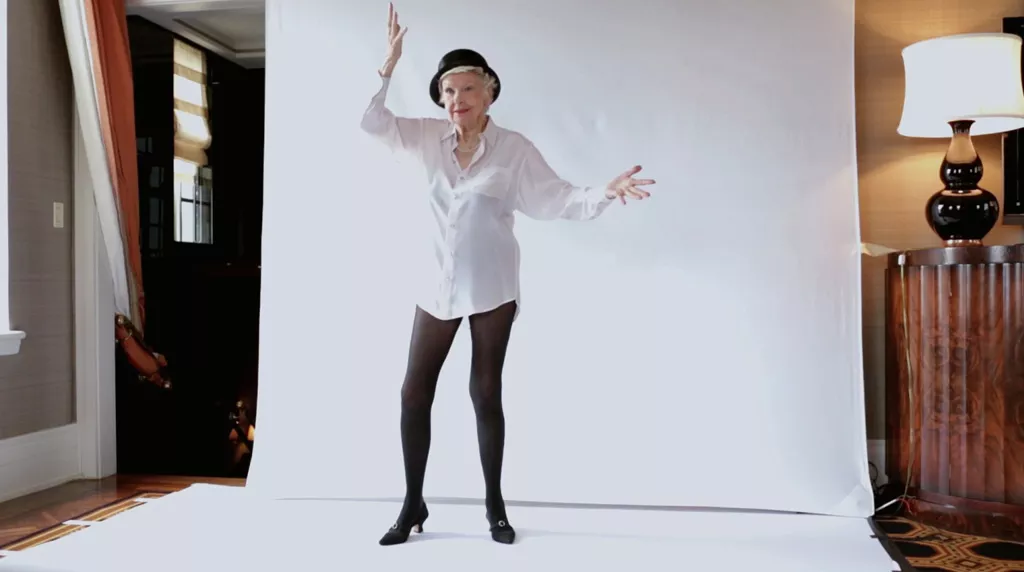 VIVA LA DIVA: Karasawa's documentary debut offers an intimate portrait of a larger-than-life Broadway icon living large and looking ahead.
There isn't a Broadway icon alive who has had a longer run. You may not instantly recognize the name — I didn't. But we don't live in the cultural capital of Western civilization and, the closer you get to New York City, the larger the legend of Elaine Stritch looms.
She's one of those quintessential show-biz fixtures who can't walk the length of a city block without signing an autograph, posing for a picture or otherwise having her personal space invaded. Famously short-tempered, Stritch pays the price of fame with a graciousness that's positively un-Baldwinian.
Which is ironic — because, though the Tony winner first appeared on the stage 70 years ago, the role for which you'll recognize her is that of irascible Colleen, mother of Jack Donaghy (Alec Baldwin) on "30 Rock." She earned an Emmy for that one.
Among the highlights of Elaine Stritch: Shoot Me, Chiemi Karasawa's documentary debut, are visits behind the scenes of rehearsals for the sitcom and candid tributes from both Baldwin and Tina Fey. You get the sense that working with Stritch was not dissimilar to surviving a high-maintenance, weeklong cyclone. "It's a bear," admits Fey, "but she's worth it."
A portrait of a veteran entertainer (Stritch turned 89 last month) by an artist in the infancy of her career, Shoot Me isn't a standard-issue celebrity doc any more than Stritch is a standard-issue celebrity. While Karasawa gives her space to revisit career high points, the film's primary focus is on how it feels, having spent one's life in the spotlight, to contemplate facing that final curtain. Brassy and brutally unguarded, Stritch isn't one for sugarcoating.
The trip down memory lane takes fascinating twists. Stritch had flings with Rock Hudson, Ben Gazzara and John F. Kennedy; a play written for her by a besotted Noël Coward; and a decades-long association with the music of Stephen Sondheim, beginning with her 1970 breakout performance in Company.
Admirers of Woody Allen's work will see a side of the director they haven't before in this film. Stritch shares a letter Allen sent her detailing the on-set laws she'd need to abide by to join the cast of September (1987). Let's just say "control freak" doesn't begin to cover it.
The most powerful moments, though, capture the performer looking to the future. We watch as Stritch prepares her farewell revue, Singin' Sondheim ... One Song at a Time, and struggles to remember the lyrics to classics such as "I Feel Pretty" and "I'm Still Here" that decades ago were all but part of her DNA.
The film also chronicles older struggles. Stritch speaks of her lifelong battles with the bottle (she's made peace with losing that one) and with diabetes. A hypoglycemic attack leads to the movie's rawest moment. Stritch clearly believes she's on the brink of death, whimpering, "I'm scared!" to her musical director.
Dealing with a difficult subject, as Stritch herself deals with a number of difficult subjects, the fledgling filmmaker finds just the right ratio of glitz to guts. One comes away with the sense that Elaine Stritch wants more than anything for the show to go on, while knowing better than anyone that her final bow can't be far off.
Hence it's bittersweet to hear "The Bitch Is Back" play over the closing credits just after we hear the singer exclaim that she'd love to follow her Sondheim revue with one featuring the songs of Elton John. After watching Shoot Me, I'm not about to count Stritch out. I can imagine her at 90, flubbing a word here and there but knocking 'em dead with a raspy, rousing rendition of "I'm Still Standing." Something tells me she will be.
Elaine Stritch: Shoot Me screens on Sunday, March 30, at 2:15 p.m., at the Savoy Theater in Montpelier as part of the Green Mountain Film Festival. More info at gmffestival.org.