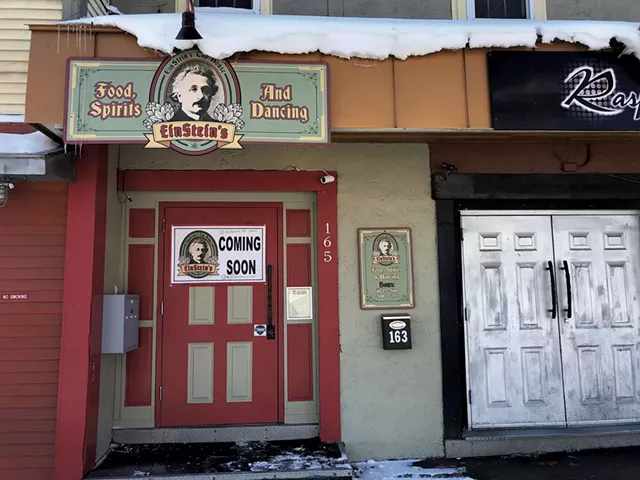 Jordan Barry
Einstein's Tap House
The oft-changing nightlife venue upstairs at 165 Church Street in Burlington is smartening up. When it opens in February, Einstein's Tap House will work to "shake the reputation" of the space, owner Tom Massey told Seven Days. Food, ample seating and an emphasis on safety will characterize the bar in the former home of a string of clubs, including Millennium, Second Floor, Lift, Zen Lounge and, most recently, Social Club & Lounge.
"We want to be a bit of everything for everybody, but we're geared toward an older crowd," Massey said. The bar — which will open as soon as its final permits are granted — will start serving at 5 p.m. Wednesday through Sunday, with half-price appetizers until 6 p.m. The food menu will feature small plates and flatbreads made on-site in an open kitchen, with vegan and gluten-free options.
"The food's really going to be good, and it's going to be casual and fast," Massey said. The fully renovated space is anchored by a new wraparound bar with four service stations and 32 taps. A large selection of local beers will be on draft to maximize drink options and minimize waste, with cider and wine also available.
Massey, who also owns the adult retail chain Good Stuff, is an industry veteran. He opened his first bar at age 19, once managed the largest nightclub in San Diego, and has owned bars and restaurants throughout Vermont, including Rave Nightclub in St. Albans.
Those experiences taught him the importance of creating a clean and safe space for his patrons, he said. Massey, who has had legal trouble at his businesses in the past, cited a strong relationship with the Burlington Police Department. "I've dealt with police departments in other places, and the Burlington Police Department is awesome. They've helped us with our store [Good Stuff]," he said.
At Einstein's, IDs will be scanned at the door, and the security team will most likely use a metal detector. "Safety is the first key," Massey said.
Named for everyone's favorite physicist — whose name can be translated as "one [beer] stein," Massey suggested — the bar will have a dance floor, a wide variety of music, three pool tables, karaoke and a free photo booth.
"It's a fresh concept. You can eat; you can dance," Massey said. "Burlington deserves something new like this."