Luke Awtry
Rough Francis at Waking Windows 2017
It happens every year. You're standing outside the Monkey House in Winooski on the first weekend in May or waiting at a crosswalk to navigate the bottom of the infamous traffic circle — playing "hipster Frogger," as it were. Or perhaps you're catching a breather on a bench overlooking the Winooski Falls. Then someone — a total stranger, or an old friend you haven't seen all winter — offers you a high five and the joyous words, "Happy Waking Windows!"
Along with muddy roads and birdsong, the annual music-and-arts fest in the Onion City is a sure sign of spring.
Since 2011, Waking Windows has inspired gleeful greetings around Winooski's rotary from die-hard and casual music fans alike. The three-day event, which enters its eighth year this weekend, has evolved from a small but ambitious showcase of local and regional talent to a sprawling, immersive musical monolith that fills nearly every nook and cranny of "Burlington's Brooklyn."
Homegrown artists still comprise the backbone of the festival. But as it has grown — some 5,000 people attended last year, compared to 400 in 2011 — Waking Windows has presented bigger and bigger names. This year's top draws include acclaimed Providence, R.I., indie rockers Deer Tick and Chicago rapper Noname.
Those acts headline a slate of some 180 bands, songwriters and DJs scheduled to perform Friday through Sunday, May 4 through 6. About half of those artists hail from Vermont, according to Waking Windows cofounder Brian Nagle, aka DJ Disco Phantom. The rest come from around the United States and Canada and represent a staggering breadth of genres: indie rock, punk, folk, experimental and beyond.
"We try to have something for everyone," says Nagle.
Indeed, Waking Windows succeeds in large part because of how finely it's curated with that goal in mind. Thanks to the team of Waking Windows Presents — Nagle, Ali Fogel, Paddy Reagan, Nick Mavodones and Matt Rogers, all of whom have extensive experience in booking bands or managing venues — the festival really does satisfy a full spectrum of tastes.
"There's chaos in the curation," says Reagan, adding that he and Nagle combined spent more than 200 hours booking this year's festival.
When it began, Waking Windows took place over 12 days at a single club: the Monkey House. Now the festival claims 17 venues, including bars, restaurants and retail shops throughout downtown, as well as two outdoor stages: one inside the rotary and a Main Stage that occupies an entire block of Winooski Falls Way.
The festival is also keen to use spaces that others have abandoned, morphing vacant storefronts into pop-up rock clubs. This weekend, for example, the former KeyBank building is rebranded as Lucky Cloud. The town is as much a part of Waking Windows as are the killer bands.
"Waking Windows is Winooski," says Nagle of the festival's symbiotic relationship with the city.
Mayor Seth Leonard agrees. "It's become part of the city's identity," he said shortly after his election in 2015.
As it turns out, that identity travels well. This fall, the Waking Windows crew will export the festival to eager fans in Portland, Maine, for the third year in a row. Last year, they held a mini version of Waking Windows in Detroit, where Mavodones had been living and working.
"Doing the festival in other cities is something we've talked a lot about," says Reagan. But, he notes, replicating the relationships necessary to pull off such an event elsewhere isn't easy. While Waking Windows is meticulously curated, it also draws heavily on input from the community it serves, specifically in the form of independently planned showcases. This year, experimental music label NNA Tapes and indie booking outlet Friends + Family are among the organizations presenting showcases.
"A big part of what makes Waking Windows work is people coming to us with cool ideas," says Reagan.
Even more than in previous years, the festival offers an array of options in 2018 — and not just musical. In fact, the organizers particularly focused on expanding the "extracurricular" happenings, including comedy, a skate jam, a book fair, an art market, talks and readings, and even a bird watch.
To help you navigate Waking Windows, we've highlighted seven local acts you don't want to miss. As a bonus, we asked musicians in those bands for their recommendations. Read on for a collection of fun facts and anecdotes about the fest and a roundup of the nonmusic activities. And during the weekend, follow Seven Days on Instagram (@sevendaysvt) for in-the-moment scoops and pics.
Happy Waking Windows!
— D.B.
Clever Girls
Courtesy Of Luke Awtry
Clever Girls
Rotary Stage, Friday, May 4, 8:10 p.m.
Clever Girls have established themselves as one of the fiercest rock groups in Burlington. Front woman, songwriter and guitarist Diane Jean has a knack for distilling moments of doubt and uncertainty the way only an expert in self-sabotage can. The band's masterful instrumentation and arrangements embolden the heart-wrenching truth of her lyrics.
This prolific foursome has produced an EP and a full-length album in less than three years. If you happen to bump into Clever Girls around town, challenge them to a beer-chugging contest, if you dare. Rumor has it the group's quaffing skills are legendary.
SEVEN DAYS: Which acts are you most excited to see at this year's festival, and why?
CLEVER GIRLS: Noname, in particular. But also Deer Tick, the Huntress and Holder of Hands, J Bengoy, Hammydown, Jessica Rabbit Syndrome, and Belly Up.
SD: What is your favorite memory of WW past?
CG: Although we've been a band for nearly three years, this will be our first Waking Windows — both as performers and attendees. CG and WW have historically been two ships passing. Last year we were in the studio, and the year before that we were on the road.
SD: What is your best piece of advice for making the most of the weekend?
CG: Follow [photographer] Luke Awtry! We heard that last year he saw over 100 acts! Make sure to follow a schedule. Check out venues that were added this year that aren't directly on the circle. And don't forget about the vendors, the book fair and comedy!
SD: If you had to start a kickball team with one of the other bands playing this year, who would it be, and why?
CG: Belly Up would be formidable — but that [pairing] could also result in too many PBRs. Paper Castles would probably rock a tournament. [And] if Hammydown or Julia Caesar can kick a ball the same way they kick butt, we'd want them on our team. I think we'd rather start a kickball league.
— J.A.
JUPTR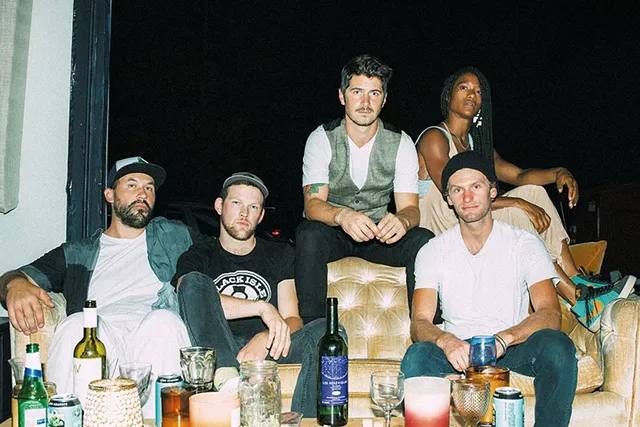 Courtesy Of Kayhl Cooper
Juptr
Waterworks Food + Drink, Friday, May 4, 11:50 p.m.
Brand-new on the Burlington scene in 2017, JUPTR are a neo-soul outfit featuring members of Madaila, the Renegade Groove, smalltalker and recently defunct soul-funk band Smooth Antics. Straying from the guitar- and horn-driven sounds of its discontinued predecessor, the five-piece centers its sound on keyboards, synthesizers and hip-hop-inspired execution.
Front woman Stephanie Heaghney leads the group with powerful vocals and indelible charm. Once you cross the event horizon of JUPTR's gravitational pull, you'll be caught in their orbit forever.
SEVEN DAYS: Which acts are you most excited to see at this year's festival, and why?
JUPTR: We're excited to see a few groups because of our stylistic similarities: Noname, Sammus, Jaw Gems and the New Review. But there are so many great artists coming to the festival: Paper Castles, Hammydown, Bedouine, Palm, Erica Eso, Liz Cooper & the Stampede, Craig Brown Band. Can we just put the festival poster here?
SD: What is your favorite memory of WW past?
J: We all have our own individual [favorites] from past festivals. For example, seeing Brian Raymond's geometric sculpture [in the middle of the rotary]. But I think everyone can remember their first time approaching the rotary and seeing, feeling and hearing the electricity coming from within the grounds. We all live in either Winooski or Burlington, so it's a hometown, home-team festival that adds a level of pride to the warm fuzzies we get.
SD: What is your best piece of advice for making the most of the weekend?
J: Definitely just get around to as much of the festival as you can. It can seem daunting — but, on the flip side, we think it adds to the overall mystique of WW. Just get out there and try to soak up as much of it as you can, even if it means only seeing a few minutes of each artist.
SD: If you could turn any WW venue into your personal living space, which would it be, and why?
J: Waterworks Food + Drink, without a doubt. The view of the river is incredible.
— J.A.
Rough Francis
Luke Awtry
Bobby Hackney Jr.
Main Stage, Saturday, May 5, 6:20 p.m.
If you're lucky, you've already snagged a copy of Rough Francis' long-awaited new album, MSP3: Counter Attack, an extremely limited number of which were available locally on vinyl for Record Store Day last month. For the rest of you: Buck up, campers! The album is slated for a full release this summer.
In the meantime, Burlington's sons of Death will put forth plenty of ferocious rocking — including a Main Stage appearance at WW. Armed with righteous fury and thunderous punk hooks, Rough Francis continue to be one of Vermont's most vital and vibrant bands.
RF's Bobby Hackney Jr. fills us in on his favorite aspects of WW.
SEVEN DAYS: Which acts are you most excited to see at WW this year, and why?
BOBBY HACKNEY JR.: I use Waking Windows as an opportunity to see local bands that I never get a chance to see. For me, WW is all about the local bands, and there are too many to name.
SD: What is your favorite WW memory?
BH: The Sunday night pizza party at the Monkey House in 2016. It went from shoegaze to wild rockabilly. It was definitely a night to remember.
SD: What is your best advice for making the most of WW?
BH: The Monkey is a great place to start. After that, just follow your ears all over town.
SD: If you could name the Winooski traffic circle after one prominent, or not-so-prominent, Vermonter, whom would it be?
BH: The Jason Cooley traffic circle. Drivers always "try to get in."
— D.B.
DJ Llu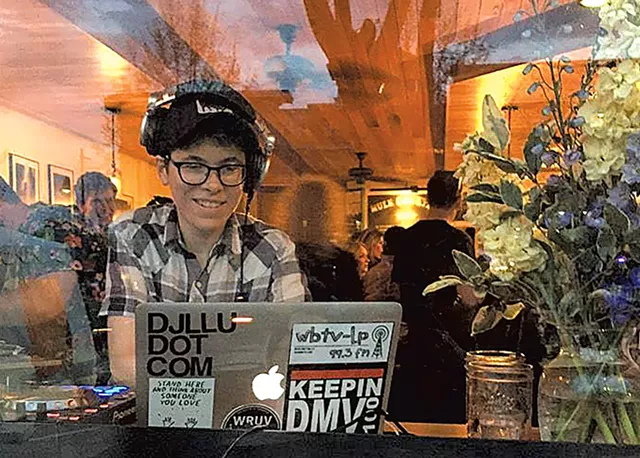 COURTESY OF KATE VAN WAGNER
DJ LLu
Mule Bar, Saturday, May 5, 10 p.m.
If you want to know what bands you should listen to, ask a DJ. After all, staying on top of cutting-edge acts — not to mention mentally cataloging the best of the best from years gone by — is a job requirement. Whether rocking airwaves or dance parties, few have done that job better or longer in Burlington than DJ Llu.
Dating back to 1994, Llu has been a staple of the Vermont radio scene, rocking the mic at almost any local station you can name. Most notably, they were the host of the new music show "Early Warning" on 99.9 the Buzz WBTZ-FM for more than a decade; has been a community DJ at the University of Vermont's 90.1 WRUV-FM since 2002; and cofounded BTV's eclectic community radio station, 99.3 WBTV-LP.
Llu's roots in the club scene run equally deep, from deejaying the late, great 135 Pearl to helming First Fridays at Higher Ground to, most recently, organizing and headlining the Pop-Up! Queer Dance Party series.
SEVEN DAYS: Which acts are you most excited to see at WW this year, and why?
DJ LLU: Here is the thing about WW: This is a fest that is about good music, period. It reminds me of festivals of the past, where you would go because you didn't know all the acts, and you knew you would find your new fave band there.
In this year's lineup, hands down, I am so excited to see Noname. She is part of some really smart and unique music coming out of Chicago. Her sound is like none other, and I can't wait to see how she blows our minds in Vermont.
And even though I scour new music and unheard-of bands excessively and consider myself on the up and up of fresh music, there are tons of bands playing I haven't heard of. So I am also stoked to find my next fave band.
SD: What is your favorite WW memory?
DL: Back when Waking Windows was still small and only shutting down West Canal Street, I showed up to see my pals in Let's Whisper. It was a small crowd, but we were all so enthusiastic about being there for the band. And we all mostly knew each other — in that "around Burlington" way — from the crowd to the band to the sound tech to the security folks. There is something really special about the festival in this way. It is the first time you see all your Burlington music scene family after a long winter, and you are all just able to hang out and enjoy our common love of music together — while we take shifts working as artists.
SD: What is your best advice for making the most of WW?
DL: Commit to going to at least one band you don't know, preferably in a venue that is not usually a venue.
SD: If WW had a mascot, what would it be?
DL: I always think of artist Louise Bourgeois' huge spider sculptures when I see WW fest stuff go out. Their WW logo looks like one of the spiders, but upside down. So, that spider would be the mascot. Hey, it fits the music-and-art format!
— D.B.
J Bengoy
Courtesy Of Kayhl Cooper
J Bengoy
Lucky Cloud, Saturday, May 5, 10:10 p.m.
Life in your twenties is full of ups and downs. OK, let's be real: The downs outnumber the ups two to one. Self-described "bummer-rock" quintet J Bengoy know a thing about the tumult of quarter-life. And they filter their relatable experiences through satisfying riffs, elegant melodies and precocious lyrics.
The Burlington band just released its debut LP, Dogwood Winter. On it, the warmth of '70s soft rock fuses with the angst of '90s indie to form a beautifully imperfect tableau of romanticism, sincerity and ennui.
SEVEN DAYS: Which acts are you most excited to see at this year's festival, and why?
J BENGOY: Clever Girls: Their new album is one of our favorites this year. Swale: a true gem of a band. Father Figuer: slowcore goodness that gives us all the feels. Liz Cooper & the Stampede: Based on their Audiotree session, they are a must-see.
SD: What is your favorite memory of WW past?
JB: Seeing Big Thief in the Winooski United Methodist Church last year. It's an intimate, up-close space that you will undoubtedly leave feeling awestruck by whoever is performing.
SD: What is your best piece of advice for making the most of the weekend?
JB: Coffee, sustenance, beer, shows, shows, shows, repeat.
SD: If J Bengoy were to stop playing original music in favor of becoming a tribute act, to whom would you most like to pay homage?
JB: Frank Ocean.
— J.A.
The Medallions
Courtesy Of Brent Harrewyn
The Medallions
Waterworks Food + Drink, Saturday, May 5, 12:30 a.m.
The Medallions are a band out of time. As the story goes, the disco-funksters accidentally time-traveled from the 1970s to the present, landing in Burlington. And despite the striking visual similarities — once you strip away the excess body hair, polyester and Brut cologne — they are definitely not local psych-pop outfit Madaila in disguise, as has been widely speculated.
Questionable identities and origin stories aside, certain things are just timeless — like, for example, the disco inferno that is the Medallions' take on '70s dance music.
[Editor's note: Due to cultural differences between the present and the 1970s, Madaila's Eric Maier and Mark Daly — who are definitely not the Medallions' Vince Nanners and Mitch "the Snake" Hadley — stepped in to answer a few questions as well.]
SEVEN DAYS: Which acts are you most excited to see at WW this year, and why?
MARK DALY: We like keeping things local, and one artist that we love so much is Anaïs Mitchell. She is such an amazing songwriter, and her songs really take you on a journey and tell a story.
Another would be Anna Wise. We are huge Kendrick Lamar fans, and she has done some incredible work with him. To be on Lamar's short list of people to call up and collaborate with is saying something.
ERIC MAIER: Too many to name, too many friends to leave out: Jaw Gems, Rough Francis, Gestalt, Henry Jamison, Julia Caesar, Ryan Power, JUPTR, Hammydown, Paper Castles — everyone.
SD: What is your favorite WW memory?
MITCH HADLEY: Probably that band Madaila's Waking Windows debut on the outdoor stage in 2015.
EM: Ruth Garbus' set in the church a few years back was mind-boggling. Transfixing. I couldn't figure out who was singing the high part and who was singing the low part.
SD: What is your best advice for making the most of WW?
MH: Strap yourself to the roof of a Subaru Forester and drive around the rotary in circles. Pretty sure you will catch a lot of music that way.
VINCE NANNERS: Smoke weed.
SD: Back in the 1970s, someone proposed encasing the entire city of Winooski in a giant dome. Is that a project you'd like to see revived?
MH: Yes! When we think of domes, we think hippies. And don't we all want more hippies in this metropolitan area? Also, it would probably keep the Winooski River a lot cleaner.
EM: I'd prefer a dome over Burlington and Winooski. If we can convince Mayor Weinberger that it would affect our Moody's U.S. Municipal Bond Rating positively, it'd be a piece of cake!
VN: Circles are cool.
— D.B.
Anaïs Mitchell
Courtesy Of Jay Sansone
Anaïs Mitchell
Winooski United Methodist Church, Sunday, May 6, 9 p.m.
We'll go out on a limb and guess that Anaïs Mitchell is probably the first performer at WW to pen a play that's headed to Broadway. The Vermont native's acclaimed folk-rock opera, Hadestown, which debuted in Barre in 2007, is scheduled to open on Broadway in 2019, following a late 2018 run in London. Holy hell, right?
Here's another cool first: Mitchell's appearance at WW this year. Now based in Brooklyn with her husband and young daughter, the indie-folk songwriter will perform a mix of new and older material, backed by multi-instrumentalist Liam Robinson, aka the music director of Hadestown.
SEVEN DAYS: Which acts are you most excited to see at WW this year, and why?
ANAÏS MITCHELL: These days I know more about Disney princesses [because 4-year-old daughter] and what's happening on and off Broadway [because Hadestown] than I do about cool music. But I was introduced to Leif Vollebekk's music a few months ago and completely flipped for it — it is so vibe-y and special. And he plays right after Bedouine, who I would also love to see on Friday night. Henry Jamison is playing a bit earlier than me on Sunday, and his songs are beautiful. I'm excited to hear what he's up to.
SD: What is your favorite WW memory?
AM: Driving from Marshfield to Burlington to see my friend Benjamin Lazar Davis play bass with Delicate Steve on an outdoor stage! I had just had a baby, and it was a big deal to have a night out like that. I drank a beer from a plastic cup. It was great.
SD: What is your best advice for making the most of WW?
AM: I'm unqualified to give advice on this front!
SD: The Winooski traffic circle: rotary or roundabout?
AM: I dunno, but I wanna hit up Tiny Thai. Is that place still there? [Editor's note: Yup.]
— D.B.
Strange but True: Fun Facts About Waking Windows
Courtesy of Kevin Bloom
Brian Nagle
The last time Seven Days took a numeric look at Waking Windows' lineup was in 2016: 152 bands/artists, 43 DJs and nine comedians were scheduled to perform. This year, with 257 confirmed acts at press time, the number of bands/artists has grown by approximately 18 percent, to 180, while the number of DJs has increased by about 37 percent, to 68. There are even a couple more comedians than there were in 2016: up from nine to 11.
In terms of gender distribution, about 54 percent of bands/artists are male, and nearly 46 percent are female, nonbinary or mixed gender. (Gender statistics are based on available press materials and promotional information.)
Here are some of the most creatively worded genres you'll hear this year: nomadic disco punk, ratchet jazz, saxon rock, walrus rock, free-bleeding indie femme rock, jazz pirate, pillowcore, feminerdcore, heatwave, glitter punk, gravecore, narrative-noir, serf rock, prog-hop and surfgaze.
Until recently, Burlington rock band Be-er (pronounced BE- r), who play Last Stop Sports Bar on Saturday, were known as Pooloop. They changed their moniker when a French startup also called Pooloop, which installs LED screens at the bottom of swimming pools, offered to buy their domain name.
Another name change: Since the final WW lineup announcement, hip-hop collective Possibly Human have rebranded as 99 Neighbors. They perform Saturday at 41 Main.
Singer-songwriter Anna Wise, who performs at the Monkey House on Saturday, won a Grammy for "These Walls," a collaboration with Bilal, Thundercat and Kendrick Lamar, from Lamar's 2015 breakthrough album To Pimp a Butterfly.
Over the last year or so, Seven Days has published a feature, Q&A or album review focusing on 37 of the bands and artists performing at WW this year. Of course, that number doesn't include the scores of additional artists featured or mentioned in our weekly music column, Soundbites.
When he was 11 years old, WW performer Matt Hagen (Matt Hagen MC, Matt the Gnat and the Gators, the High Breaks) conceived of a pump-hat that would fit to your head much like Reebok Pump sneakers conform to your feet. He made a prototype with his parents and submitted it to an investment/patent firm for development. After months of no response, they saw TV personality Al Roker endorsing a pump-hat called "The Air Head" during a televised football game. Shortly after contacting Roker, whom Hagen says claimed to have no knowledge of the prototype's origins, the Federal Bureau of Investigation arrested the owner of the investment firm for allegedly stealing millions of dollars' worth of ideas and inventions.
There's more method than madness to the way festival cofounder Brian Nagle designs its daily lineups and schedules. Aside from taking into account logistical concerns — such as bands that share members — he considers which bands are playing simultaneously and whether a group would miss out on anything its members might want to see during their own performance slot.
Speaking of Nagle, he wore a Fitbit throughout last year's festival. By Sunday evening, he had clocked an entire marathon — 26 miles — from just walking around the Winooski circle.
— J.A.
Sound Off: Nonmusic Happenings at Waking Windows
Courtesy Of Britt Shorter
Downtown Artists Market
Even if music isn't your thing — it's OK, we're not here to judge — you could spend the entire weekend at Waking Windows happily occupied, because the fest boasts a remarkable number of nonmusic activities.
Comedy has long been a key cog in the WW wheel. This year is no different. On Friday at 41 Main Street, Vermont expat Annie Russell returns from Chicago with her No Chill Comedy Showcase, featuring comics Carmen Lagala, Pamela Ross, Kwasi Mensah and Richard Bowen. On Saturday at Nectar & Root, Russell reprises her popular true-life comedy series Cringe! If you're not familiar, participants share wincingly embarrassing mementos of their past — think grade-school diary entries, home videos and childhood art projects.
Earlier on Saturday, arty collective Overnight Projects and Flatlander Press set up shop at 41 Main with the Overland Art Book Fair. It will offer a curated selection of art books by notable regional visual artists.
Meanwhile, Saturday at Landry Park, local cold-brew coffee company Cold Brewtus presents WW's first-ever skateboarding event, aptly called Wake & Skate. The shred fest includes individual skate jams for men and women, as well as a jam and open skate for kids.
Speaking of kids, Misery Loves Co. presents family-friendly fare outside all day on Saturday, including face painting and art projects with Abby Manock. Perhaps best of all, kids can zoom around in a large tent while parents imbibe adult beverages.
Those in need of retail therapy can check out the Downtown Artists Market in front of the Monkey House. Saturday's daylong bazaar features crafty vendors including Billie Jean Vintage, Grooves & Grain, Pleasant Ranch, Raegan Hough Metalsmith, LVL Vermont Pottery and many others.
Also on Saturday, Burlington low-power FM station WBTV-LP broadcasts live from Winooski vinyl shop Autumn Records. And the Page Burner Reading Series presents several local authors at Nectar & Root.
Ease into Sunday by joining the Feminist Bird Club, a riverside bird watch led by Karla Noboa. Afterward, swing by Scout & Co. for Margaritas for Change. The Migrant Justice benefit features said cocktail along with beats by DJs Craig Mitchell and Luis Calderin.
Also on Sunday is a series of feminist talks at 41 Main, collectively dubbed Waking Life. Doughnut maker Ren Weiner of Miss Weinerz and ice cream makers Sisters of Anarchy lead a discussion on small business ownership. Local collective Tuned In take on gender equity in the music business. Rounding out the program, Vermont expat Caroline Rose and Ithaca rapper Sammus dish on the ins and outs of studio recording.
— D.B.
Correction, May 3, 2018: An earlier version of this story misidentified DJ Llu's role at University of Vermont's 90.1 WRUV-FM. She has been a community DJ there since 2002.