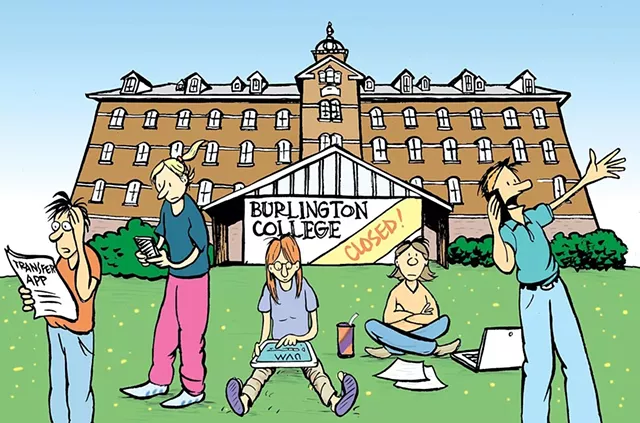 Athena Pepe, a Burlington College junior, had just returned from a semester abroad in Cuba when she found out that her school would no longer exist come next fall. In panicked-but-proactive mode, the 22-year-old international relations major began making plans. With help from her adviser, she decided to transfer to Goddard College — one of a handful of institutions that have agreed to automatically accept Burlington College students — for her senior year.
After talking to Goddard representatives, "I felt like I was in good hands," Pepe said.
Her sense of relief was short-lived. When she called to ask about a refund she was expecting from Burlington College, the financial aid officer told her she actually owed the school nearly $5,000. According to Pepe, the administration won't send her transcript to Goddard until she pays that sum. "Right now, it's looking like I'm not going to back to school," she said. "It's just a mess."
Burlington College announced on May 16 that it was closing its academic programs at the end of the month. The small liberal arts school, which catered to nontraditional students since it was established in 1972, had been in a precarious financial situation since it took on $10 million in debt to purchase its waterfront campus in 2010.
The announcement made national news because Jane O'Meara Sanders, the wife of presidential candidate Sen. Bernie Sanders (I-Vt.), was running Burlington College at the time of the purchase.
The plight of its roughly 100 displaced students received less attention. Some had put down deposits for their first year; others were a mere class away from completing their degrees.
Interim president Carol Moore made assurances that all of them "will be taken care of."
The New England Association of Schools and Colleges warned Burlington College two years ago that it was in danger of losing accreditation. Shortly after, the NEASC asked the school to devise a "teach-out" plan — agreements for students to continue their education if the school were to close. Champlain College, Goddard College, Marlboro College, Green Mountain College, Lyndon State College, Johnson State College and Castleton University had all agreed to accept Burlington College students, according to Moore.
The president described a straightforward process: Students needed to talk to their adviser, pick a school and request that the registrar send their transcripts. She encouraged them to act by May 20.
Many did, but students say the process has been anything but smooth.
Pepe isn't the only one getting tripped up by outstanding debts and bureaucratic battles with the soon-to-be-extinct college. Others have their paperwork in hand but are still trying to figure out the financial implications of a forced transition.
Alumni are also reporting problems getting their transcripts, diplomas and other academic documents. Some are concerned about the value of their degrees now that the college is closed. "My degree comes with a tag on it now," said Maddie Ballentine, one of about 30 graduates who received their diplomas two days before the school announced it was closing. "I feel like it's going to be hard to market that."
College officials say that the remaining staff — about seven people — are doing the best they can to address the daily barrage of requests and questions. But some students, including Pepe, are so upset they're considering suing the school.
During past semesters, upstate New York native Pepe worked at a restaurant to pay her tuition. But her parents applied for a federal loan to pay for her semester abroad. Upon returning from Cuba, she found out that she owed the school money because the loan had been denied — an outcome she blames on Burlington College's financial aid office, which, she claims, failed to explain the steps her parents needed to take and didn't respond to their phone calls and emails.
"I can't pay it back right now," she said. "But my transcripts need to be sent out right now."
Pepe became so frustrated discussing her situation with the financial aid officer that she hung up the phone. In an effort to reach an alternative administrator, she wound up on the phone with Moore. According to Pepe, their heated exchange ended when she told Moore, "I don't have to listen to this," prompting the president to hang up on her.
"I really loved Burlington College for the people I met there and the classes I took and the teachers I had, but this has been the worst experience of my life," Pepe said.
Speaking up for such aggrieved individuals, three alumni and one former employee held a press conference outside the locked school last Thursday. They read 34 questions for the administration to an audience of two reporters. Among them: How will students get their transcripts after the school has closed, and how will billing disputes get resolved?
School officials have said a "skeletal staff" will continue to work at Burlington College for at least several more weeks, but there's no firm end date. Programs formally closed last Friday.
Dylan Kelley, a 2013 grad, said students and staff have been unable to get concrete answers to their many questions and, when they call the college, they often have to leave voicemails. He had just taped his list of 34 questions to the front door in protest when Coralee Holm, dean of operations and advancement, unexpectedly opened it from inside. For the next 20 minutes, she stood in the doorway as members of the group asked questions and aired grievances.
"I can't access my retirement account," said Karen Lapan, who was fired from her academic coordinator job several years ago.
"It's something we're working on," Holm replied.
About 80 percent of students have picked a new school, according to Holm, but she couldn't say how many had received records from Burlington College.
Asked whether displaced students with outstanding balances would be denied transcripts, Holm said, "I'm not sure how that will affect them. I just don't know the answer."
She was clear about one thing: Graduates won't get their transcripts if they owe Burlington College money. Colleges routinely use that leverage to collect student debts.
But after learning that the school will close because of its unpaid debt, students are less inclined to make good on the money they owe — though they're anxious to get their academic records before the college ceases to exist.
NEASC requires Burlington College to find another entity — likely the state Agency of Education or another college — to maintain those records. But Holm said Thursday that they haven't yet determined where the documents will go.
Marchelle Mixson, 23, got her degree in expressive arts therapy in December. She needs her transcript to apply to grad school for art education, but she still owes Burlington College $1,461. "I haven't been able to pay it back for a number of reasons — high rent and the cost of living in Burlington, and also the fact that my mother is a single mother," Mixson said.
Two days after her alma mater announced it was closing, a fire consumed Mixson's Hyde Street apartment. She wasn't home at the time, but she lost her portfolio of paintings and drawings, which she had just retrieved from the college.
Mixson is researching whether she can get the debt forgiven by proving that the school mismanaged its finances, she said, noting that the college is being sued for allegedly spending scholarship funds on other expenses. "I can't put my life on hold for a school that doesn't even exist anymore," she said.
Former Burlington College professor Jared Carter suggests that students could have a case. In an email, Carter, an attorney who now teaches at Vermont Law School, said he's meeting with some students about taking "legal action to protect the rights of students who have taken on huge debts but are essentially left out in the cold."
Other students have made plans to move on.
Three days after the news broke, Jon Chamis sat beneath a tree outside the school, rolling a cigarette. The Connecticut native, who wore black Converses and camo pants, was one semester shy of graduating when, as he put it, "The hammer kind of dropped on us."
"Monday was my day of grieving and drinking," he said. "Tuesday, I got proactive."
Chamis is studying film production with a focus on screenwriting. He planned first to transfer to Champlain, which also has a film program. In a May 16 email, assistant dean of student services Amanda Wells had told students that if they transferred to one of the partner colleges, "you will pay the same tuition, if not less than you did at BC." When Chamis discovered that was not the case for Champlain — where annual tuition is $38,560, compared with Burlington College's $21,500 — it was "a bit of a setback," he said.
He briefly considered quitting college but concluded, "In this day and age, you kind of have to have that piece of paper."
Instead, Chamis chose Goddard, which costs less than Burlington College did. Its low-residency model — students come to the Plainfield campus for just eight days, at the start of a semester — will allow him to keep his apartment in Burlington and his job at a local hardware store. "The panic has sort of subsided," he said.
Andrew Tarwerdi, who was the student body president, said in an email that he's one of a number of students who "are very frustrated with the way the closure of the school has been handled."
Tarwerdi, who went home to Albany, N.Y., expecting to return to Burlington next fall for his junior year, thinks the school should have given students more notice. "Now myself and the rest of the student body are left to make extremely important decisions with very little time, very little guidance ... and with misinformation coming from the school itself," he wrote.
For example, Tarwerdi recently found out that, contrary to what Wells wrote in her May 16 email, Champlain College never agreed to automatically accept Burlington College students and their credits. Michelle Miller, senior associate provost at Champlain, confirmed that students will need to "go through our normal admissions process and normal credit review" in order to transfer.
So Tarwerdi asked that his records be sent to Marlboro College, but after he contacted its admissions office, he learned that the school wouldn't be honoring Burlington College's tuition rate. "I doubt I will be able to afford to go there, so now I'm thinking about SUNY Albany purely for financial reasons," he wrote. "Burlington College really felt like a community, a second home to me ... It really is such a tragedy that it had to end like this."